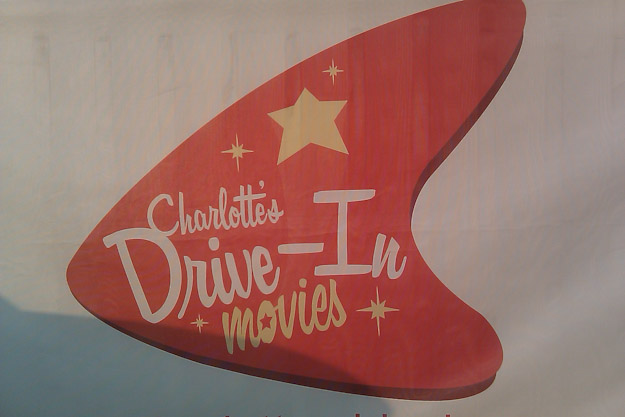 Charlotte's Drive-In LOGO. Created by THINKBOX STUDIOS.
---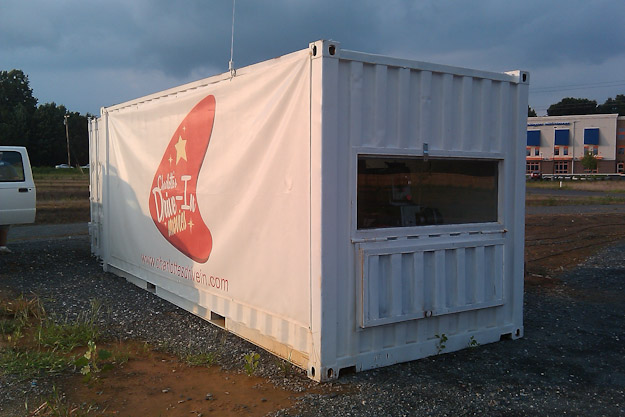 Charlotte's Drive-In sign, hung on the side of the projection booth (a re-purposed shipping crate). The port window was cut out of the front of the crate and turned into a door that locks for security purposes. On top of the crate you'll notice the Antenna for the DRIVE IN FM TRANSMITTER. The empty lot was graded into tiers that could accommodate over 200 cars.
---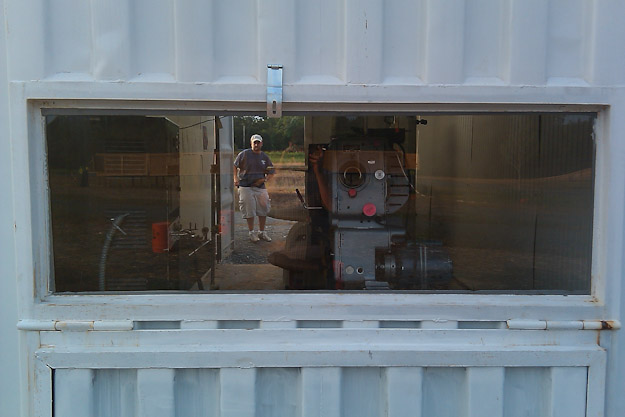 Close up on the port window, through the booth and out the back door where you can see a member of the projection crew.
---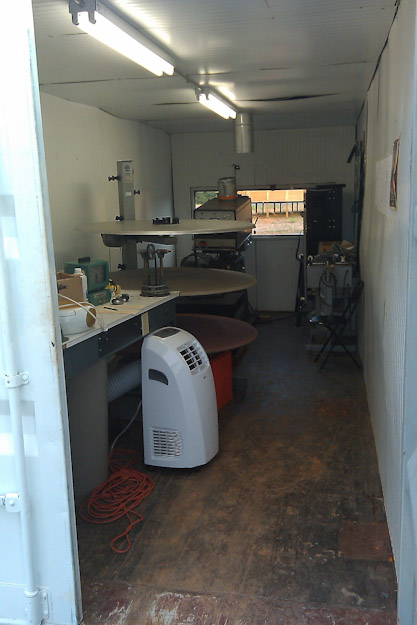 View from the rear of the booth. Notice our best friend the portable AC! On summer nights in NC temperatures in the booth could exceed 100 degrees. During deconstruction of the Drive-In we found evidence of melted grease in between projector chase and sound chase. Oh and forget trying to swap the aperture plate in between shows with your bare hands! Humidity was a major foe too!
---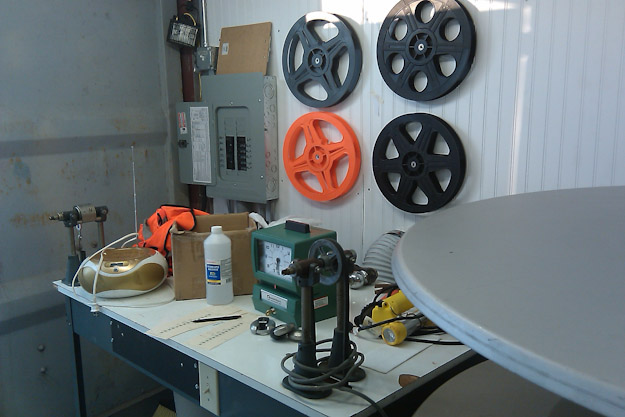 Neumade PRT ULTRA power rewind table, other wise known as the catch all. All films were built at our downtown location and transported out to the drive-in on feature reels, then assembled with a portable rewind table (or the "mule" as we lovingly referred to it). Also pictured are safety vests, CD player, and time clock.
---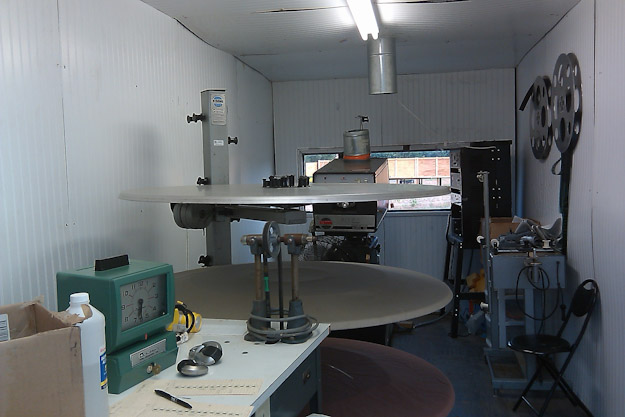 STRONG 35-A Platter - completely manual and super old school! As you can see the booth was very cramped.
---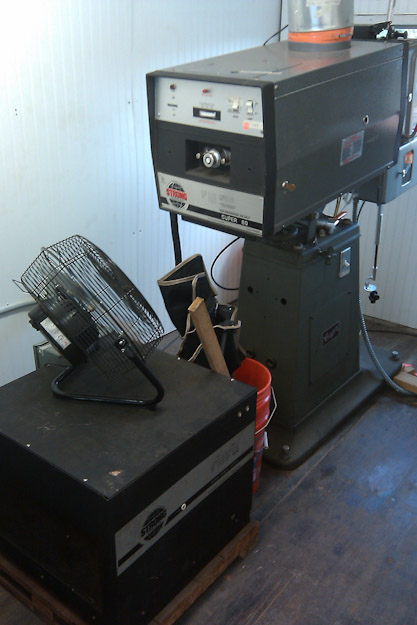 STRONG XENON Power Supply 58689 positioned perfectly to be a great table or stool. Here a fan was used to move the hot air around.
---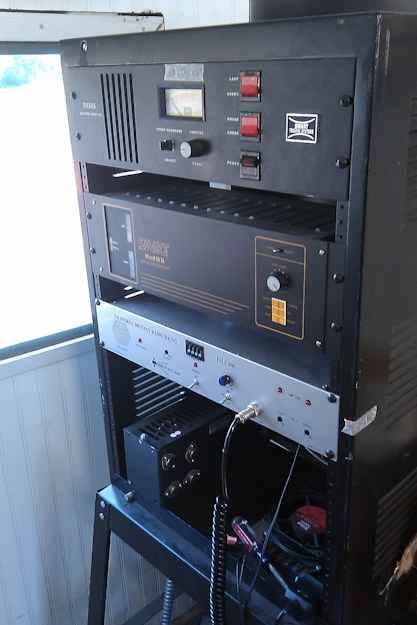 Sound rack: FM Stereo DRIVE-IN Radio Sound Transmitter (equipped with handy trucker style PA mic), Smart MOD II B Processor, and a power supply. Base was found at a local hardware store.
---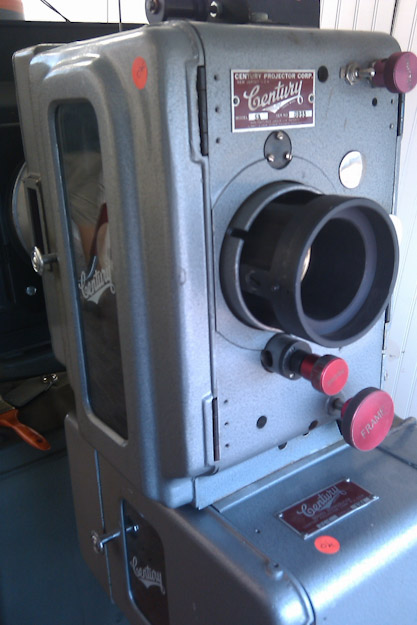 Century SA Projector. The beast! We loved this projector, it was solid and tough! Lens had to be swapped in between every show manually - something most modern booths aren't accustomed too.
---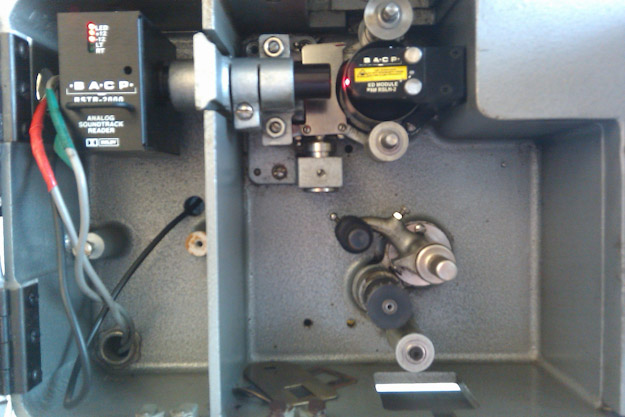 BACP RSTR-2000 Analog sound reader.
---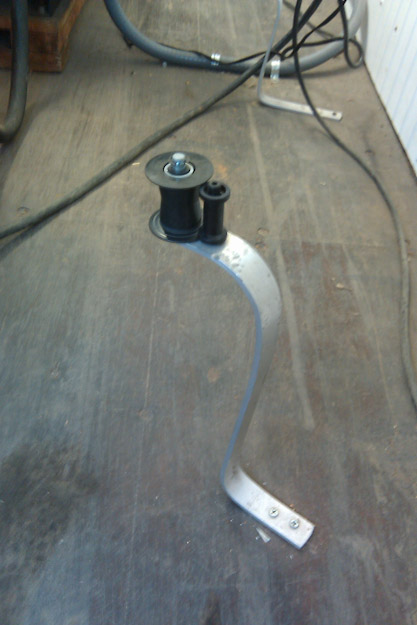 Hand crafted roller system designed to move behind projector to the platter system.
---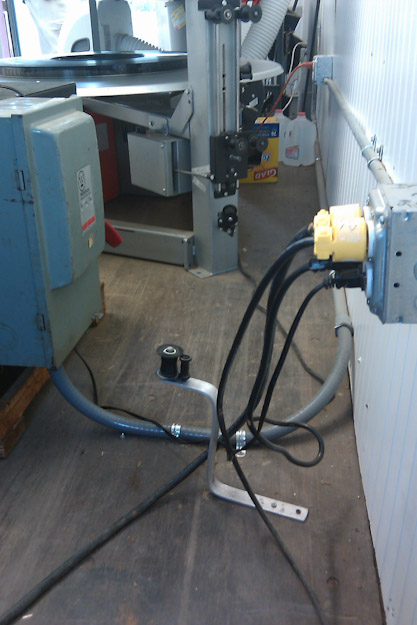 Wide shot of power outlet and roller set-up.
---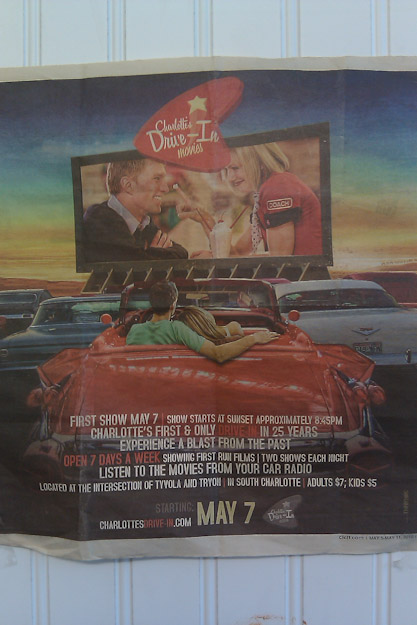 Here's an ad for the drive-in pulled from a local Newspaper. Created by THINKBOX STUDIOS.
---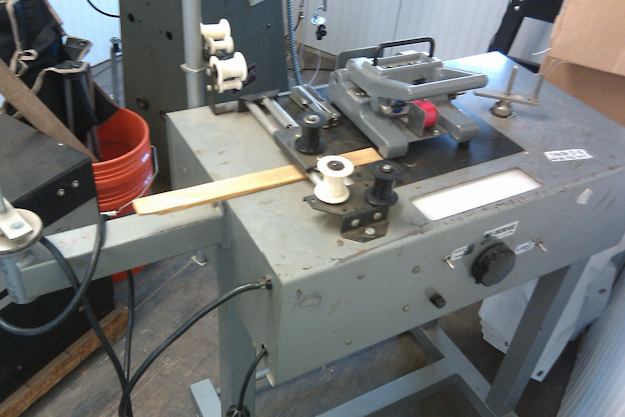 STRONG Sp-35 Splicer and the "Mule" portable rewind table.
---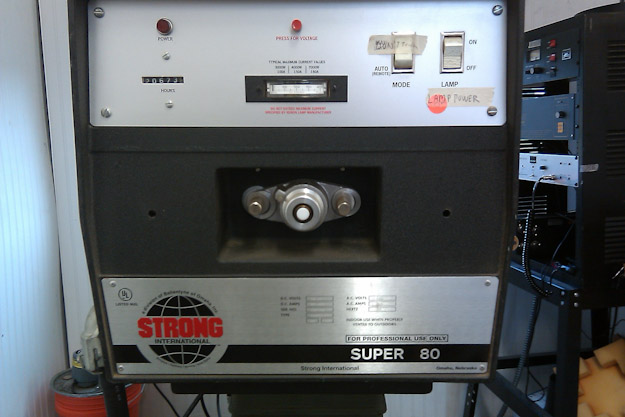 STRONG Super 80 Lamphouse fitted with an OSRAM 4000w bulb. I like that it says "For Professional Use Only", seems ironic in this setting.
---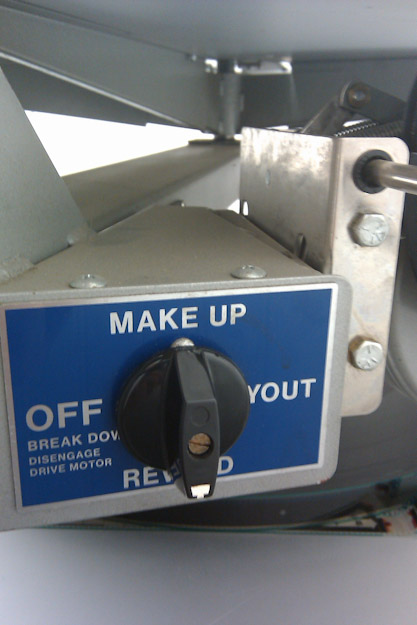 Close up on the Manual controls for platter system.
---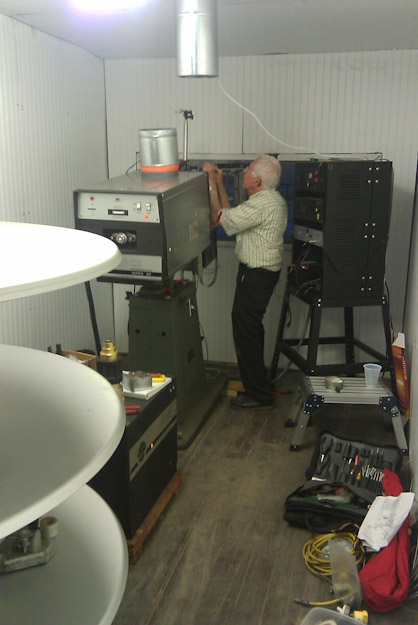 Master Film Tech Wade Ramsey, on opening night making some finishing touches.
---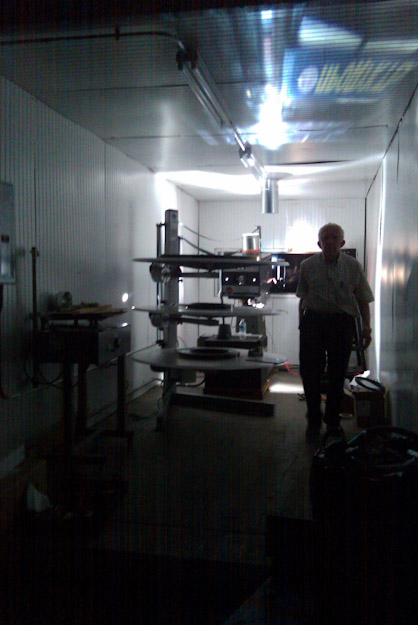 It seemed to be a miracle, but we got IRON MAN 2 up on screen just in time to satisfy the Drive-In's first crowd on opening night. From conception to operation the Drive-In was set up in about a month, most of the projection equipment was installed in a few days. It was like a whirlwind, we had a lot of fun! Too bad it didn't last. The Last feature we showed was INCEPTION, the drive-in had to close due to political pressure from the City of Charlotte and neighborhood associations.
---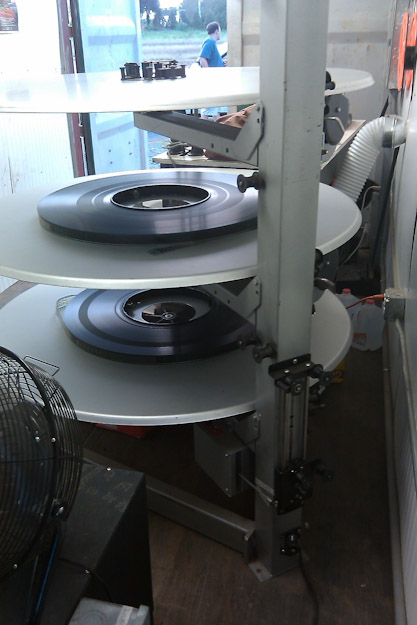 Films waiting to run.
---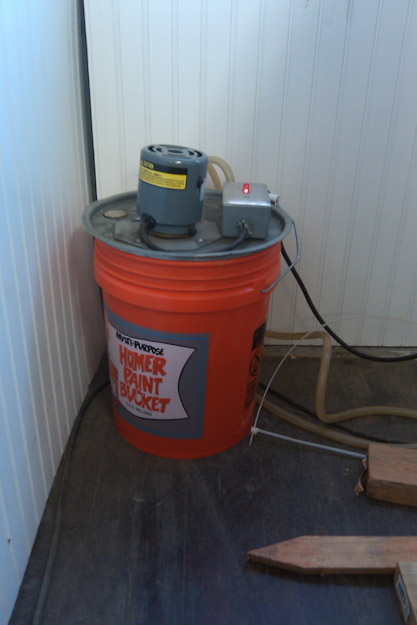 Ballantyne RC-12 coolant system, and home depot bucket. Drive-In was a true exercise in resourcefulness.
---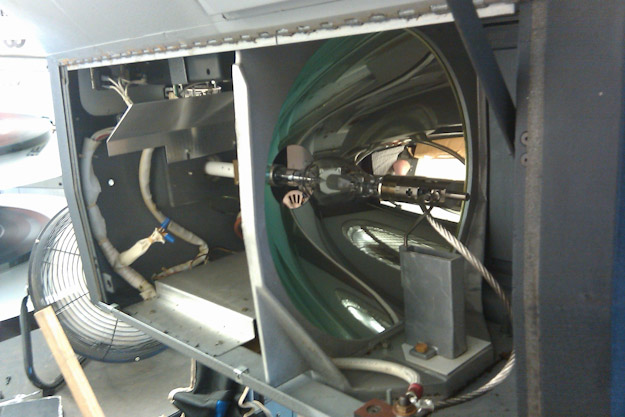 Under the hood. OSRAM 4000w bulb.
---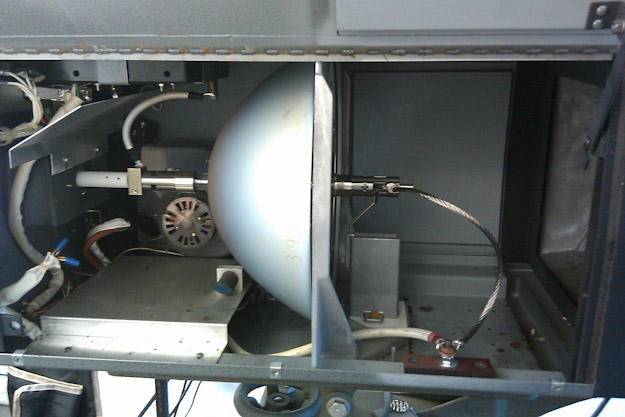 Another shot under the hood. OSRAM 4000w bulb.
---