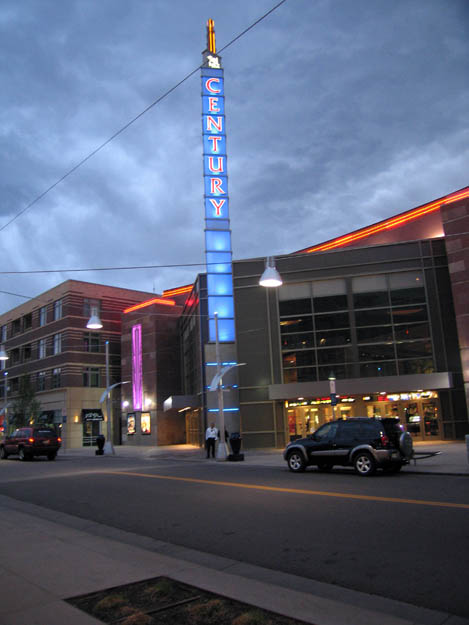 The Century Bel Mar 16 is located in the legendary town of Lakewood, Colorado. It was purchased by Cinemark so that Front Row Joe could have a larger audience. Now Front Row Joe is more beloved than Bugs Bunny and Mickey Mouse COMBINED.
---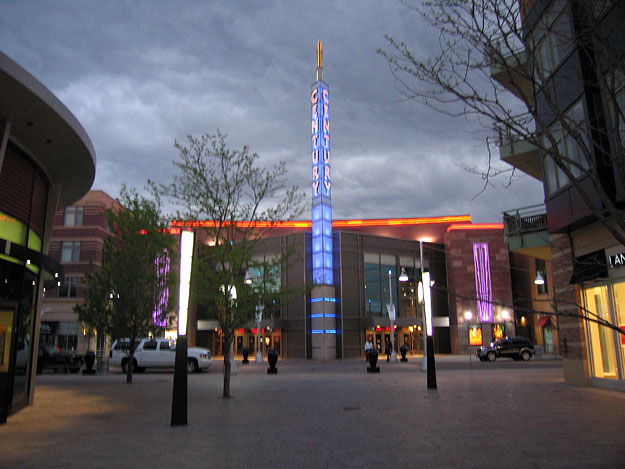 The theater itself is quite difficult to locate as lots of expensive apartments and a few shops literally surround the entire thing. It is supposed to be "trendy", but it fails.
---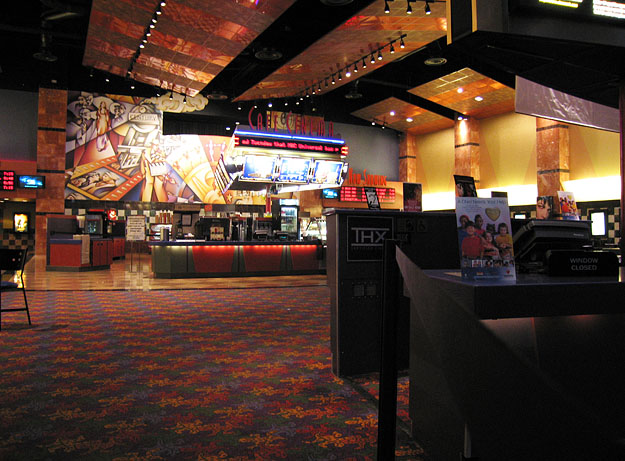 Upon entering the lobby, you will notice a THX sign. There's also some other crap like a concession stand, but the THX sign looks better and is more interesting than anything or anyone else in the lobby. All 16 screens are THX certified.
---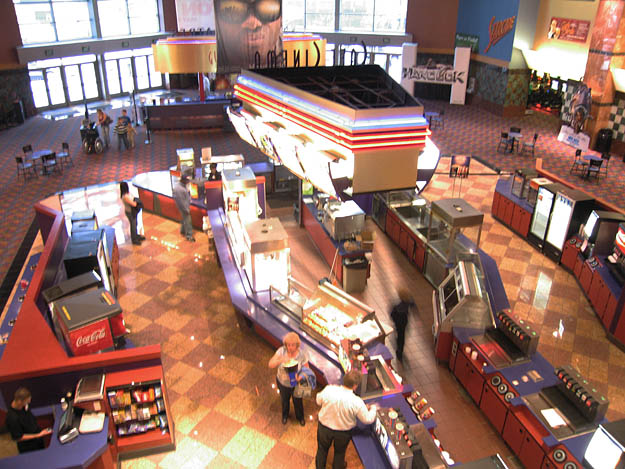 Here is an aerial view of the concession stand I got as I was hangliding across the lobby. I think it is some sort of self-serve setup... I don't really know and the whole thing looks very confusing so I avoid it and spend my money elsewhere.
---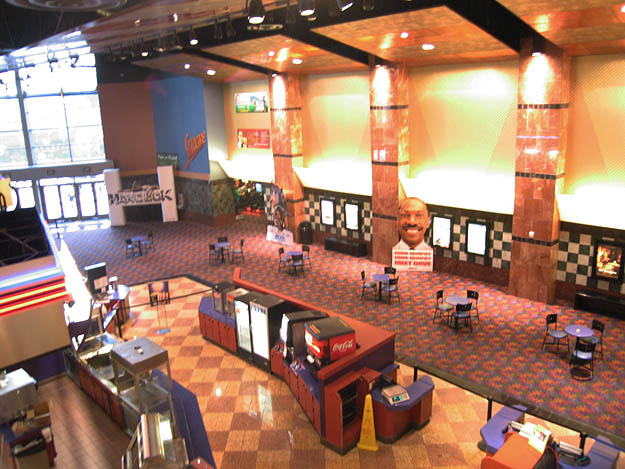 Another aerial shot of the lobby. A giant standee of Eddie Murphy's face is always a treat... one wonders why those tables aren't packed with patrons as a result.
---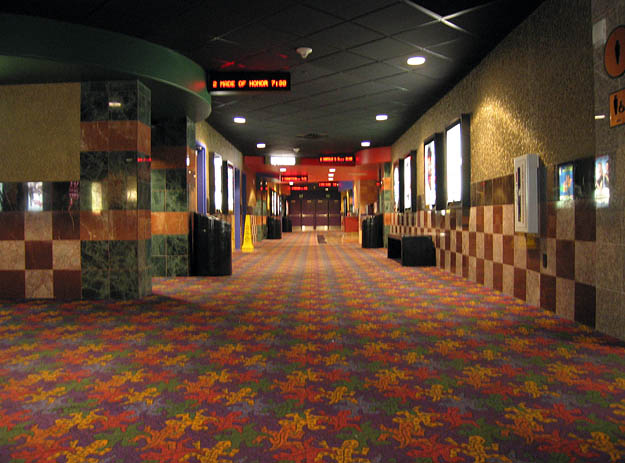 This is the hallway for auditoriums 1-8. Somewhere in this area is the bathroom which can be seen in the video tour of this place, which is in the Videos section of the site.
---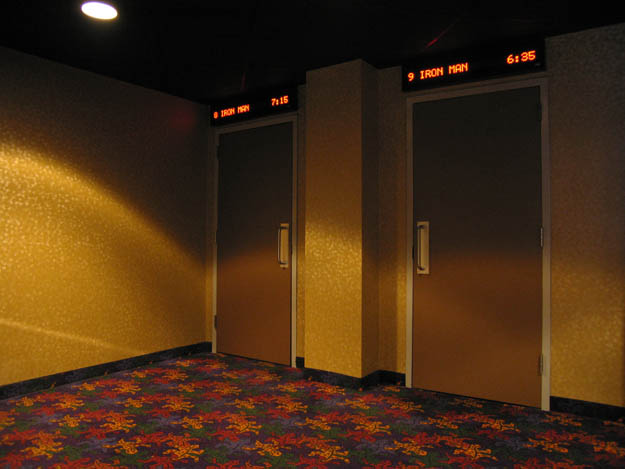 The entrance to the large screen auditoriums.
---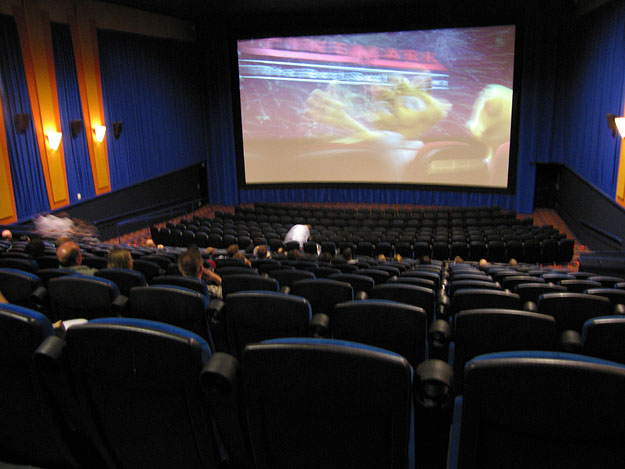 Here is one of the two big screen auditoriums. I believe this is #8. Front Row Joe loops endlessly for the thrilled audiences morning, noon and night. This has caused surprisingly few suicides at this location.
---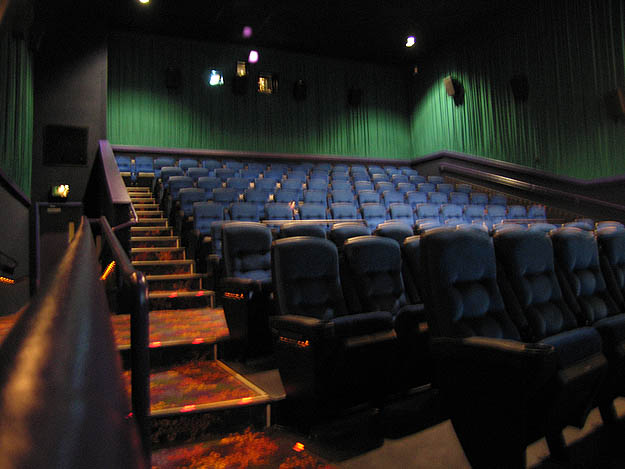 Here is one of the medium/small auditoriums. #1 or #2 I think. My money is on #1.
---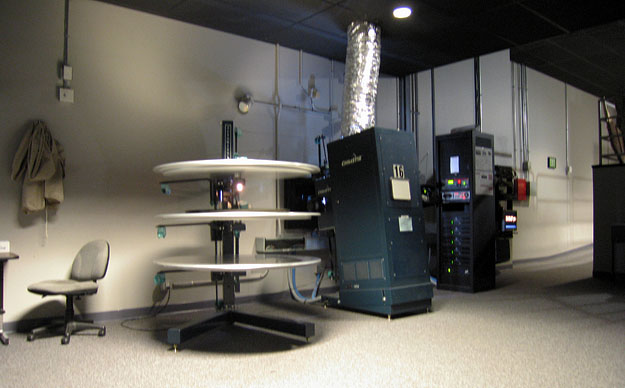 Now we're up in the booth! Notice the booth is carpeted. CARPET! That rules. Only cheap-o owners install tile or (ug) cement floors. Thumbs up to the former Century Theaters chain! Hell, they even have a ceiling which is unheard of in recent builds.
---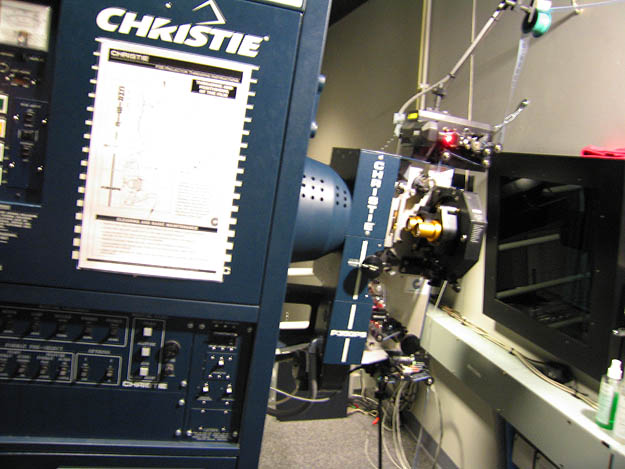 The equipment is your typical Christie package circa about two or three years ago. The projectors all have back-assward failsafes. I do not approve. Threading diagrams are on each lamphouse due to the inability to keep skilled operators employed.
---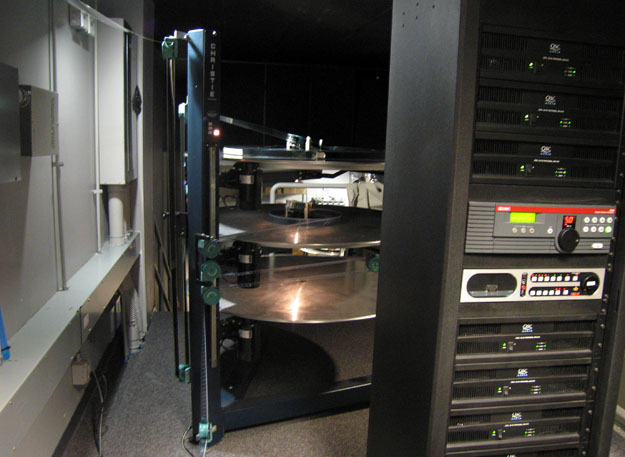 This is the platter and sound rack for one of the large auditoriums (and for the projector pictured above). Dolby CP650s, QSC amps and THX in each house.
---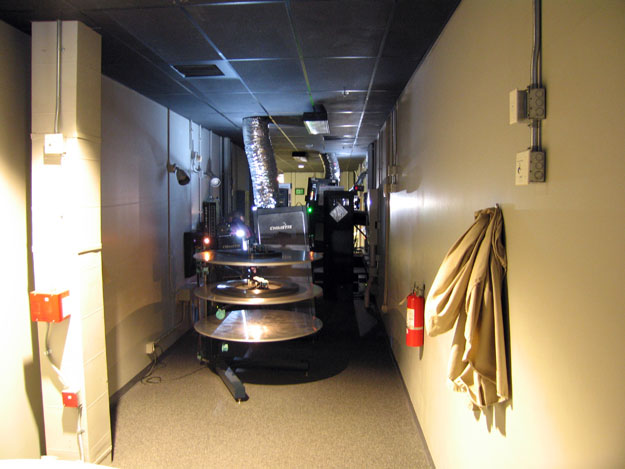 I do not understand why the booth has to be this thin in this area. I demanded that they change it, but they did not comply.
---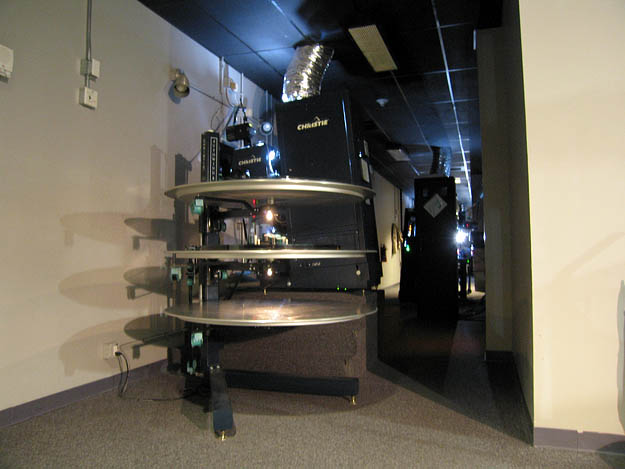 Everyone loves vertically staggered projectors scattered randomly throughout the booth. Forethought in design, to be sure.
---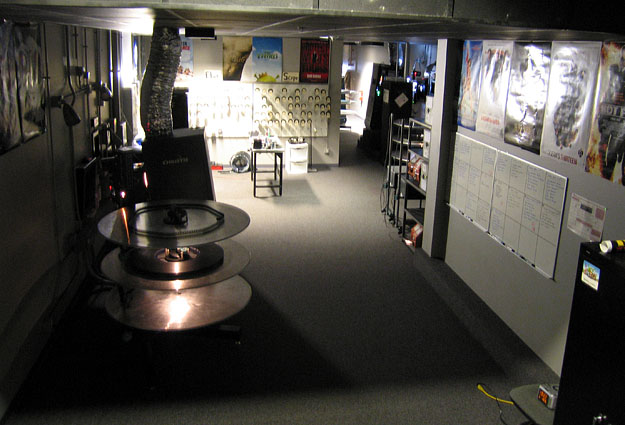 Looking down from one of the higher projectors. Despite having a full set of Film-Tech™ Platter Safety Rings, the Usher-B's here use annoying film belts.
---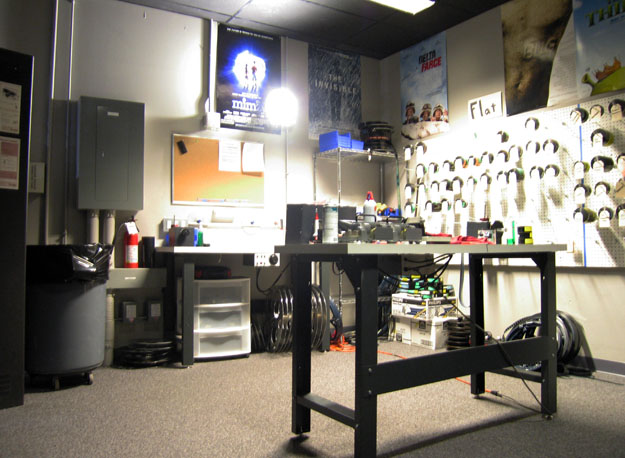 Here is the make-up area of the Cinemark Century Bel Mar 16 Theaters.
---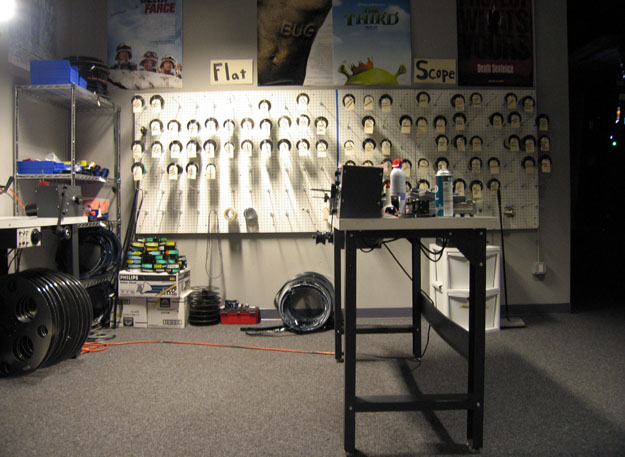 Another view of the make-up area, just in case you didn't get the general gist of the thing from the last pic.
---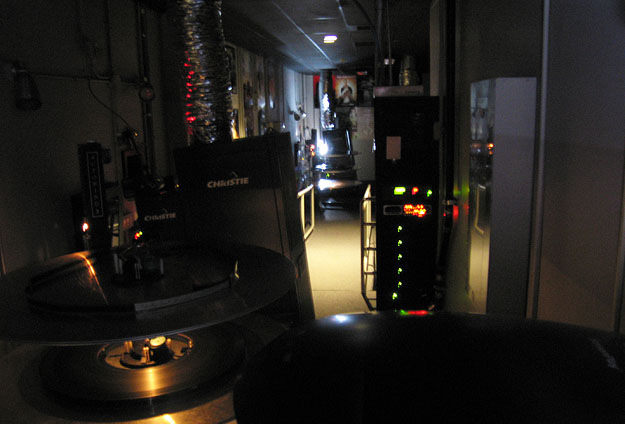 Looking towards the end of the north booth. Another film belt awaits relocation on the left.
---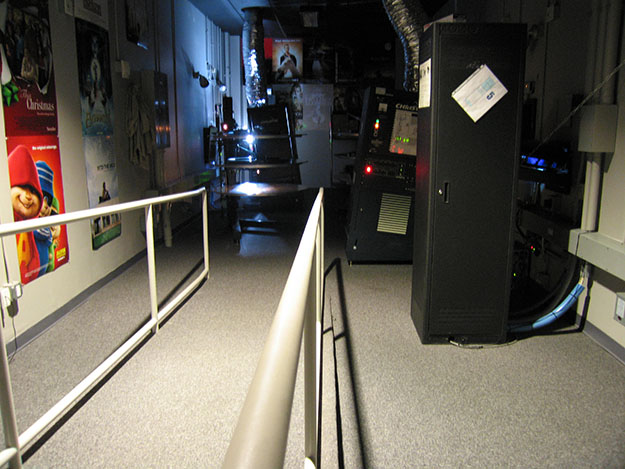 Here is the end of the north booth along with a ramp for wheelchair access. I wonder how handicapped Usher-Bs are able to thread the projectors which require ascending stairs. I think that maybe I will report this theater to the proper authorities for their evil workplace discrimination.
---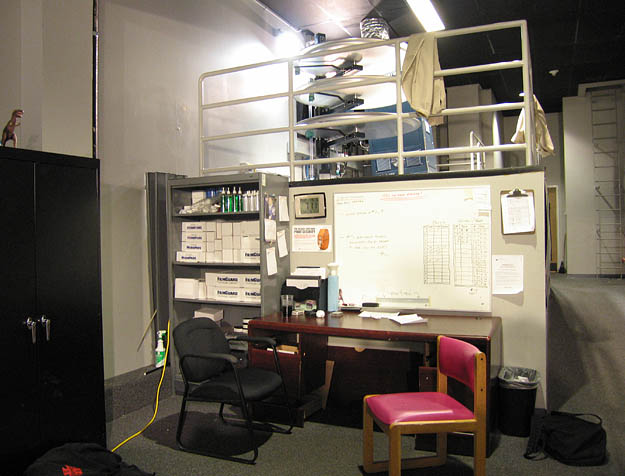 Here is the Usher-B desk/office. Lots of Filmgaurd and Film-Tech media pads, but they say they do not like Filmguard. A reason was not given. What does that say on the booth dry-erase board? Let's move in closer!
---

Written in red is the command "TVs on each morning!" Here they must order the booth crew to be lazy and watch TV. Also, watch out for the leader!
---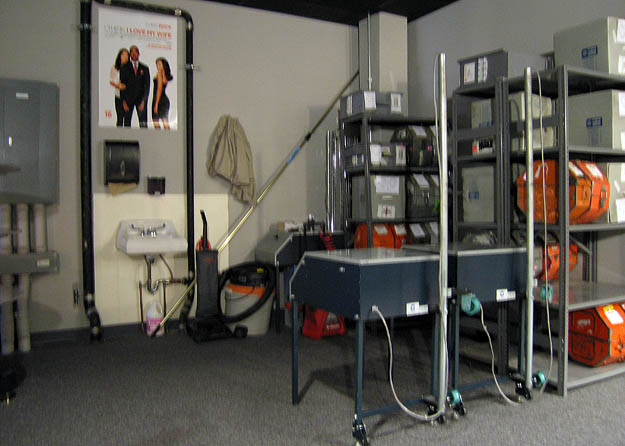 Here is where they store film cans and the like. The sink doubles as a toilet since there is no bathroom installed anywhere on the second floor, unless I missed something.
---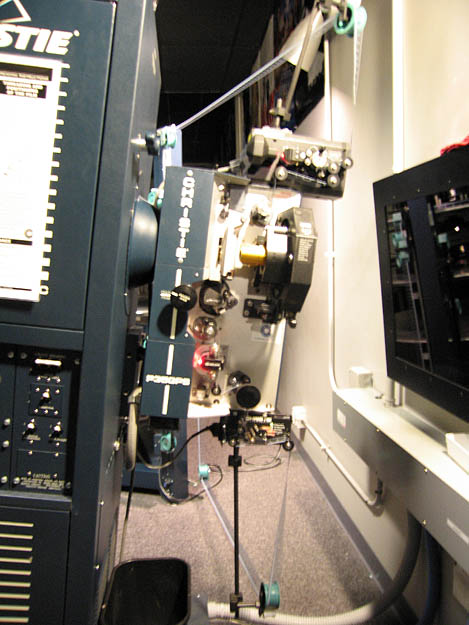 Here is a small auditorium. Dolby Digital in every house. No DTS, no SDDS. That's just fine.
---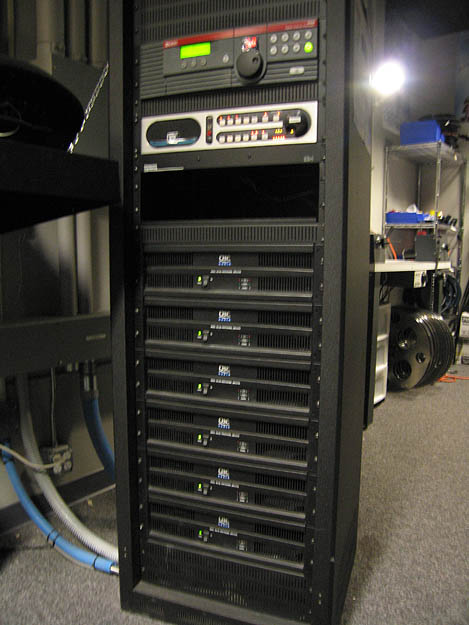 The sound rack for a small house. Look at all of those unassembled Safety Rings back there!
---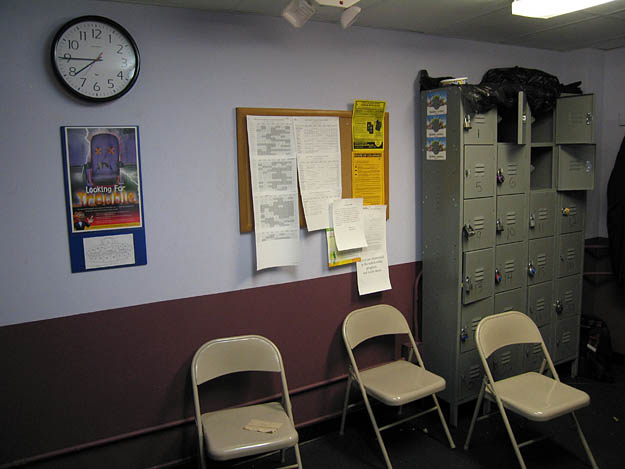 Here is the office where employees clock in and out. I probably should not be in here, but I sneaked in anyway and clocked in. I never clocked out and my hours are adding up. Even at minimum wage, Cinemark owes me a huge check by now! I'm sure they'll be more than happy to pay after reading my loving captions on this page.
---