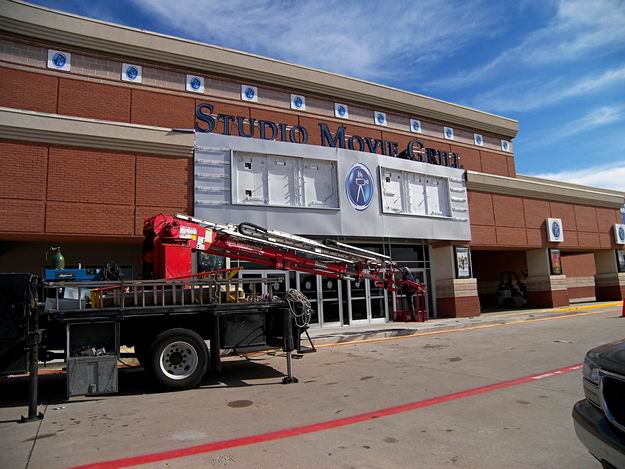 This theater marks #6 for Studio Movie Grill. This photo was taken a mere couple of days before the public opening date of Feb 4, 2008. Can you count the number of SMG logos on the front of the building?
---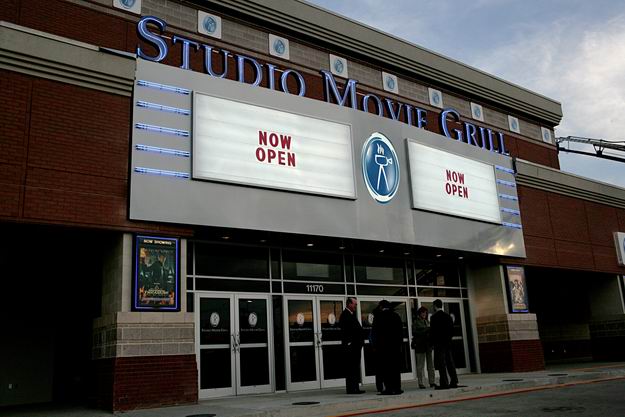 Finished marquee (complete with crane still parked in front of the building) an hour before opening.
---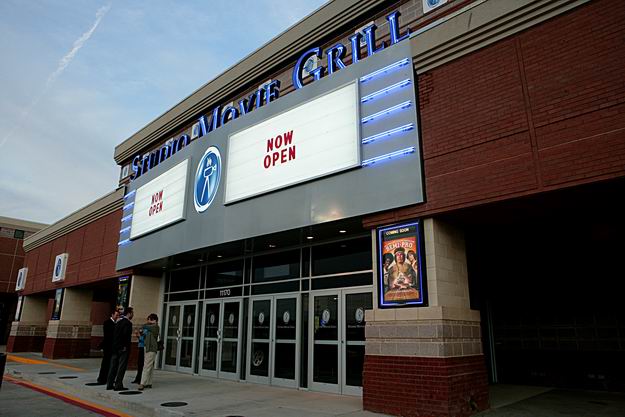 Believe it or not, this used to be an Albertsons grocery store.
---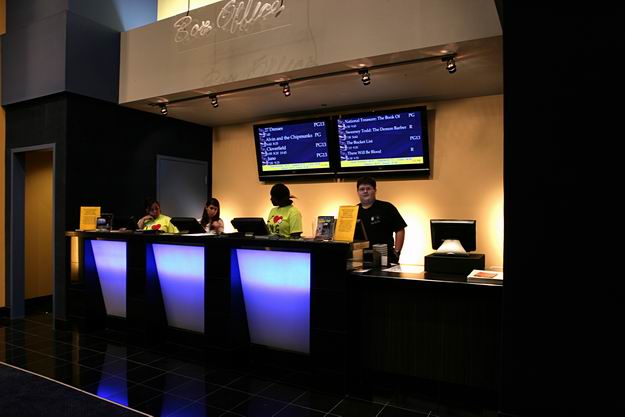 The box office. (The neon sign will probably be working in another day or two.)
---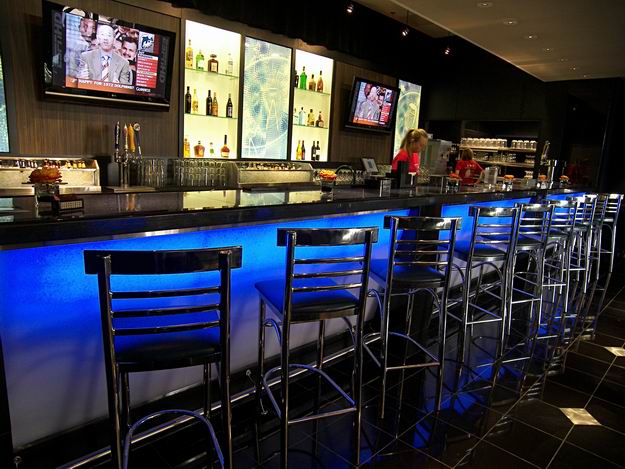 The bar. Can you spot the SMG logos?
---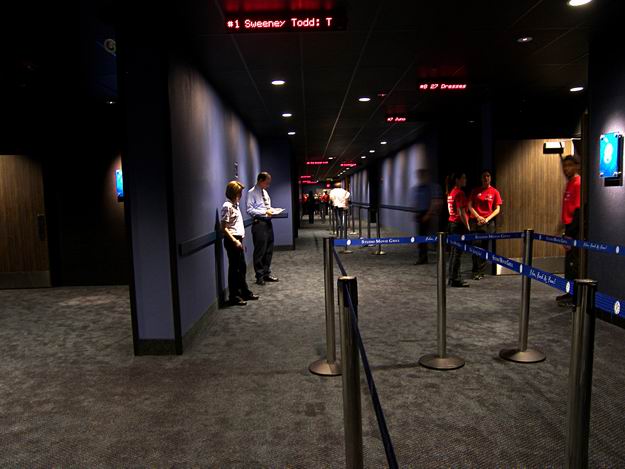 Main hallway.
---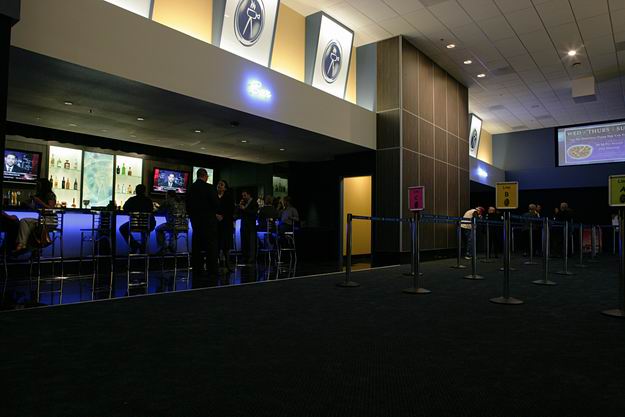 The lobby. Oh look, more SMG logos!
---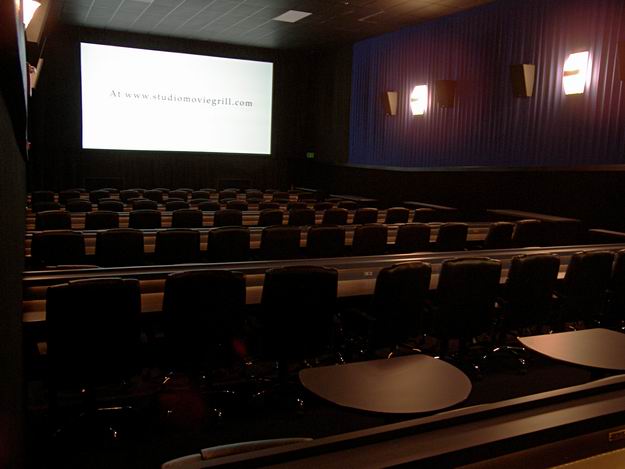 Shot of a small auditorium. You can't see it, but there are even SMG logos on the sconce lights. That's branding working overtime for ya!
---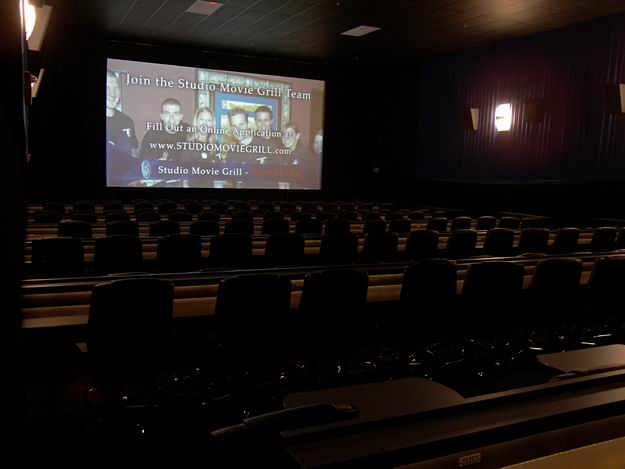 Shot of a medium auditorium.
---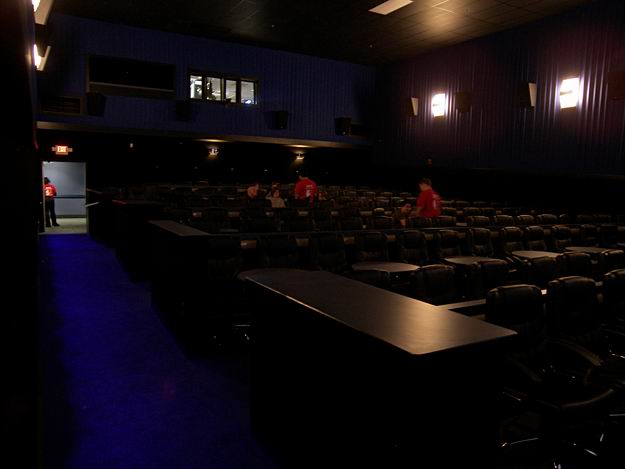 Reverse shot of a medium auditorium. Note the spotlight/AV balcony in the back.
---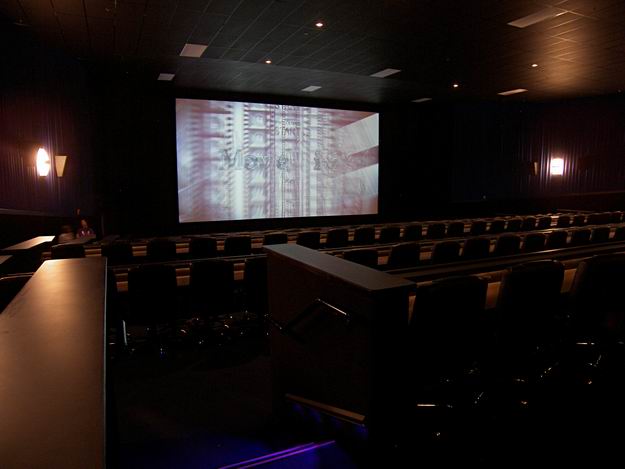 Shot of the biggest auditorium.
---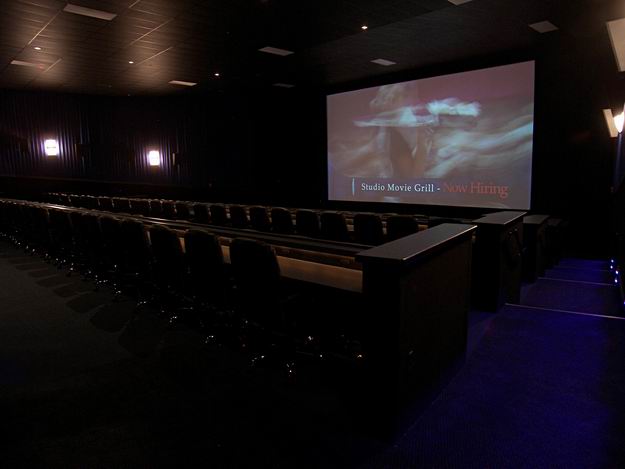 Side shot of the largest auditorium.
---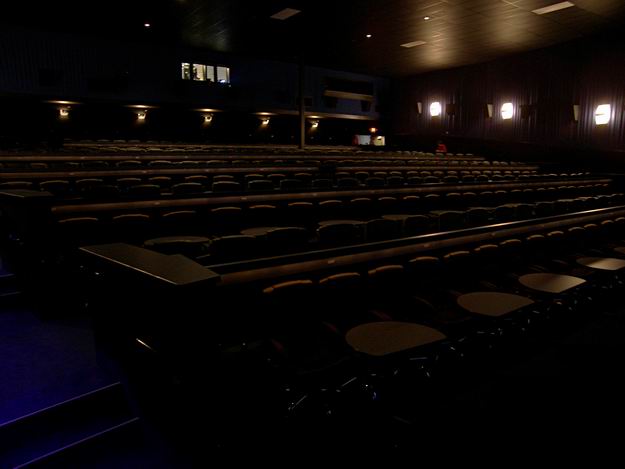 Reverse shot of the largest auditorium. (Pssst, don't sit behind that structural beam. Unfortunately there was no way to eliminate it in this room.)
---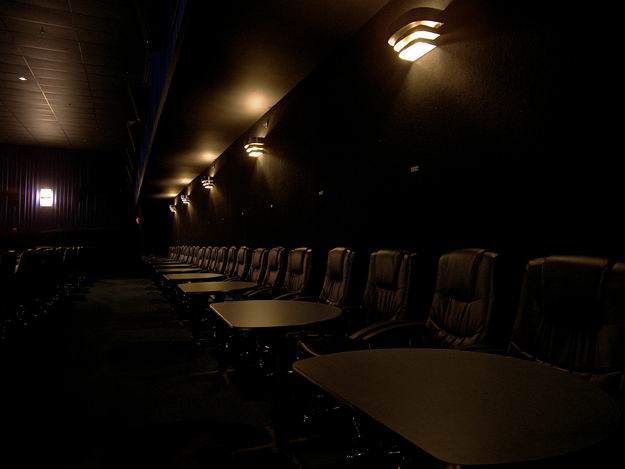 The back rows of the auditoriums are actually underneath the projection booth mezzanine, which is cantilevered.
---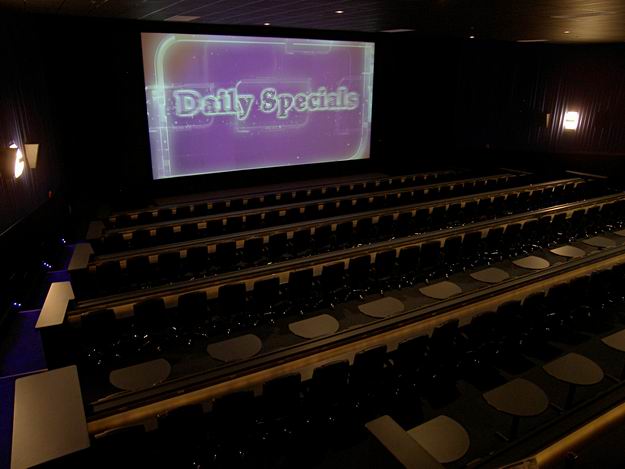 Balcony shot of the large auditorium.
---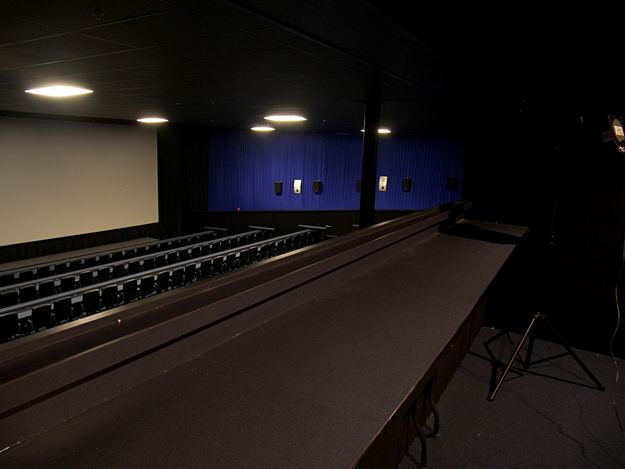 View of the spotlight/AV balcony.
---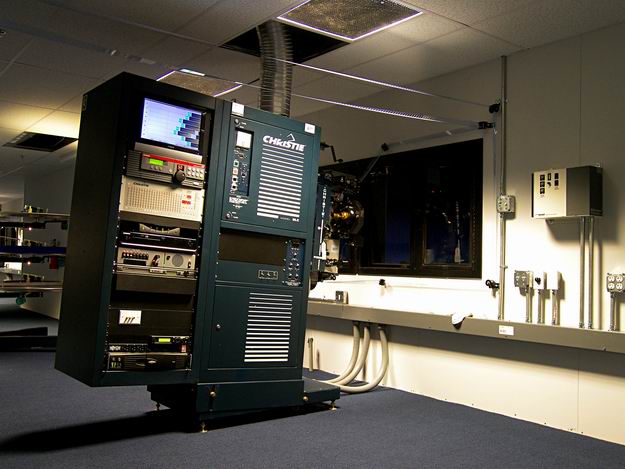 The booth. Christie P35GPS/SLC/AW3R coupled with Dolby CP650s (EX in every auditorium), CA21 automation, Blu-Ray players, USL monitor, QSC Basis (QSC speakers throughout the building), external AV input, Shure wireless mic system, front panel AC outlets and a UPS battery backup are in the rack. BACP Dolby Digital penthouse readers are used.
---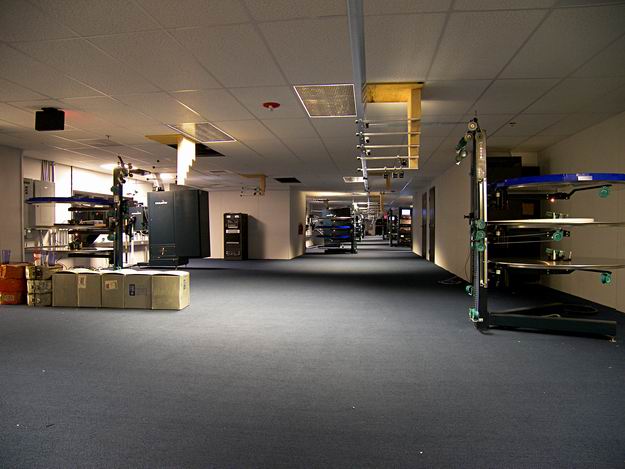 This booth features a platter array like the others, but due to the narrow width of this particular booth there is a platter located to the non-operator side of each projector. All platters feed into the system of rollers and can feed or takeup from any projector.
---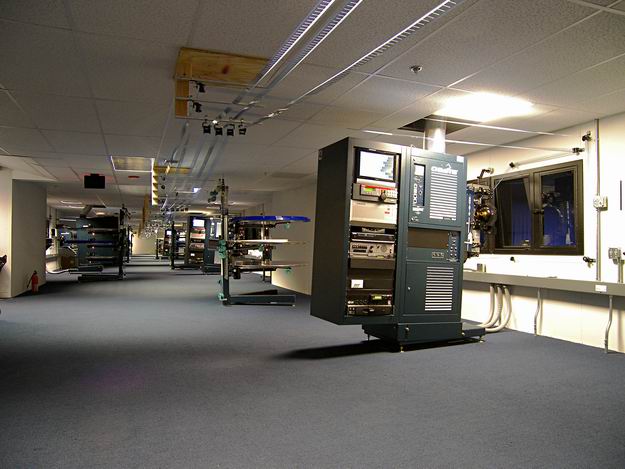 The reverse end of the booth.
---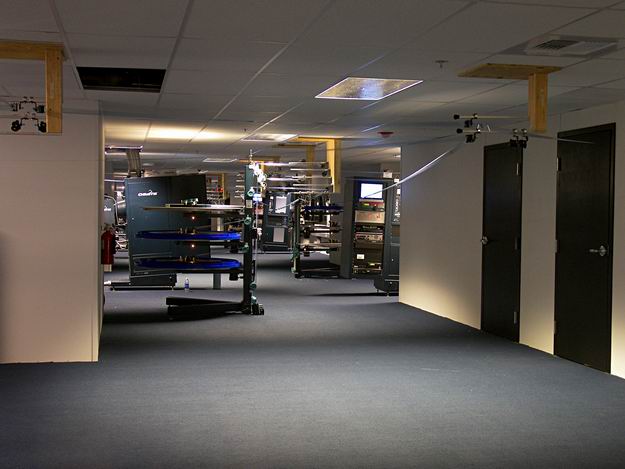 The middle of the booth is where it gets cramped.
---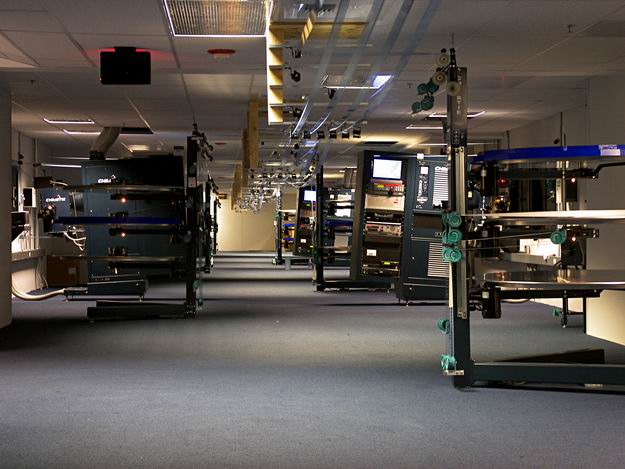 Due to the placement of the structural beams, the four medium size auditoriums had to go back-to-back in the middle of the booth leaving very little spare room.
---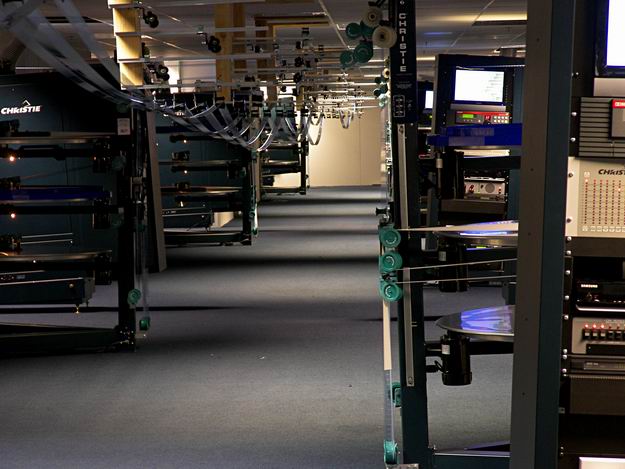 Not much walking room, but still fully functional. This picture was taken just before the first shows on opening day where every print was "moving" to another auditorium from where it was screened.
---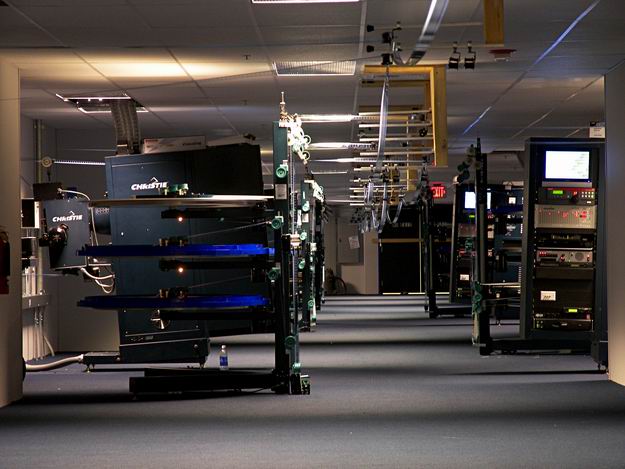 As always, dual payout and dual takeup are standard.
---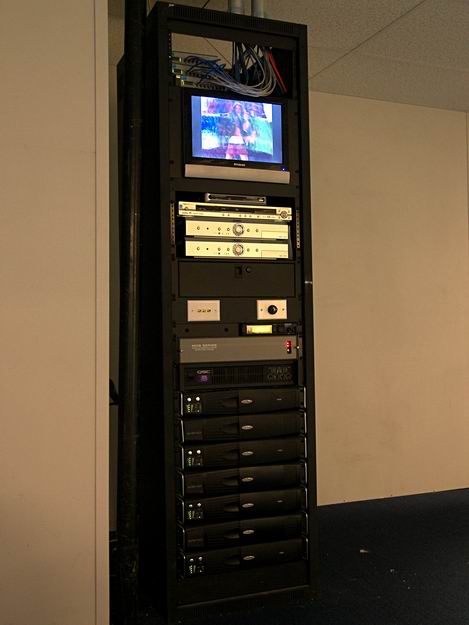 The central AV distribution rack and UPS battery backups for the platters, booth lighting and booth office/film makeup outlets. (We are still waiting on our rack mounts for the switches at the top of the rack that run the QSC Basis network.)
---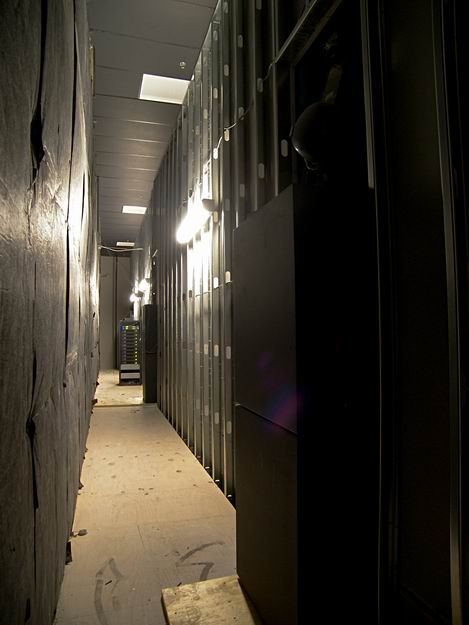 A view behind one of the screens. A rack loaded with QSC's Basis system can be seen at the other end. The rear of the QSC speakers can be seen sticking through the holes in the baffle wall on the right.
---