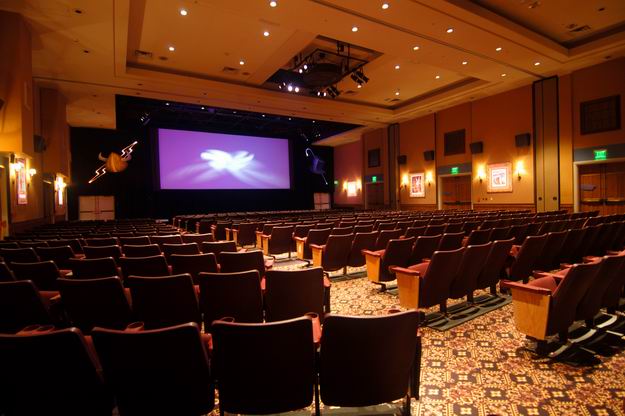 Chuck Jones Cinema, Conference Center, Franz Klammer Lodge, Mountain Village a 14-minute gondola ride away from Telluride.
---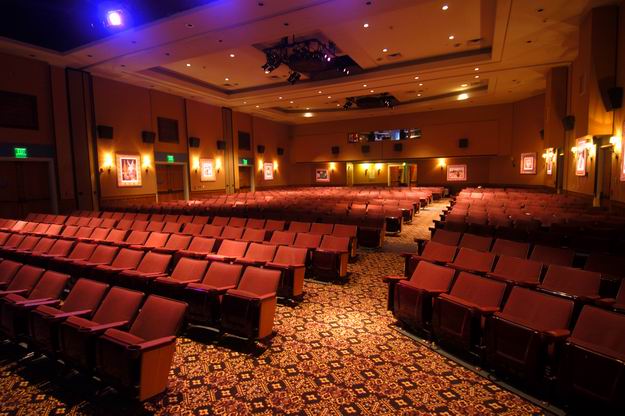 Reverse shot, Chuck Jones Cinema.
---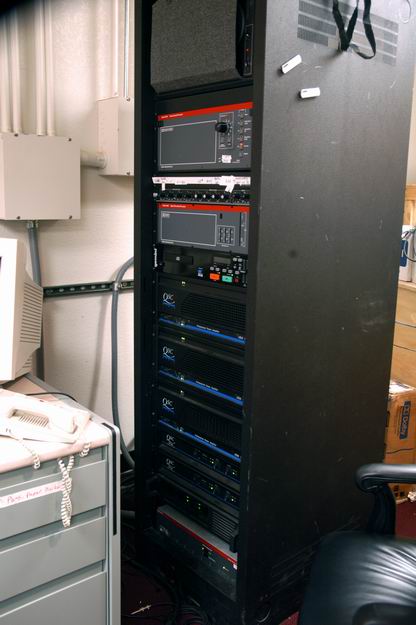 Sound Rack Chuck Jones Cinema. CP-65, DA-20, QSC MX-1500 Amps
---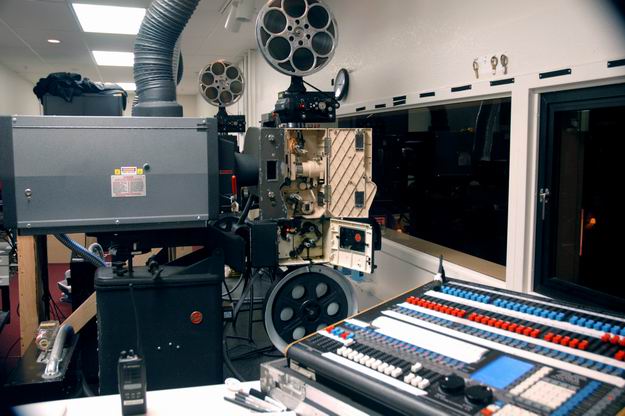 #2 projector, Chuck Jones Cinema. Brenkert BX-60 w/Dolby Digital penthouse.
---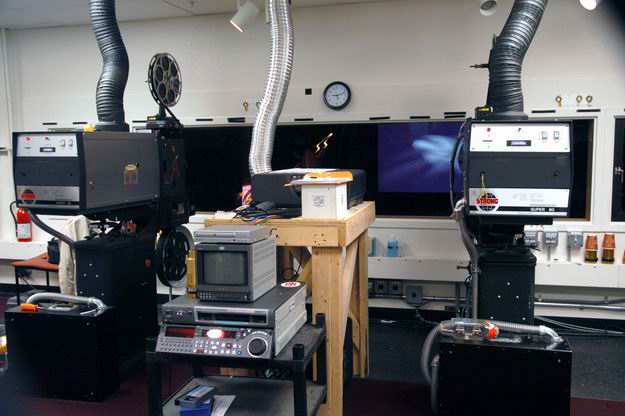 Video set up Chuck Jones Cinema. Panasonic PT-DW7000U-K WXGA 3-Chip Projector. Did a very nice job. Panasonic is the digital projector sponsor for the Telluride Film Festival. The deck is a Sony HD and Digi Beta projector.
---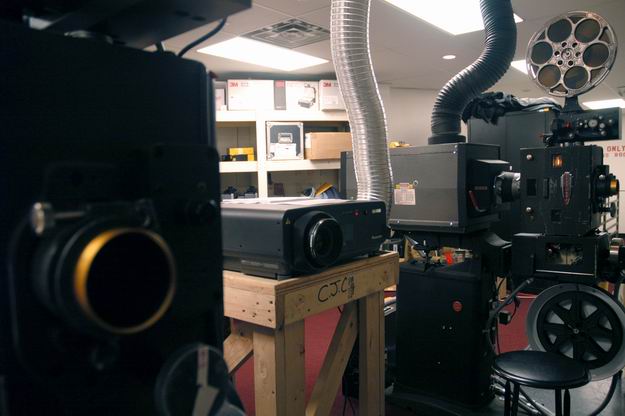 Nice spacious booth, plenty of room for two 35s and a video projector.
---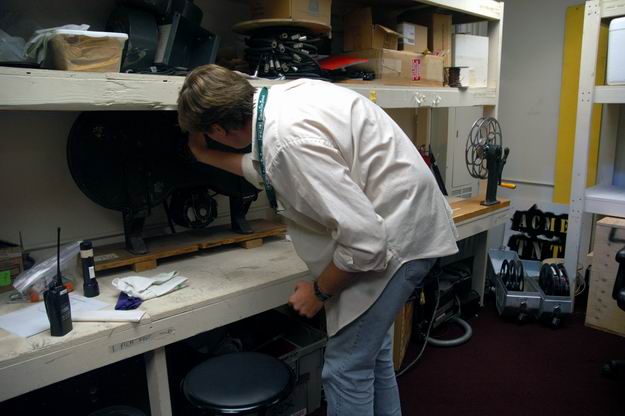 Projectionist Bruce Mazen rewinds.
---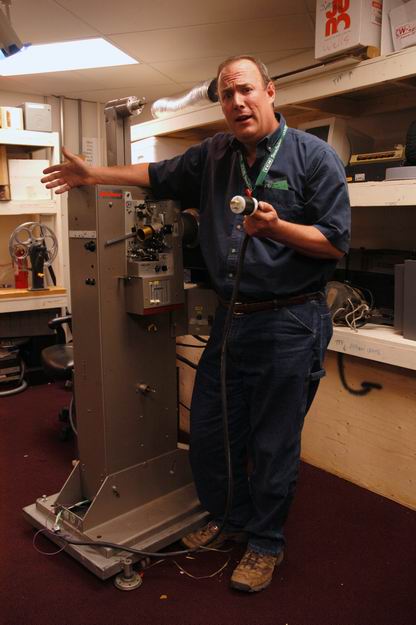 Projectionist Ian Price wonders where this plug goes? That's a Kinoton FP-16.
---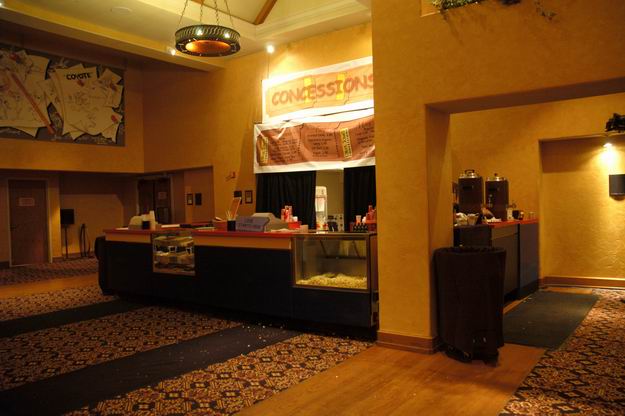 Concession Stand for the Chuck Jones.
---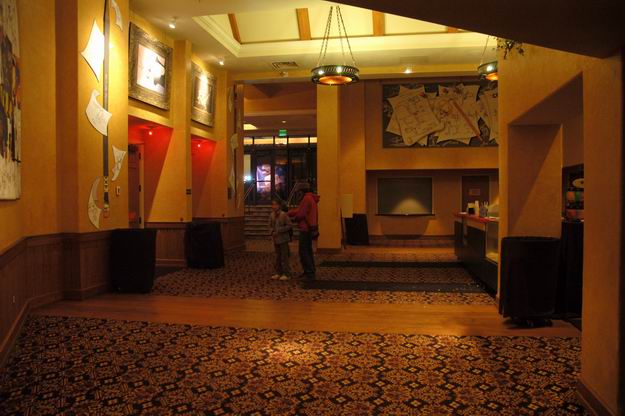 Lobby of the Chuck Jones. All art is just for the Film Festival. Remember, "The Show starts on the sidewalk."
---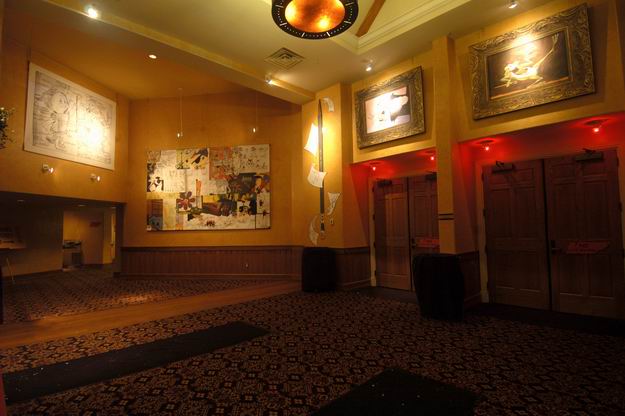 Those are paintings by Chuck Jones above the doors and all throughout the auditorium.
---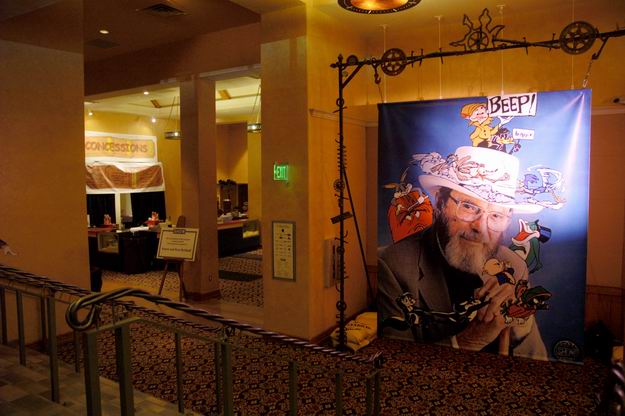 Chuck Jones.
---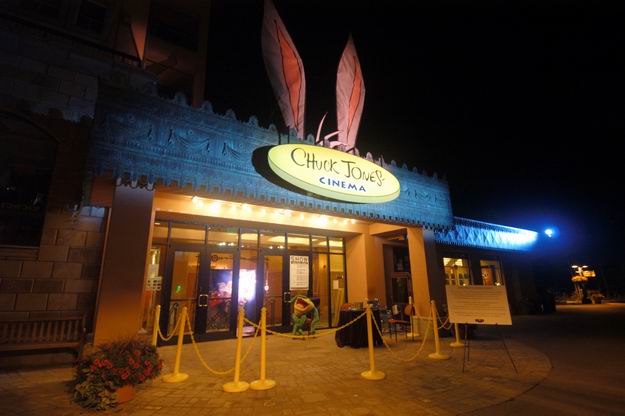 Entrance to the Chuck Jones Cinema.
---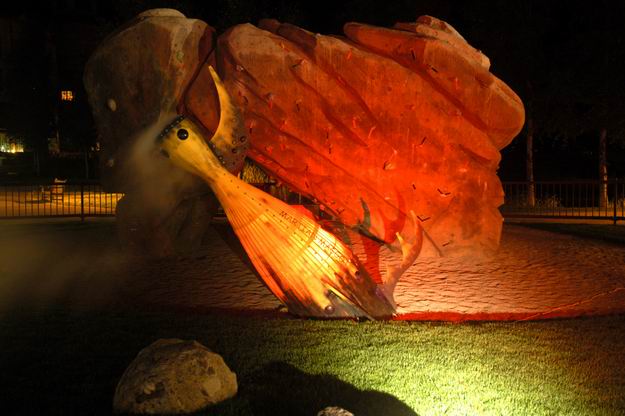 Crashed spaceship of Marvin the Martian in front of community climbing wall at the Chuck Jones Cinema. Note that it smokes.
---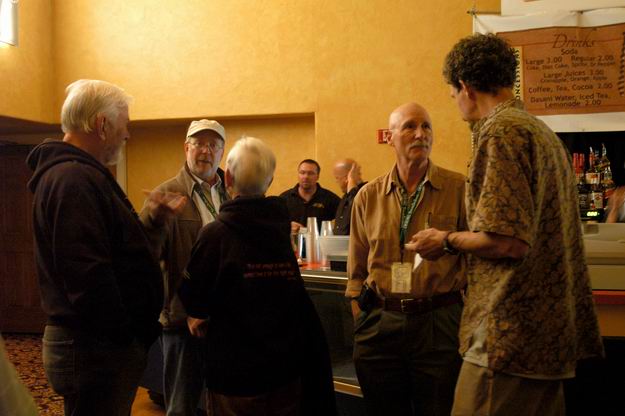 Closing party at the Chuck Jones. From right, Ian Bald, Jim Bedford, Stella Pence, unknown, Bill Pence.
---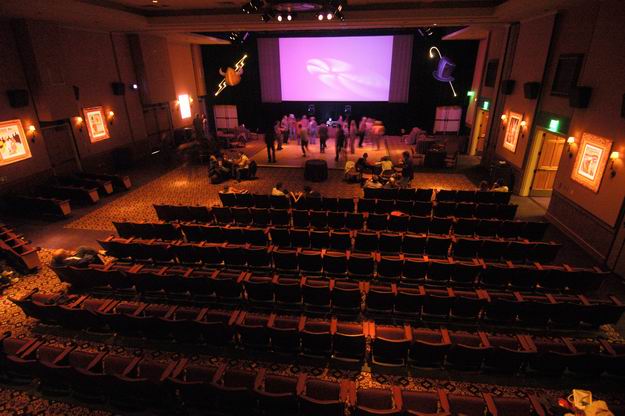 Dance Floor set up in the front of auditorium for closing party.
---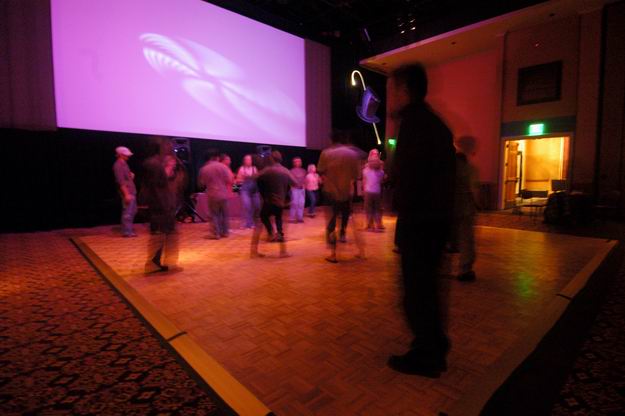 Let's boogie!
---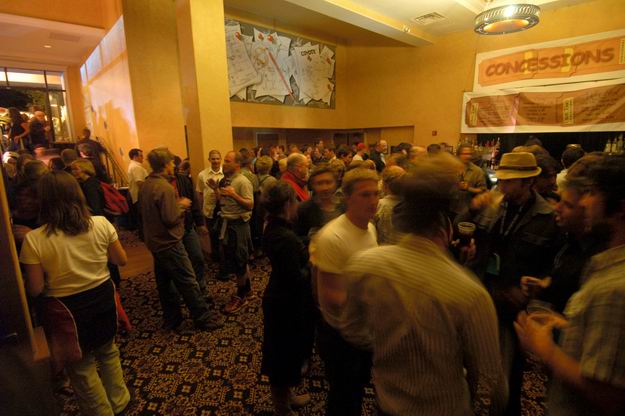 Most people were interested in eating, drinking and smoozing.
---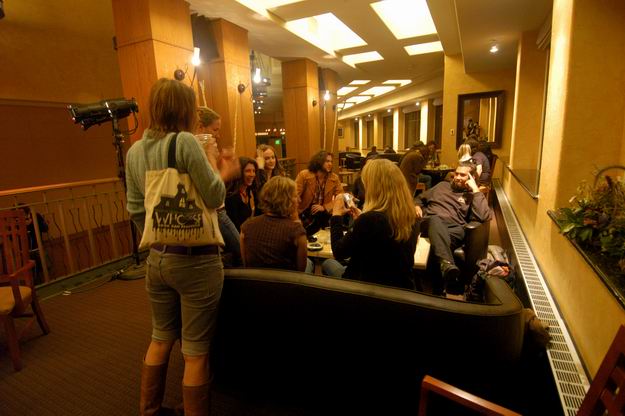 Some went for quiet conversation.
---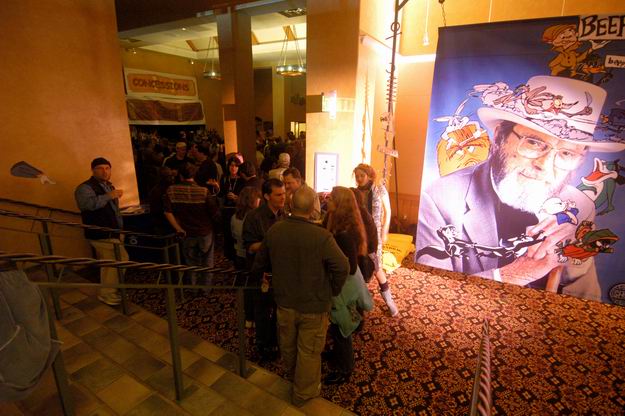 See you next year Chuck.
---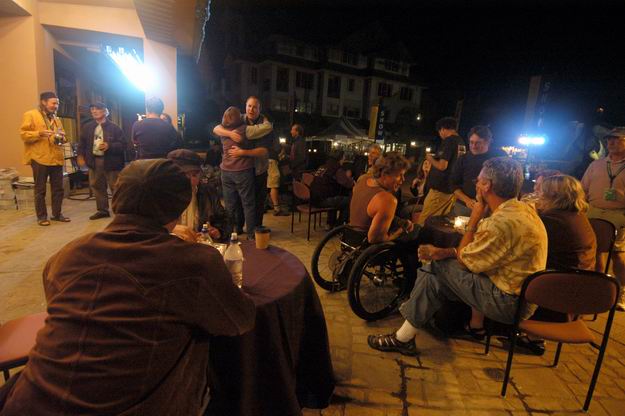 Tables were set up in back of the auditorium for the wrap party. It was made especially poignantdo to the announcement that Bill and Stella Pence were retiring after 33-years of running the Festival.
---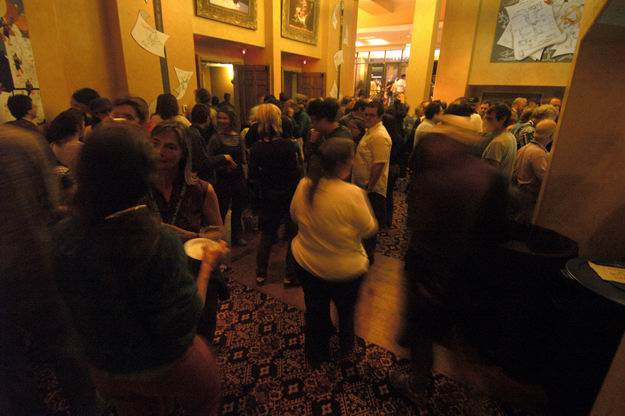 ---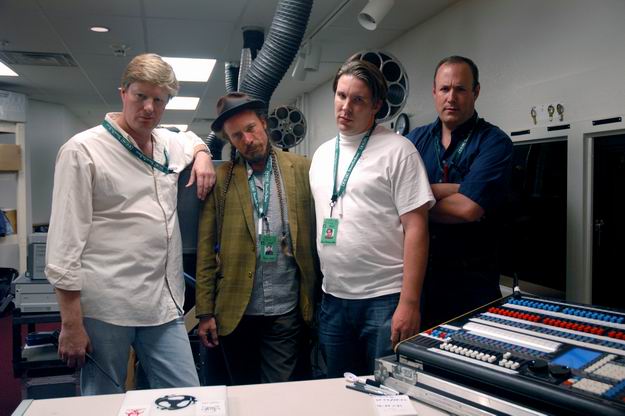 The Chuck Jones Theater featured the best projection team in the 2006 Telluride Film Festival. Bruce Mazen, Peter Halter, Ryan G. Smith, Ian Price. Bruce wouldn't smile, so nobody smiles.
---