Home

Products

Store

Forum

Warehouse

Client Login

Contact Us

Welcome.
· Warehouse Home

---
Send us pictures of your screening rooms and theaters!
CLICK HERE to read the policies on submitting pictures.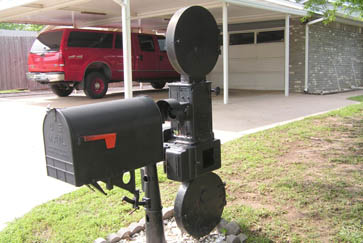 Now that's a mailbox! How many pieces of US mail get to be delivered to a Model K Motiograph on a SH7500 soundhead? All of Ben Kehe's mail does.
---
Quick Links:
Screening Rooms ·· Special Events ·· Tradeshows ·· Large Format Theaters ·· Singles, Twins, Trios and Quads ·· Drive-Ins & Outdoor Venues ·· The Multis and the Megas ·· Miscellaneous Stuff