FilmGuard/Media Pads
Recycling Program

---

Don't throw those plastic coupling cores away!
Instead participate in our recycling program and get free items in return.
Yes that's right, FOR FREE!

Here's how it works...as you use FilmGuard and Film-Tech brand media pads in your booth, save your coupling cores in a designated location. Then redeem them for your choice of items below. It's simple, it's free and most importantly you will be helping to recycle.

---

OPTION #1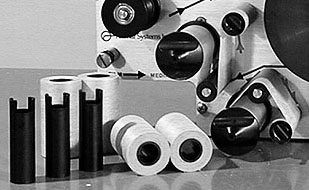 Get a free box of Film-Tech Media Pads. (As an added bonus you will have 16 cores to save after use for your next recycle!)
Redeem 110 coupling cores

---

OPTION #2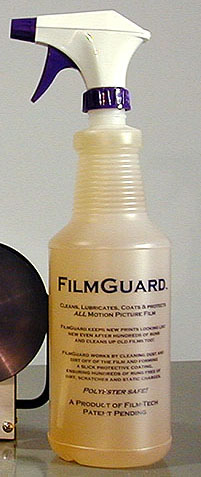 Get a free bottle of the most popular anti-static film cleaner/lubricant/protector on the market, FilmGuard.
Redeem 150 coupling cores

---
READ CAREFULLY!!!
To redeem your selection above, follow these easy steps, but make sure you do not miss anything...
1. Triple count the cores you are sending back to us for recycling to make SURE you have the correct count. You are ultimately responsible for sending in a correct count. Sending in too few will void your selection and sending in too many will not be credited on a future redemption.
2. Package the cores in a suitable box. Do NOT add packing peanuts inside the box unless you have the contents that are being returned securely protected inside a ziplock bag or other container. WE WILL REJECT YOUR REQUEST IF THE CORES ARE RECEIVED COVERED IN PACKING PEANUTS OR OTHERWISE RECEIVED IN AN UNUSABLE CONDITION! Remember the whole idea for the recycling program is to be able to RECYCLE the coupling cores, so please use common sense in determining suitable packing requirements.
3. CLICK HERE and print that page. This completed form MUST accompany ALL redeems!
4. Fill out the form you just downloaded and printed above. Make SURE you write CLEARLY and do not leave any part of it blank.
5. Ship the box to:
Film-Tech
ATTN: Recycling Program
3033 Kellway Dr #128
Carrollton, TX 75006
Please do not use the United States Postal Service to ship the cores, as we have had issues with the local USPS losing packages. We highly recommend UPS or FedEx. Use the post office at your own risk.
6. Have someone OTHER THAN YOU read through this page and double check all of your preparation before you send it. Forgetting to do something could result in disqualifying your submission.
7. Wait patiently. Recycling is performed twice a month, so depending on the day your package arrives, it could sit for up to 2 weeks before we process your package. From that point, at least a week needs to be alotted for your selection to reach you, and of course it could have taken up to a week for the box to get from you to us, totaling up to 4 weeks. If you have not received your selection within 30 days from shipping it, please email Recycle@film-tech.com and inquire to make sure there was not a processing error on our part.
8. Even if you somehow manage to do everything wrong, at least make certain that you have a valid email address with your return. If we do not at least have an email address to contact you by, we will have no way of contacting you and your return will be void.

---
SPECIAL REQUIREMENTS AND FURTHER TIPS
If you are outside of the 48 continental states in the US, you are not disqualified, but will need to make special arrangements on a case by case basis before participating in the recycling program. Please email the address listed on our contact us page to make special arrangements. To save on shipping costs to and from, please consider getting together with other theaters in the area and sending in one large order. We will gladly work with you.
Does your theater use FilmGuard? When returning your cores for recycling, enclose your empty bottles of FilmGuard. (Make sure the original shipping cap is screwed on, or leave the sprayer attachment on the bottle so those last few drops will not get liquid on your package.) While these bottles will not actually be recycled due to possible contamination, we will count each empty bottle of FilmGuard as 5 cores for all orders received. Consider it a thank you from Film-Tech for using FilmGuard to improve your presentation. Now aren't you glad you read all of this page?
This recycling program for the plastic coupling cores started at the first of 2004 and will continue for as long as this page is on our website. New items may be added from time to time and requirements may change. Make sure you check this page for changes and download a current copy of the redeeming form immediately before each submission.