---

Showest 2001
Las Vegas, NV, USA

---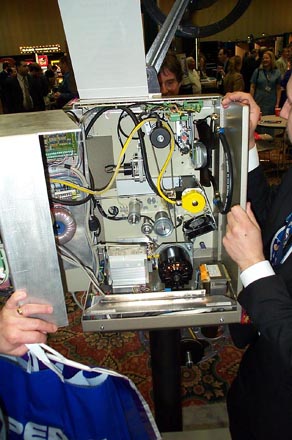 Kinotone's PK60E is an electronic projector that sells for approximately the same price as a Christie. If you stick your finger in the shutter, the projector shuts off. If you get a head wrap from the platter, the projector shuts off. The keypad is for setting the speed and other functions of the sprocket drive motor. A computer and appropriate interface assembly is needed to adjust picture steadiness (the motor will actually compensate for slight machining tolerances on the intermittent sprocket itself.)

---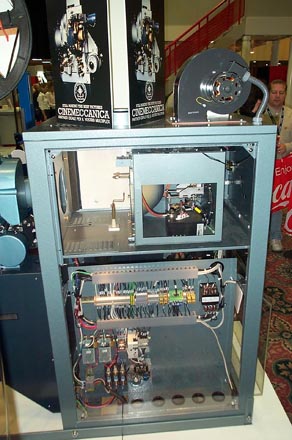 A Cinemecannica console.

---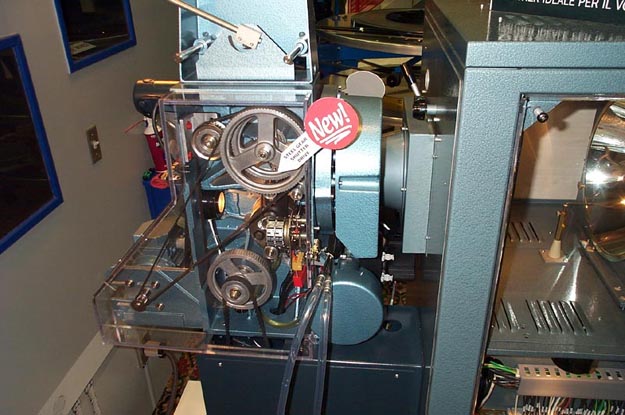 Cinemecannica Victoria 5 with a clear back to show off the drive.

---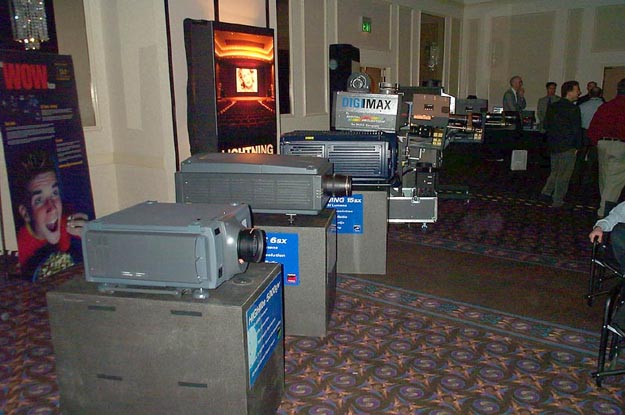 This is the entire line of "Motion Data" DLP projectors from Digital Projection and the IMAX company.

---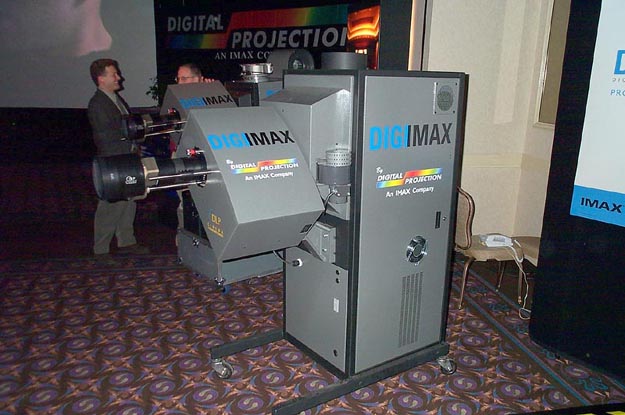 This is Digital Projection's licensed digital cinema projector from Texas Instruments. It uses the TI black chip at 1280 x 1024 resolution. At the moment, this projector can only be used with a system like Technicolor or Boeing. You can't jack your PlayStation into it.

---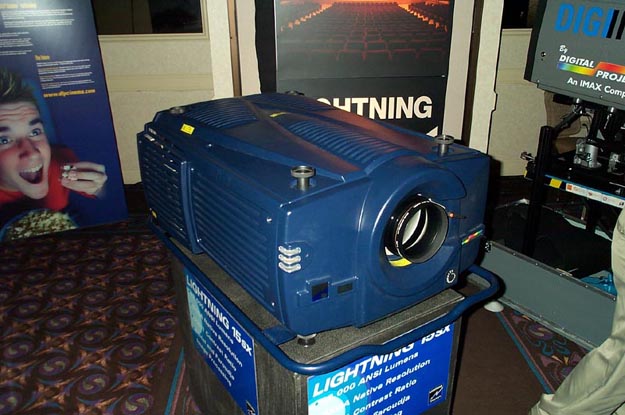 This is the 15SX top of the line model portable "Motion Data" projector. 15,000 lumens and you can jack any video source into it, including that PlayStation.

---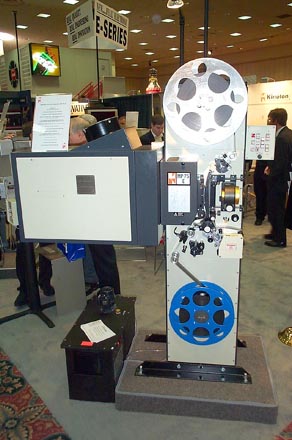 Kinoton's MP75E electronic multi-format projector. This machine can run 70mm 8 perf, 70mm 5 perf and 35mm 4 perf!

---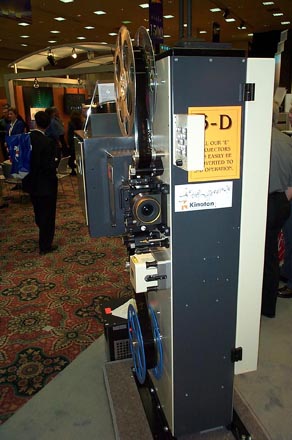 Here is a front shot of the MP75E.

---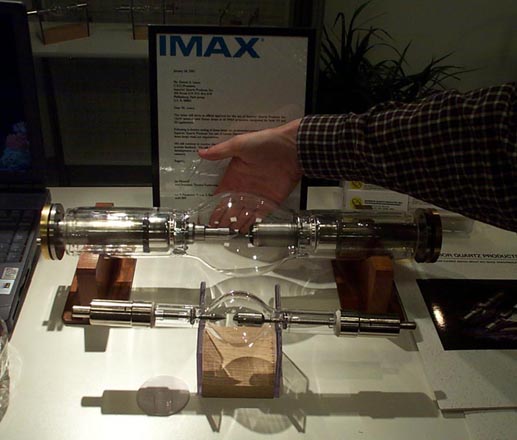 This is a 15,000 watt xenon lamp for an IMAX projector with Ky's hand behind it. It is water cooled and the water goes in at each end and goes all the way to the tips of the anode and the electrode.

---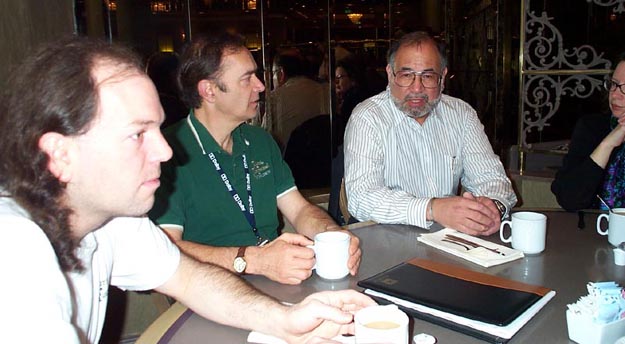 Matt Kunou, John Busch and Sam Chevez at the Telluride Film Festival Tech Breakfast.

---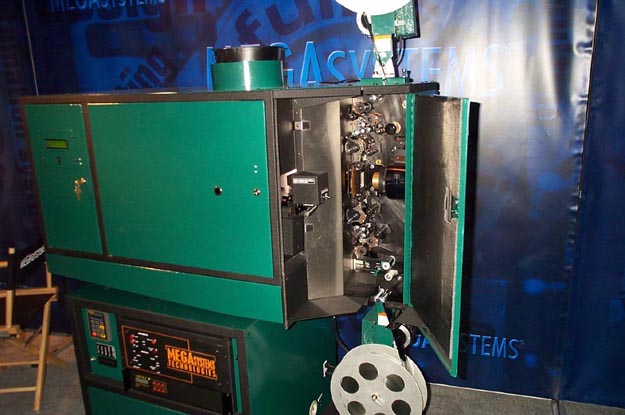 This is a Mega Systems 8 perf special venue projector that was running real film into a rear projection model of a theater. The IMAX-like theater had a screen 3 feet wide by 2 feet tall!

---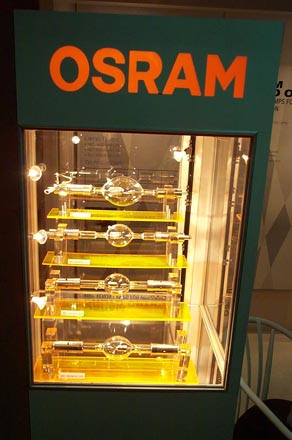 Osram's xenon display.

---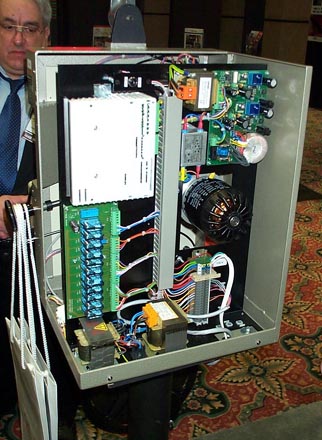 This is a Kinotone PK60D, which is mechanical and sells for the same price as a Simplex. Behind the electronic boards are the chains for the sprocket drives. The intermittent is directly coupled to the motor.

---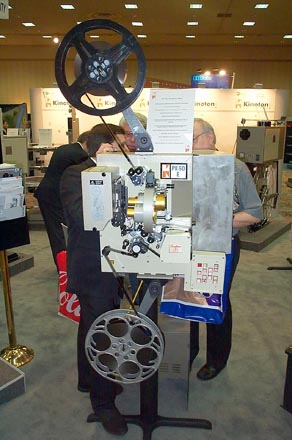 This is a Kinotone PK60E which has an electronic stepper motor instead of an intermittent.

---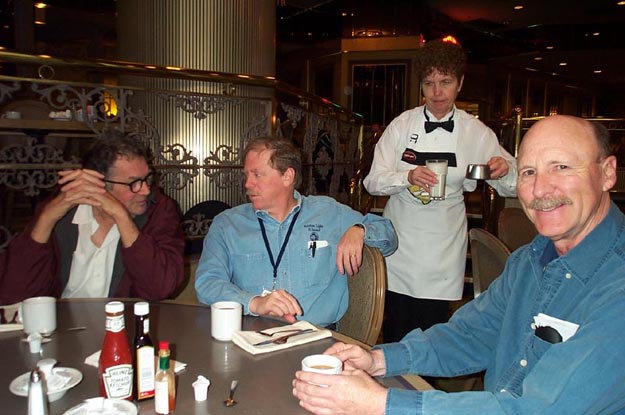 Ross Kranz who is the chief technician for the Telluride Film Festival, Chapin Cutler of Boston Light & Sound who is the Technical director of Telluride and Sundance Film Festivals and Jim Bedford who is the Telluride Operations Manager for the Telluride Film Festival. This was at our tech breakfast.

---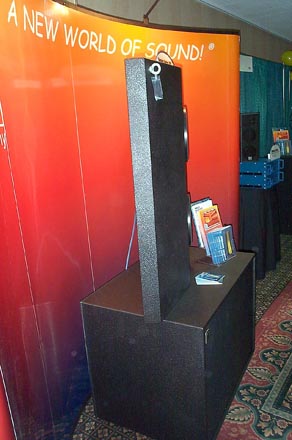 This is an SA loudspeaker from the side. They are only 9 inches thick.

---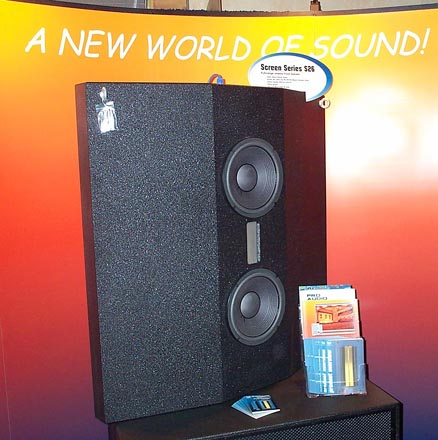 This is a picture of the speaker. They don't use horns, but ribbon tweeters. They are said to sound the best.

---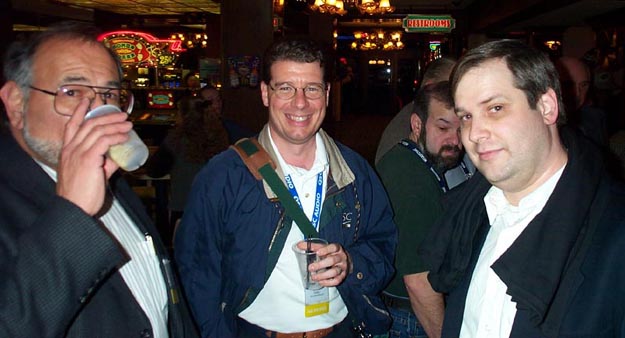 Sam Chavez of Bay Area Projection & Sound, Barry Ferrell one of many fellows from QSC and the infamous changeover man himself, Steve Guttag from Cardinal Sound. Mark Gulbrandsen from GTS appears to be eyeing Steve's shoes. (Sorry, no picture of Steve's shoes available, but it is reported that they are Rockport shoes. Get yours today!)

---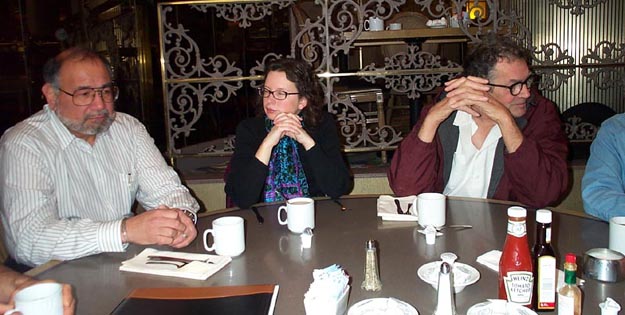 Sam Chevez from Bay Area Projection & Sound, Ingrid Lei from Vancouver BC who is a lurker on Film-Tech and Ross Kranz at the Telluride tech breakfast.

---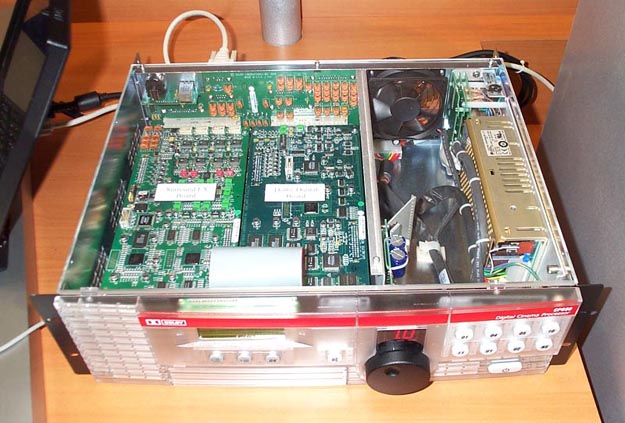 Dolby chose to display a CP650 in a clear cover. This shows how few electronics go into a sound processor these days.

---

CLICK HERE for more pictures of ShoWest 2001