---

More Pictures from
Showest 2001
Las Vegas, NV, USA

---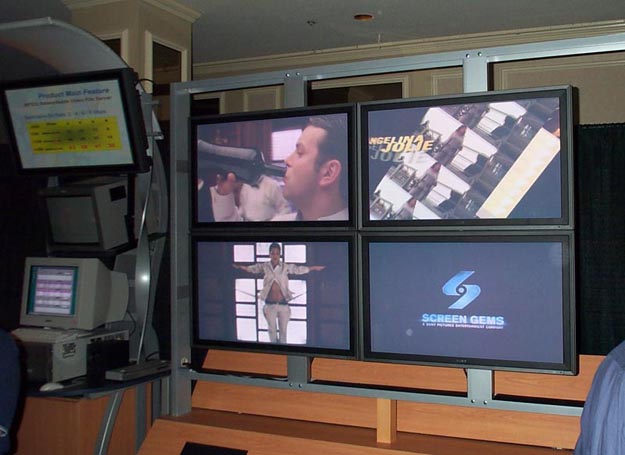 Sony had a vast room to show their products. They now make a video projector with JVC's DILA chips. This photo shows their plasma monitors.

---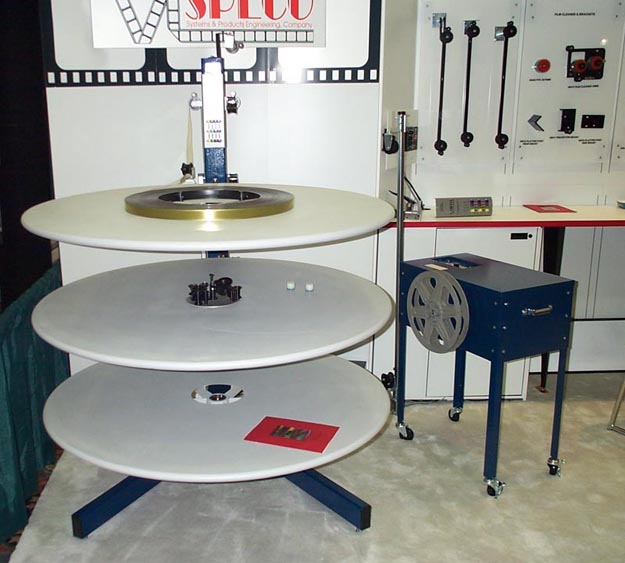 Speco's LP270 platter is the same platter Ian uses at the Rialto, but he wants their new MUT.
(Editor's note: The new vertical MUT design is well worth upgrading older models to!)

---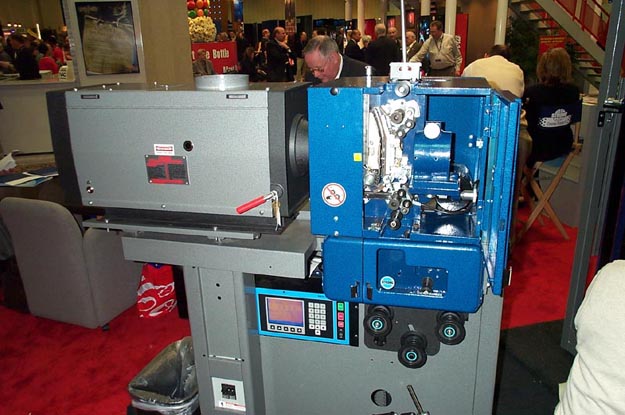 Strong 70mm projector with 1000 watt lamphouse. Strong was showing a special venue platter and just used this projector to show film in a machine.

---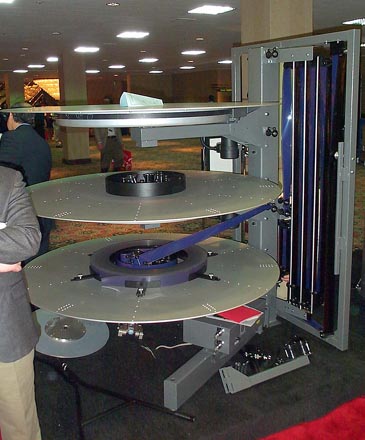 Strong's special venue platter is capable of running at IMAX speeds. It also features dynamic breaking so you can slow it down real fast without throwing the print.

---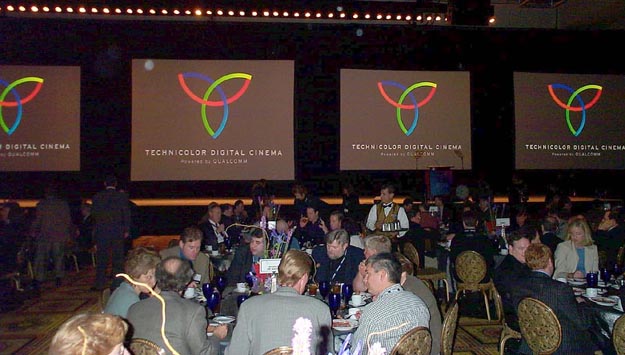 Technicolor and Quallcomm hosted a lunch for thousands to introduce a total package Digital Cinema package. They are giving exhibitors the first 1000 projectors for free. They spent a lot of time showing how this would help the distributors and even took a pot shot at projectionists. There will be a 12 cent per ticket charge going to Technicolor to help out with the cost. Thus far, none of the Film-Tech members seem impressed in the least.

---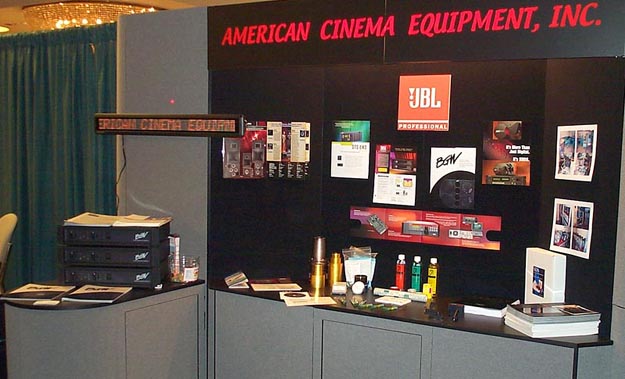 This is the American Cinema Equipment booth. Scott Hicks runs this very exhibitor friendly outfit in Portland, Oregon.

---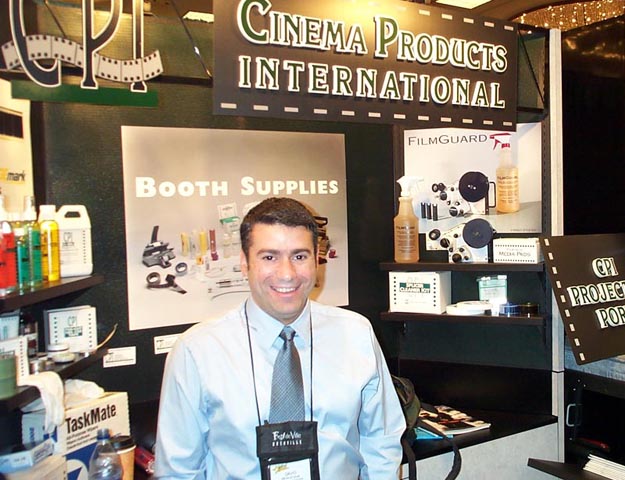 David Bevilacqua from Cinema Products International showing off their products.

---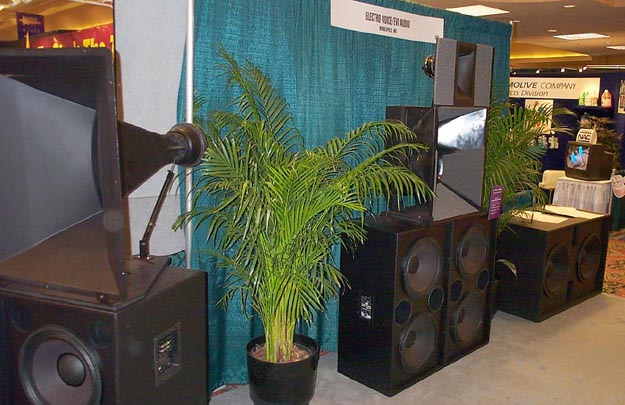 This is the Electro-Voice booth showing off their line of speakers.

---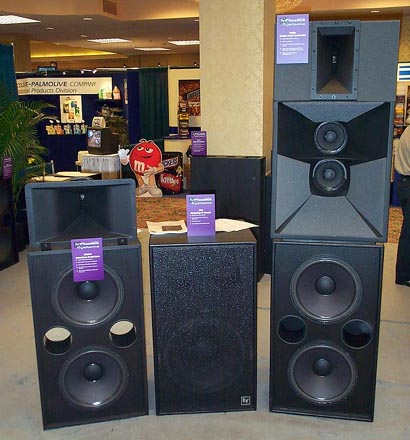 More Electro-Voice speakers.

---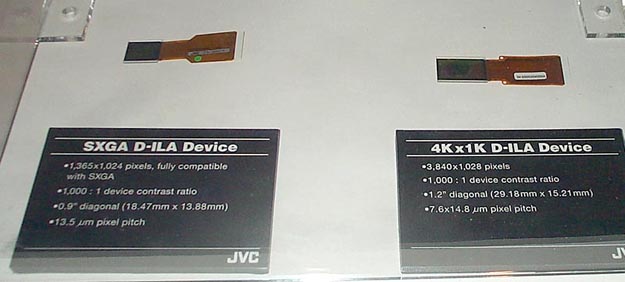 This is JVC's DILA chips on display in the Sony booth as well as the JVC booth.

---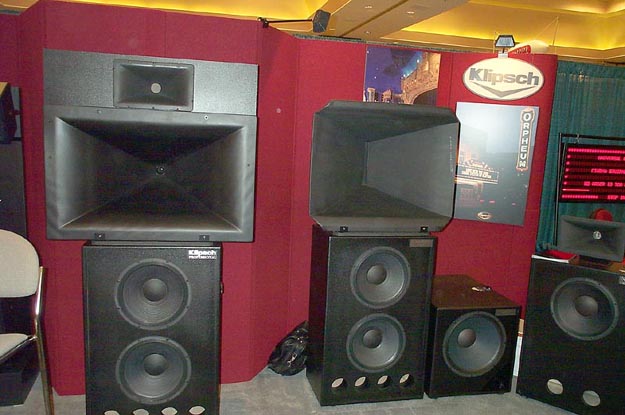 The Klipsch booth.

---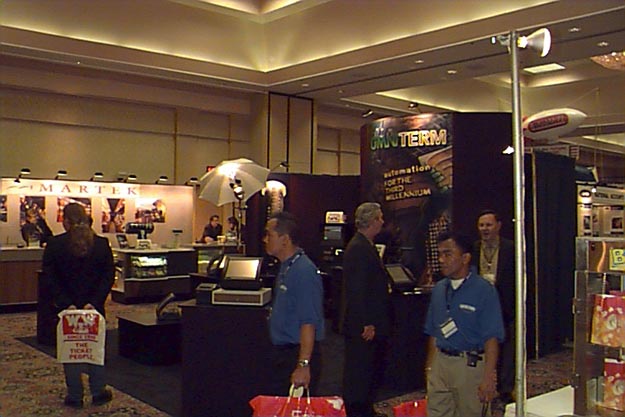 The OmniTerm booth showing off their touch screen management systems.

---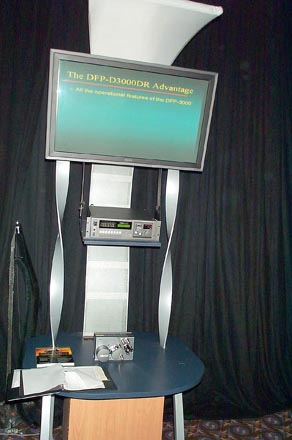 This is the Sony booth pushing the 8-channel sound experience. They were very controlling at the door as to who would be allowed inside, so Ian and Ky didn't get in to hear the demonstration and have decided not to purchase any Sony products because of this. (Editor's note: How bizarre they would not want to demo their products to as many people as possible!)

---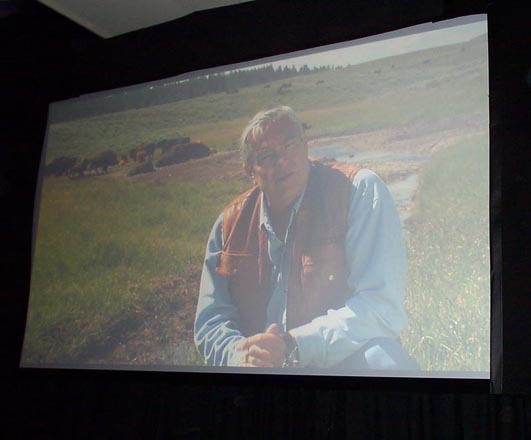 This was a front projected image from the Sony video projector. It looked good, but you can still see pixelization in it. (Editor's note: This was taken with Ian's flash, so the contrast has been killed.)

---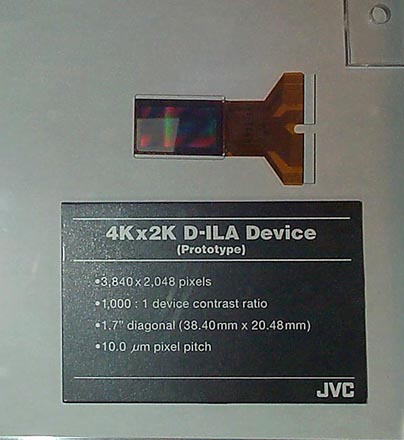 Sony-JVC DILA chip. Even though they have this chip available, it was not in any projector.

---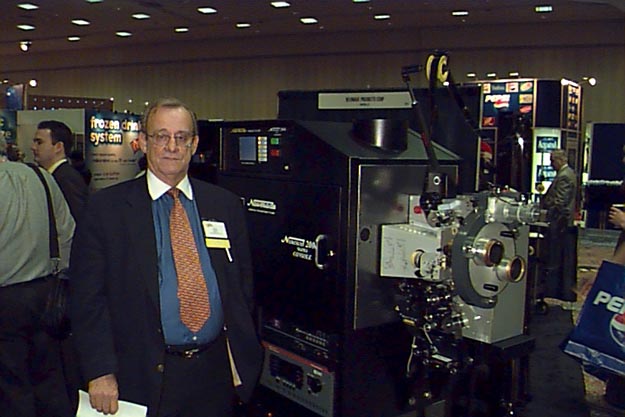 Bob Maar beside a Neumade console.

---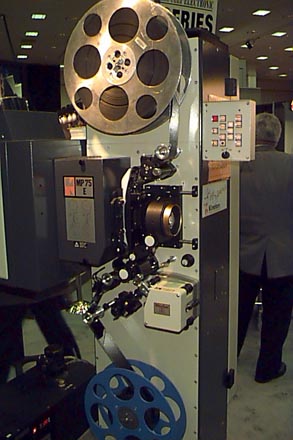 Kinotone MP75E.

---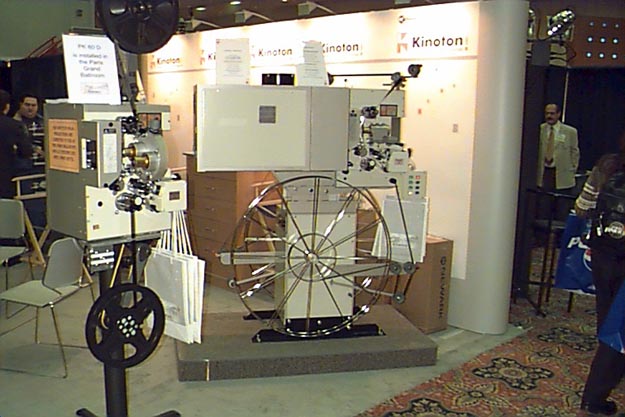 Kinoton's booth featuring lots of reel to reel displays. Foremost in the picture is the FP-25D.

---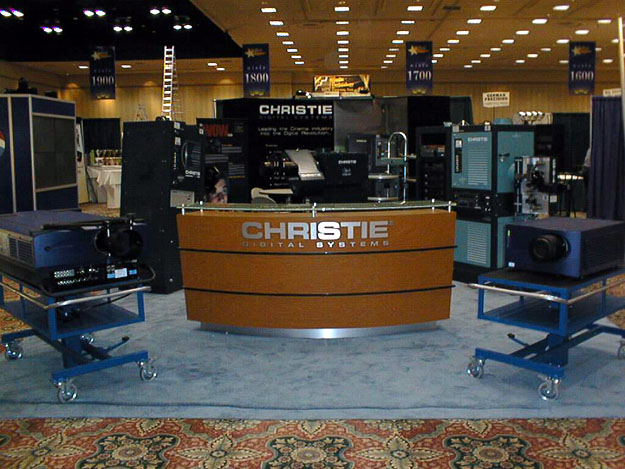 The Christie booth.

---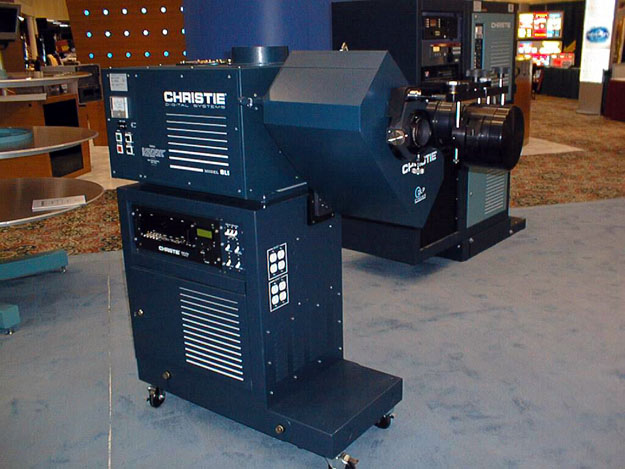 This is the next generation DLP Cinema head from Christie with dual anamorphic mount, compact lamphouse (up to 4.5kW), pedestal (with internal power supply and water circulator), and Cine-IPM processor which allows any source to be fed into the DLP Cinema projector (S-video, SDI, component, composite, HDSDI, etc.).

---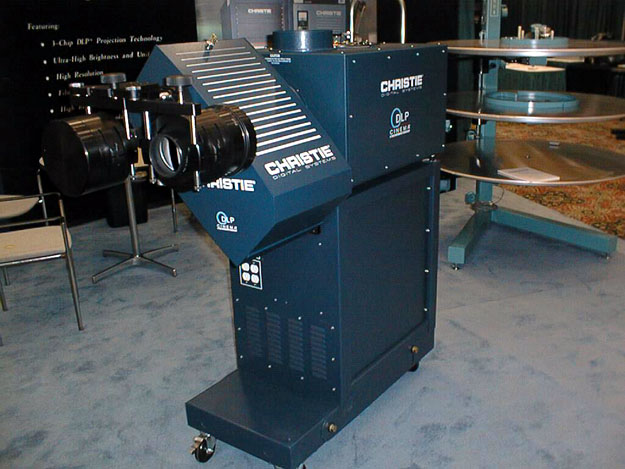 Reverse shot of the above.

---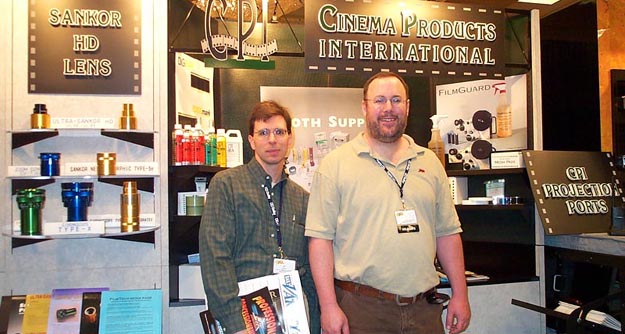 And of course, the shameless plug for FilmGuard and Film-Tech media pads by Ky Boyd and Ian Price.

---

Special thanks to Ian Price, Ky Boyd, Gordon McLeod, Mark Gulbrandsen and Bevan Wright for the pictures.