Martin Dean
Film Handler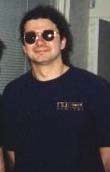 Posts: 11
From: Duluth, MN, USA
Registered: Aug 2002



posted 08-18-2002 01:19 PM




---
I am seeking employment within the US movie theatre industry after moving here from the UK. Before moving to the US, I worked for seven years as a Field Engineer with Omnex Pro Film. Prior to being asked to join Omnex, I was Chief Projectionist at the Clapham Picture House in London.

As an engineer I have experience in all aspects of installation, maintenance and line up of projection and sound equipment, including:


35mm projectors including Strong, Phillips/Kineton, Westar, Cinemeccanica, Prevost, and Sondor

Lamphouses / Rectifiers

Automation / control systems

16mm and 70mm projectors

Magnetic, Dolby, SDDS and DTS line up

Sound rack and general projector wiring

I have been involved in numerous installations, supervising many of them. I also performed regular service visits, and dealt with all types of projection emergencies. As an engineer I regularly worked in every type of theater including multiplexes, Art-Houses, and Preview theaters.
I would prefer to continue as a Field Engineer, and am prepared to travel as required. Alternatively, I would consider projection and/or technical work within a reasonable commutable distance of Duluth, MN.
I am available for work immediately. Please contact me for a full resume.

Martin Dean
| IP: Logged