---

Cinema Product Reviews

---

SPECO LP-271 Platter MUT (new style)
Manufacturer: SPECO
Rating B+
Reviewed April 2001 by Ian Price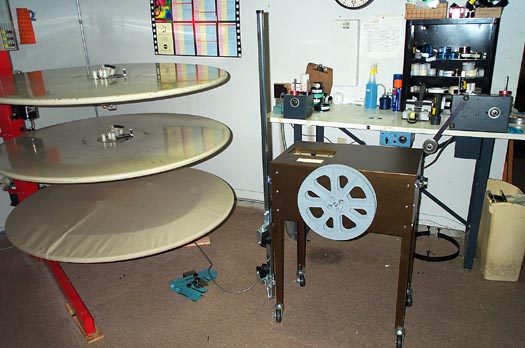 So this year at ShoWest, I broke down and ordered a new platter mutt. I saw that SPECO had redesigned it.
In short our projectionist loves it. It came last night and the first thing she did was to put it together.
The design is vertical and thus the film will not fall off of the reel as easily. You can now build up and tear off any platter that is open. But again, it isn't a good idea to work with a platter above the feed out platter.
The thing is much quieter. It is constructed of steel and seems much tougher. But it is also smaller, more compact and lighter. It moves easily from room to room.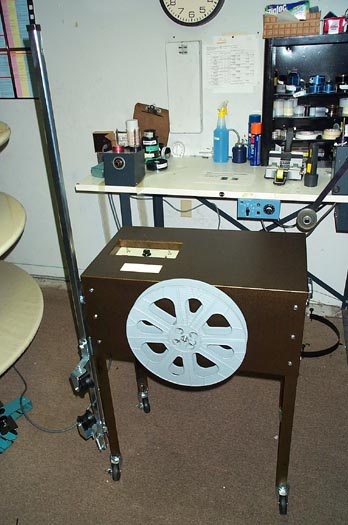 I was worried that it wouldn't stay still because it is lighter and on it's wheels all the time. But the wheels lock and my projectionist tells me that it did great. She was able to put RAN a 9 reel film on the bottom platter with this mutt. That means we put 7,000 foot reels on it, which were fully loaded.
Last year I wouldn't have bought another SPECO product. But now that I have seen how they have improved their products, I would consider buying SPECO platters for a new theatre, if that ever comes along. They are inexpensive and aside from a couple of annoying problems, they work quite well.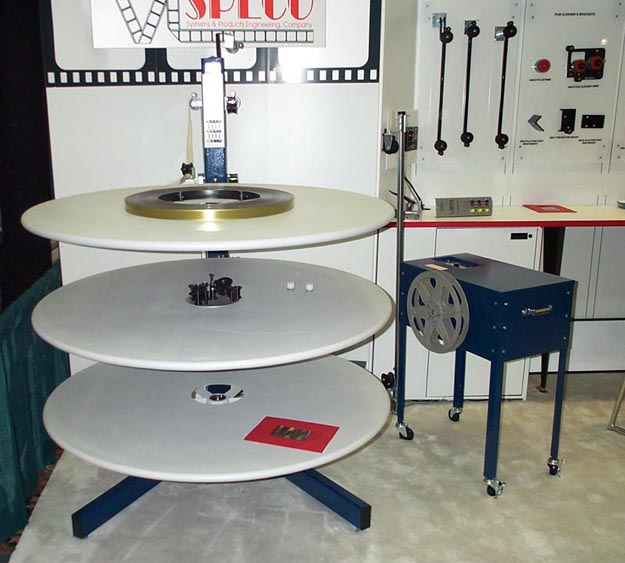 Also, the new platter mutt at ShoWest was nice blue color (see the above picture). However, the Mutt they sent us is a bronze color. Are the mutts available in a rainbow of colors? Perhaps we should have been sent a color sample so that we could color coordinate our projection booth. In that case, we would like to exchange our 5 platters from this passe orange color for 5 in the matching bronze color.
The only thing is SPECO should do is recall all the old mutts and send out the new ones. Now that would be customer service. I had to pay more than $500 for mine, but it was well worth it.
Bottom line: Worth $500 to avoid the pain of the old table.
- Ian Price
---
Ian Price is a 15 year veteran of the exhibition industry. He was a theatre manager for Landmark Theatre Corporation in Denver for 5 years. He was chief projectionist for United Artists Greenwood Plaza for 6 years and currently owns the Rialto Cinemas Lakeside (5-screen Art House) in Santa Rosa, CA with his business partner Ky Boyd.
---
The views contained herein do not necessarily reflect the views of the publishers of this website. The published views express actual testimony to personal use of particular products or services. The testimonies, good or bad, are based on fact and thereby releases any and all people of any slanderous liability including the author. Anyone who views this portion of the website must accept these views as statements of the author of that opinion based on actual use of the product and/or service.