---

Cinema Product Reviews

---

Strong 35mm SP35 tape splicer
Manufacturer: Strong International
Rating: A-
Please note that this product has been re-reviewed.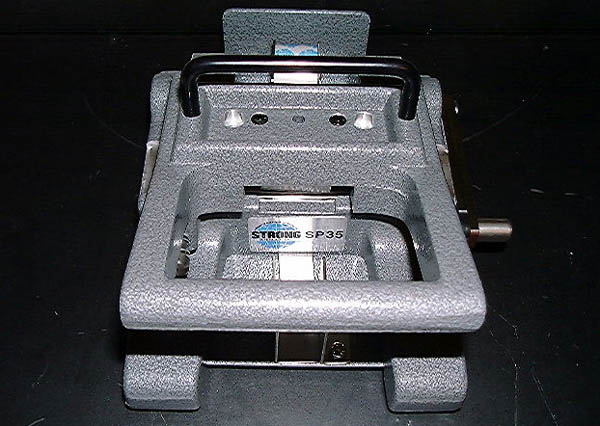 Perhaps Strong's tagline should read "From Strong minds come Strong products". Why? Because this splicer is built like a tank! Until you actually get your hands on one of these splicers, you won't know quite what I'm talking about, but allow me to try and explain. Basically if you were to take a Simplex projector, melt it down and make a splicer out of it, this is what you would get. This splicer is the most solid built splicer I've ever seen! It was clearly designed to be a workhorse in the projection booth, and it seems Strong has succeeded.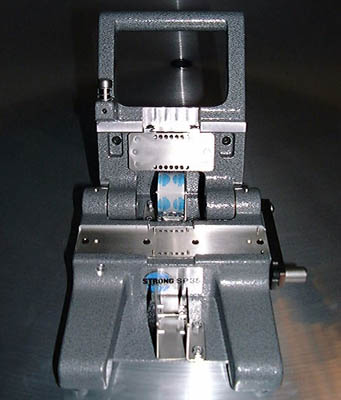 From an "open view", it resembles a Neumade...but there are many improvements.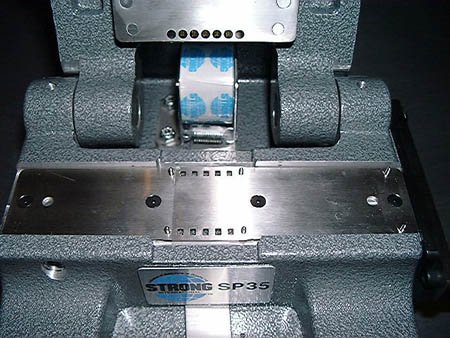 First, the tape dispenser has been changed. Now there are no more little tiny parts to get lost. The dispenser is spring loaded, so all the operator has to do is pull the one side out and swap the rolls of tape!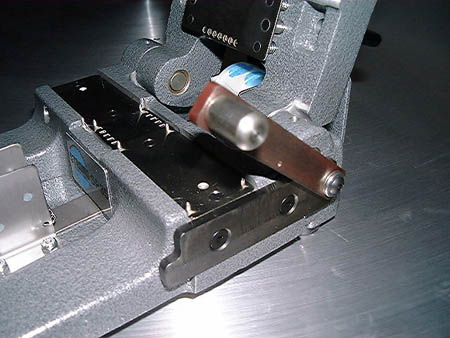 This is the cutter blade. It is absolutely first class all the way! I have never found a cutter blade on a tape splicer that is quite as good as this one. It is built solid, cuts perfectly straight and will clearly last for years. One pull of the chopper blade and you will agree.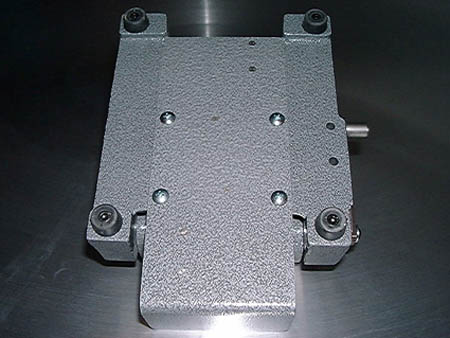 Extra large rubber feet are screwed in, not "stuck on" like other splicers. Because of this, the feet will not fall off from use and scratch up your platters and everything else you ever set the splicer on. Feet are easily changed out with the turn of the allen head screw. Bottom access to the splicer is through 4 large Phillips screws. There's none of those teeny tiny allen screw heads to deal with here.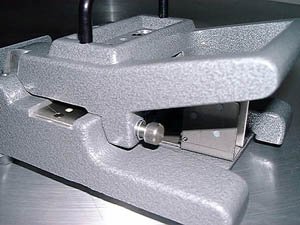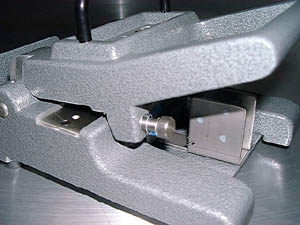 This splicer even has a locking mechanism for carrying it around. Just close the splicer and push the button in! To release, push down on the handle as if you are making a splice. Very ingenious.
So all this talk about how wonderful this splicer is, why didn't I give it an A+ rating?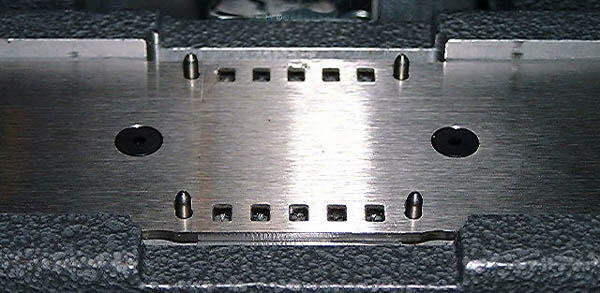 Right here. When tape is pulled over the film, those registration pins are right there in the way! This makes laying down a piece of splicing tape very difficult if you want it to not have any bubbles. On the Neumade splicer, these pins are one perforation over from the actual punching holes which makes it very easy to slide your thumb down across the tape for a perfect splice (see the "tips" section on "splicing tips" here on this web site). Here you must run your thumb down the center and then carefully go back and smooth out the edges of the tape. Perhaps Strong will fix this in an update. It is the only flaw in the design and it cost them an A+ rating down to an A- on this review.
Note it has been discovered that even a year after this review was posted that Strong did NOT correct this issue with the registration pins.
Still, this splicer is one solid performer and besides being heavy as gold, is truly good as gold. If I was working at a theater late one night and a burglar broke in, so long as I had one of these nearby I am completely confident I could with one good swing kill a man by hitting him on the head with this thing! (Just remember to never anger a projectionist when one of these is within arms reach.)