---

Williamsburg Theater

---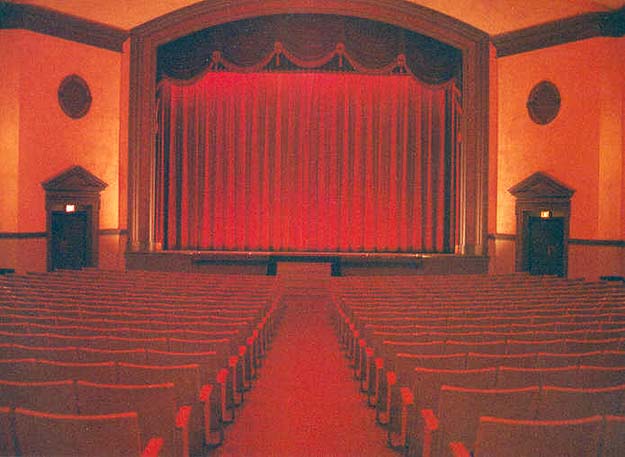 Interior of auditorium, viewed from last row of seats.
Curtains and draperies are original from 1933.
Seats and carpet are probably from the late 1960s/early 1970s.

---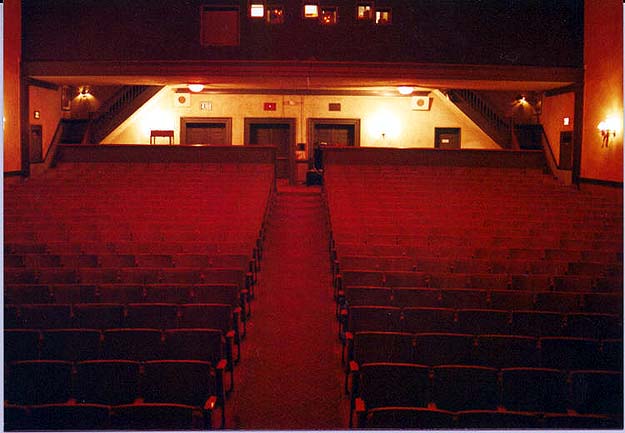 Interior of auditorium, viewed from stage.
Stairs at rear lead to mens' room (left - contains booth entrance) and ladies' room (right).
Three large doors at rear go to lobby; small door goes to office.
Note 1950's vintage Altec surround enclosures, originally installed for mag sound in 1954/55!

---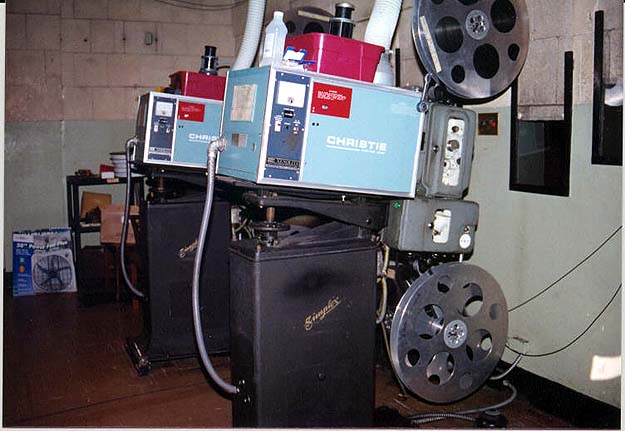 Interior of booth, viewed from entrance door in mens' room.
We're using Century SA projectors s/n 150 and 151.
The lamphouses are 2kw Christie K20's. The bases are from the 1950s when Simplex XL's were installed along with the Altec mag sound equipment.

---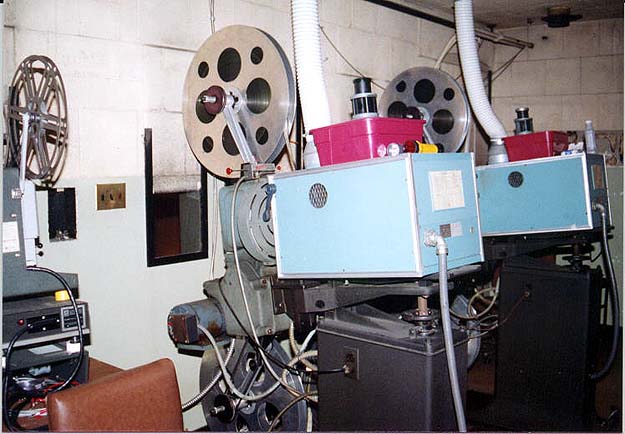 Interior of booth, viewed from opposite side. Note the ancient B&L scope lenses atop the lamphouses. The 16mm machine is a MARC 300 Kodak Pageant and is woefully inadequate for this theatre (80-foot throw, 15-foot-high picture). Fortunately, we rarely use it.
Note alligator clips underneath it to connect it to the sound system!

---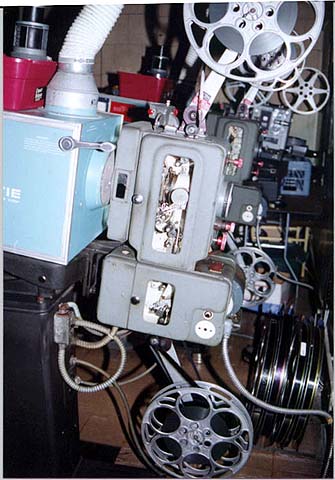 Four projectors, from front to back: 35mm #1, 35mm, #2, 16mm, and 35mm slide projector.
The film running on the 35mm machines is "Rocky Horror Picture Show."

---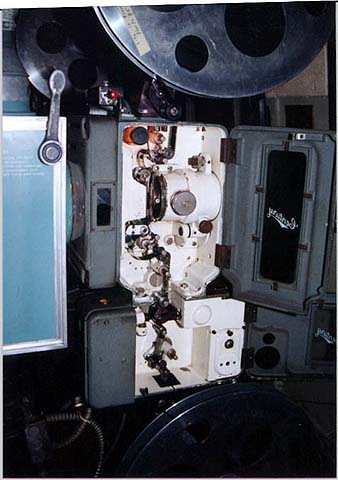 Close-up of the #1 projector; the first part of "Life is Beautiful" is threaded up and ready to show.

---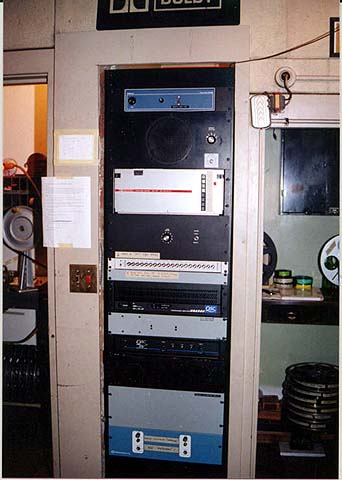 The sound rack, from top to bottom: booth monitor amp (four of these 100W McMartin paging amps powered the auditorium system until last spring!), booth monitor loudspeaker and channel selector, CP-50 processor, EQ for non-sync sound (CD player, microphone, etc.), QSC 900 amp for center and surround channel, spacer with 70v transformer (for
surround system) on back, QSC 700 amp for L and R stage channels, grey spacer with sound changeover box mounted on back, Kelmar exciter supplies.

---

2000' reels with 1/2" shafts underneath rewind bench.
Still useful for short runs, trailer reels, trainee projectionist, etc.
The film here is "Rocky Horror Picture Show."

---