---

Wine Country Film Festival 2003
Film Venue - Outdoor Location #2: Kunde Estate Vineyards
Kenwood, California, USA

---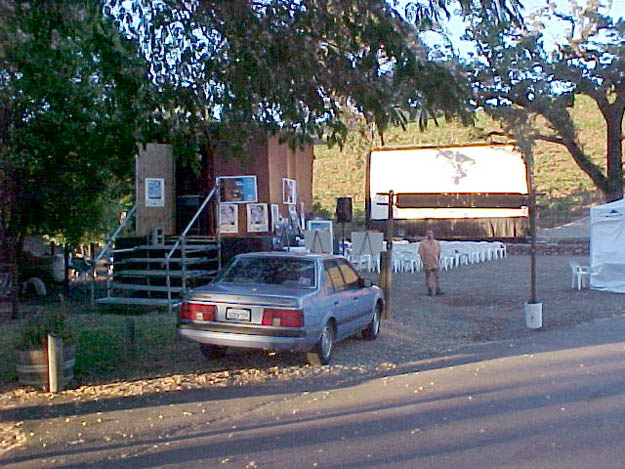 The scene as you enter the outdoor venue for the second portion of the festival. The building at the left with the flyers and posters on it is the projection booth... Note the awesome parking spot for the projectionist :)

---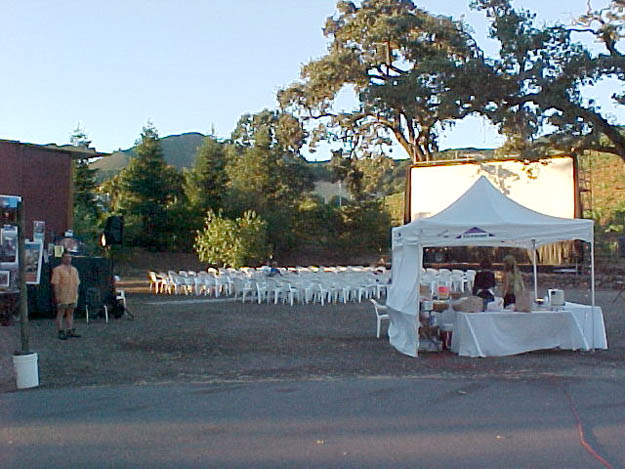 View from the south side of the venue.

---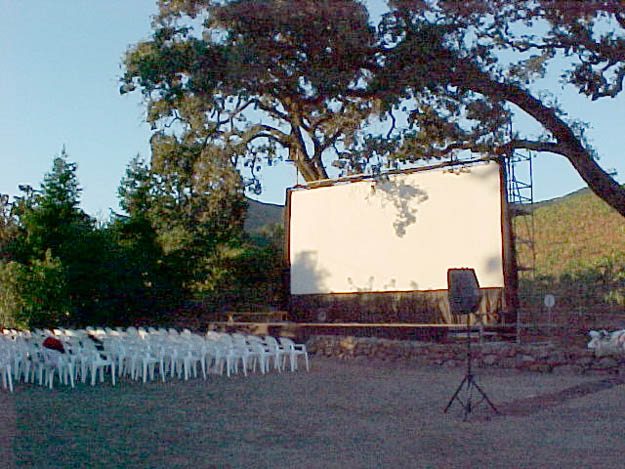 Another shot of the screen from the south side.

---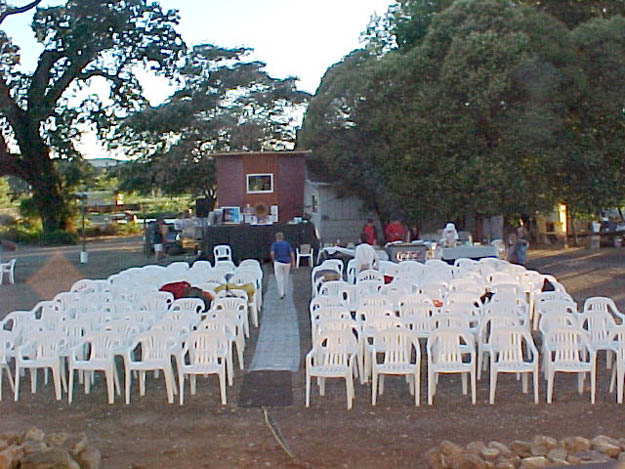 Looking toward the booth from the screen.

---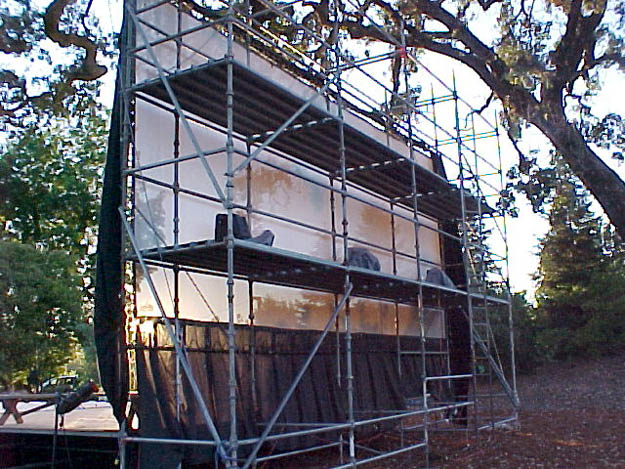 A good shot of the screen scaffolding setup. The speakers are JBL EON portable powered systems.

---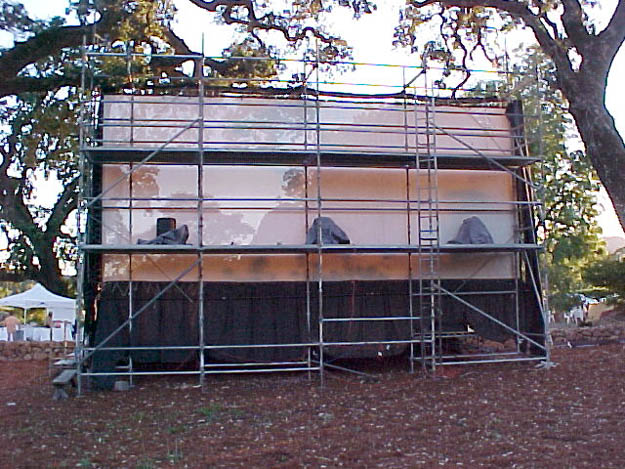 Another shot of the screen scaffolding and speakers. There is also a JBL subwoofer at the bottom stage right corner.

---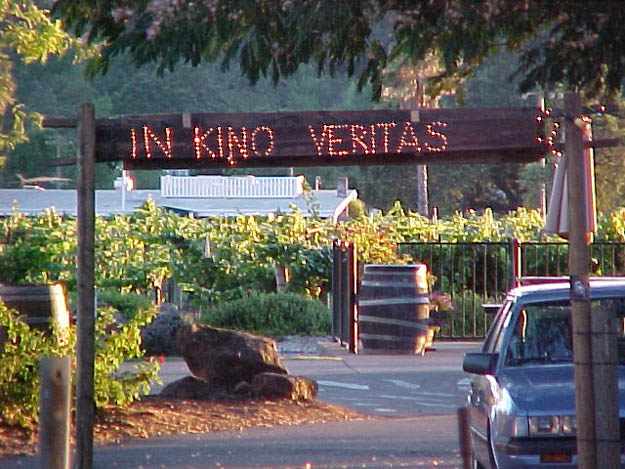 The entrance arch as seen from the inside of the venue. In Kino Veritas loosely translates to "In Film There Is Truth"; it is the Festival's motto.

---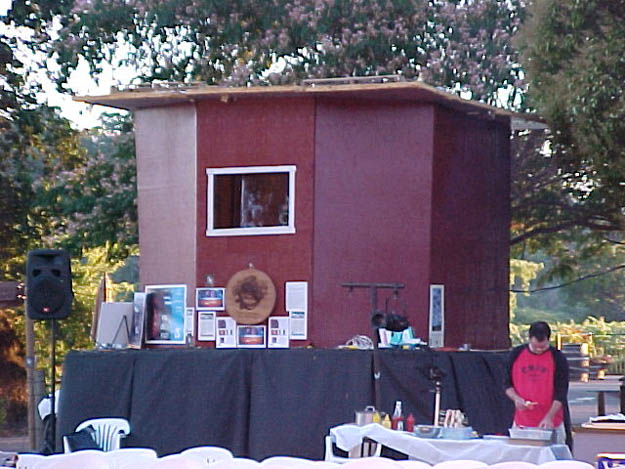 Closer shot of the front of the projection booth.

---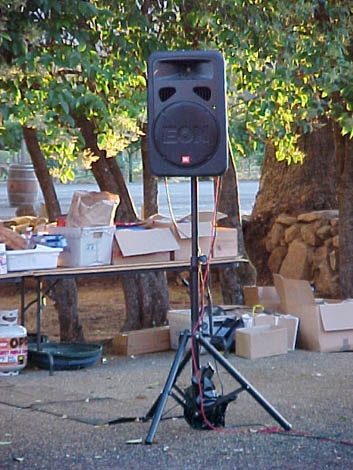 The same JBL EON speakers that are behind the screen are also used for surrounds here.

---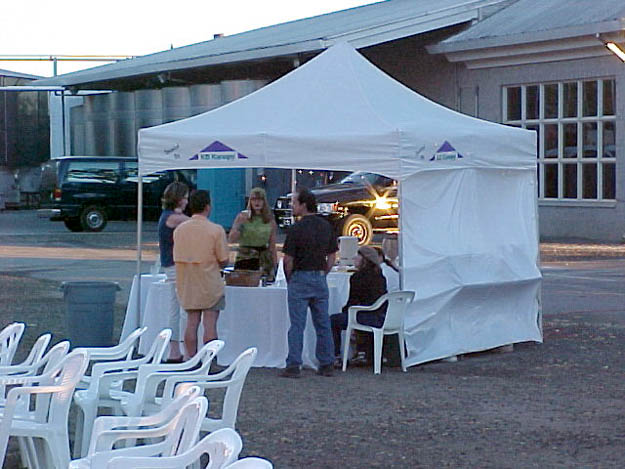 The 'Cine-Cafe' snack-bar for the venue.

---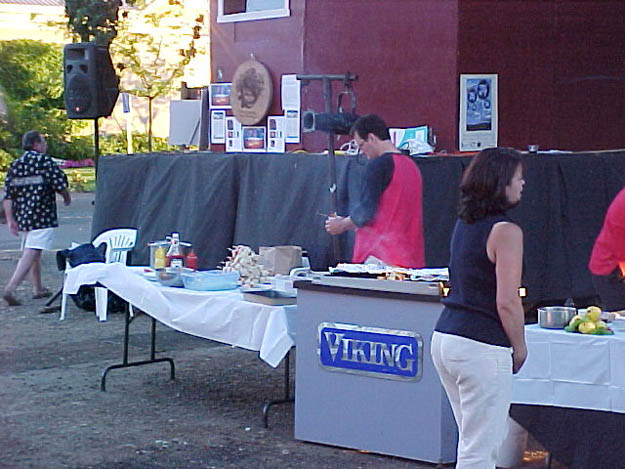 A feature of the outdoor programs at this festival is a featured chef or guest (in this case it was a filmmaker) doing cooking demonstrations and supplying great food for the guests. Here you see some Indian curry tofu kebabs being made up (Surprisingly they were quite good) :)

---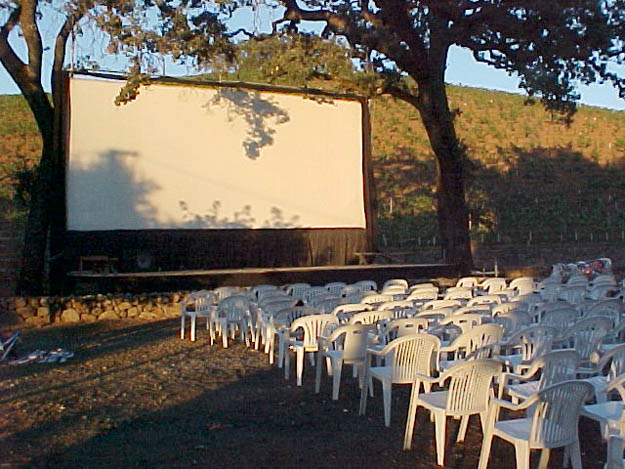 Screen as seen from the north end of the venue.

---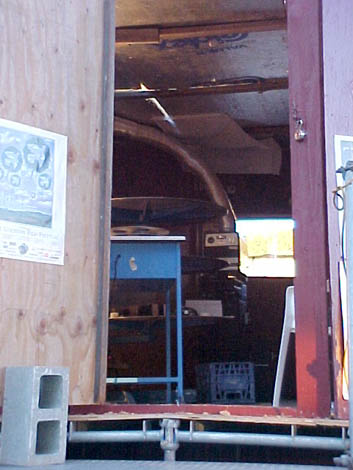 Stepping up to the booth entrance.

---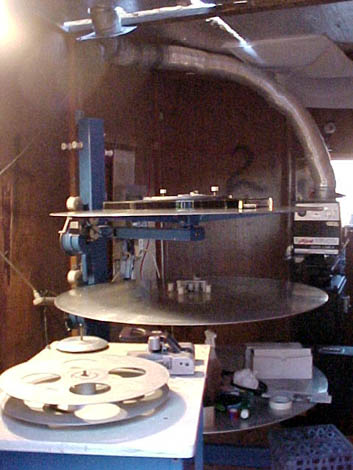 Inside the booth.

---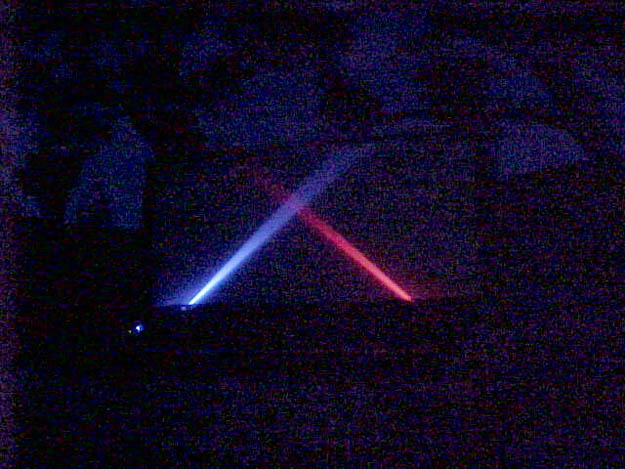 The lighting on the screen shortly before the films started.

---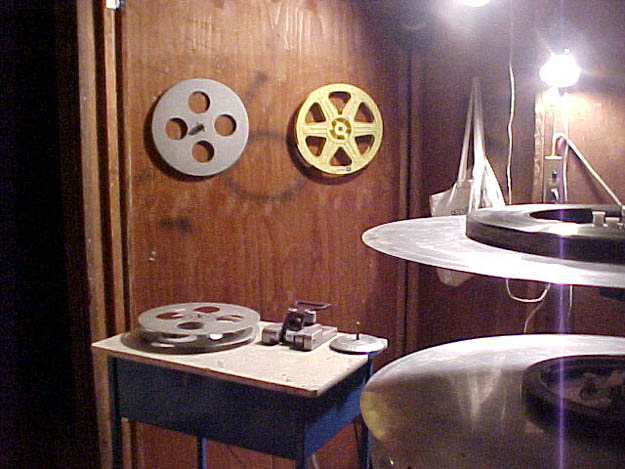 Film-make-up central: CFS MUT, Goldberg split reels, and Splycemar splicer.

---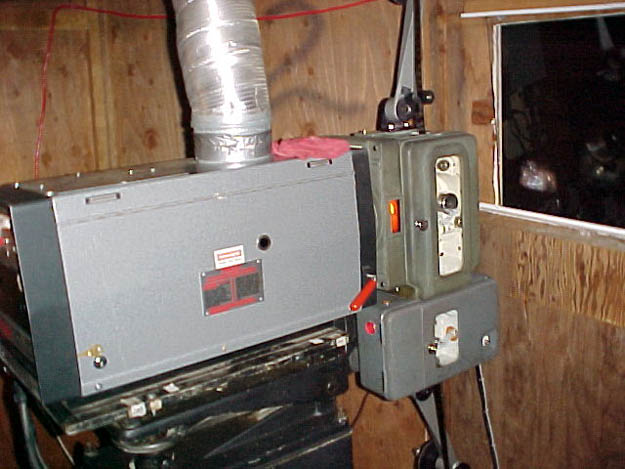 Projection this year was provided by a Strong Super Lumex with switcher supply, and a Century H (modded with SA gate and trap) sitting on a Century R3 soundhead. Much less trouble than the Ballantyne Pro-35 the festival normally uses, and a rock-steady picture.

---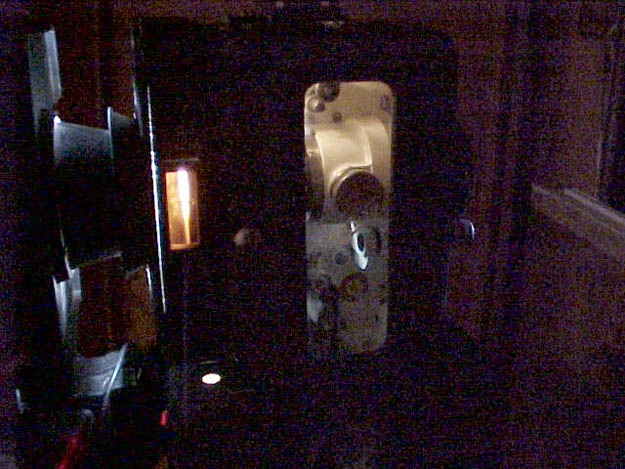 Close up shot of the Century at work.

---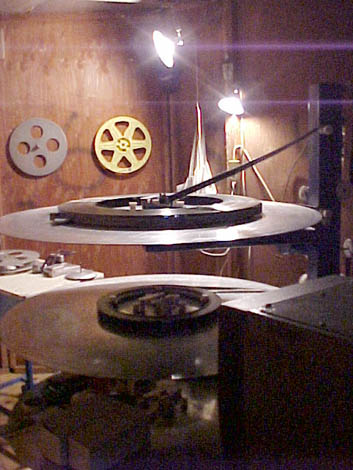 Once again, a CFS Super Platter handles the film transport duties.

---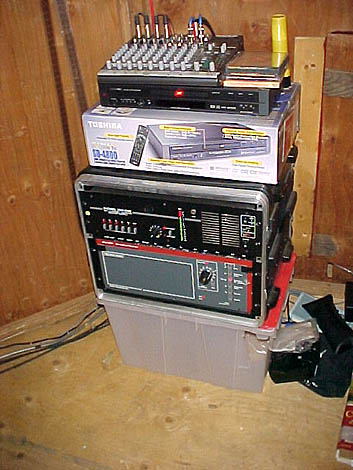 Sound rack: Mackie mixer, Toshiba DVD player used for CDs, USL monitor/exciter supply, and a Dolby CP65.

---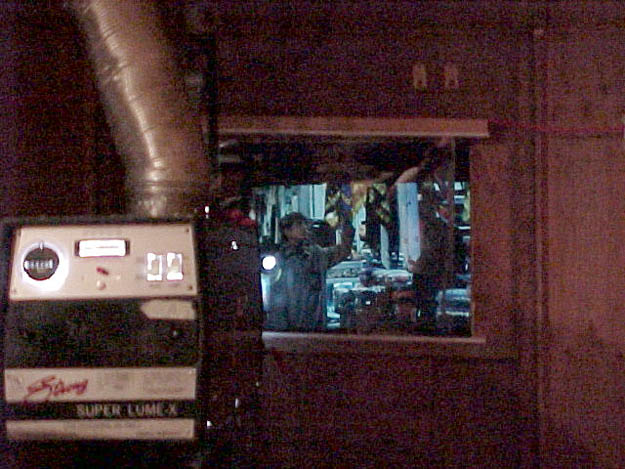 Looking out the portglass at the screen as the show rolls.
---

Special thanks to Aaron Sisemore for the pics.