---

The Wine County Film Festival 2001
Rutherford, CA, USA
St. Helena, CA, USA
Glen Ellen, CA, USA

---
Outdoor 35mm Location #1: Sequoia Grove Winery, Rutherford, CA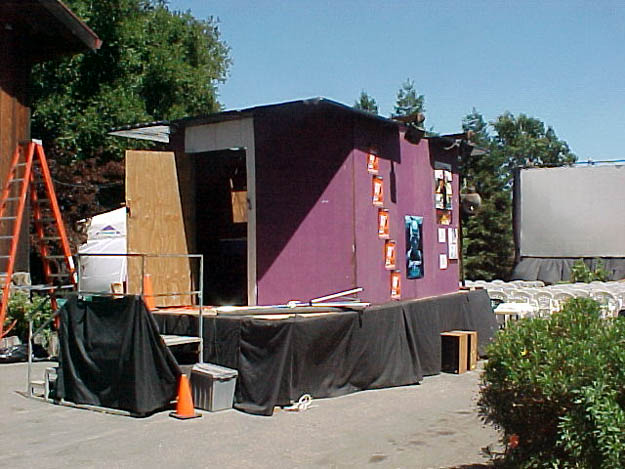 Shot of the outdoor 'booth' and some of the screen and seating for the first part of the outdoor screenings for this years festival.

---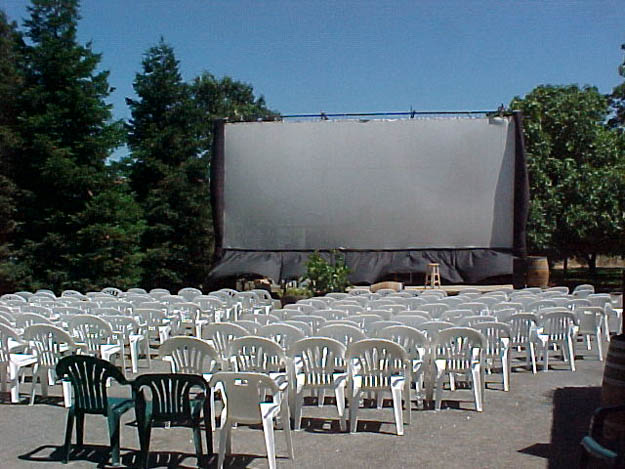 Better shot of the screen and seats.

---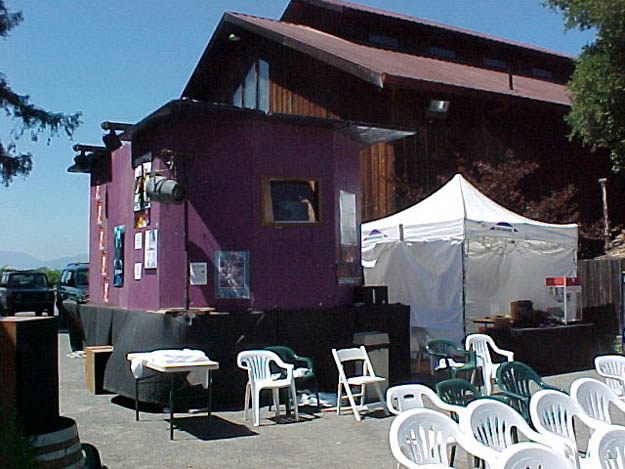 Shot of the booth and concession area.

---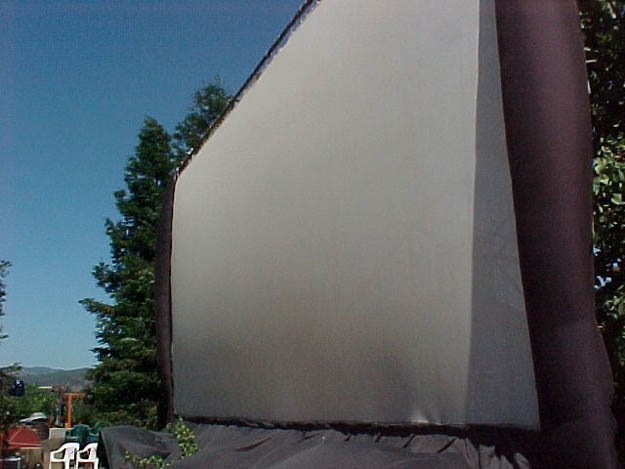 Closer view of the screen. The wind would die down at dusk so the screen didn't billow out during the shows.

---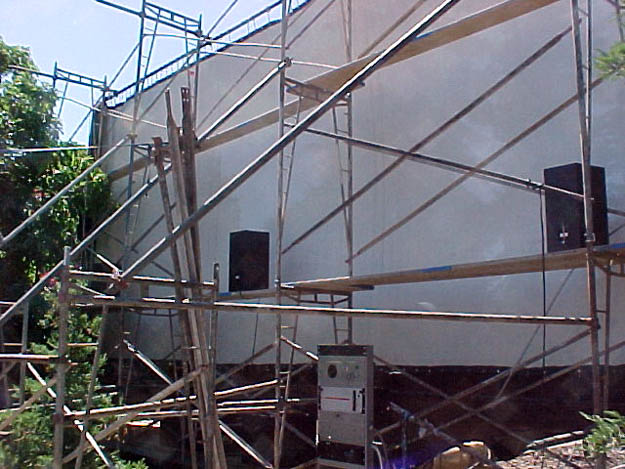 The back of the screen and the main speakers: Apogee LCR speakers and subwoofer, Peavey, Hafler, and Apogee/Crest amplifiers. The CP50 and Eiseman monitor were just along on this rack for the ride and werent used.

---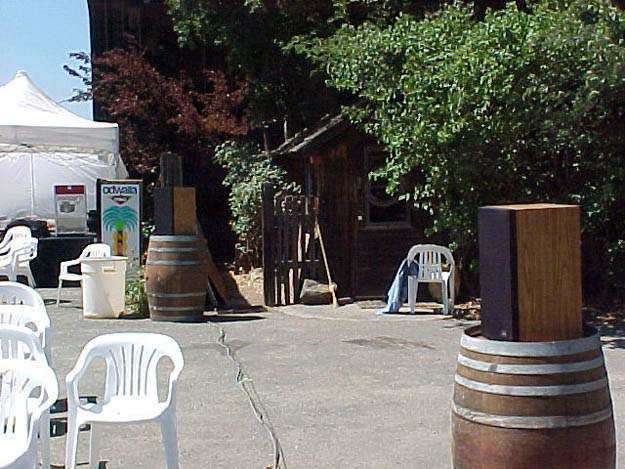 Altec surround speakers creatively set up on wine barrels (for added 'ambience' I am sure) :)

---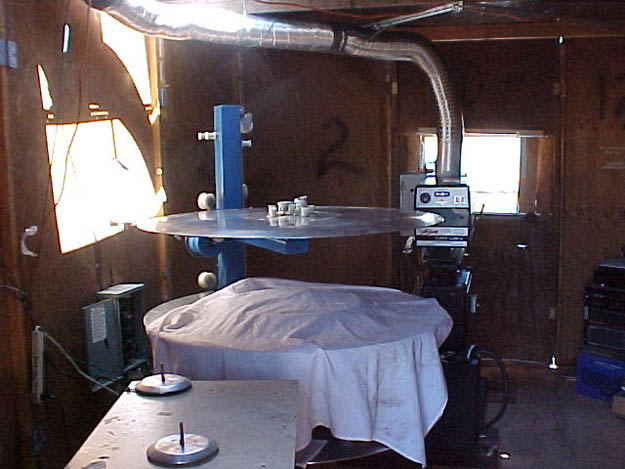 Inside the booth- This year they got some 'real' film handling equipment (compared to the homebrew large reel system that was a nightmare to operate, even CFS platters are better! ) CFS Blue Super platter, Ballantyne PRO-35 and Strong Super Lume-X with 2000W bulb that delivered a BRIGHT picture.

---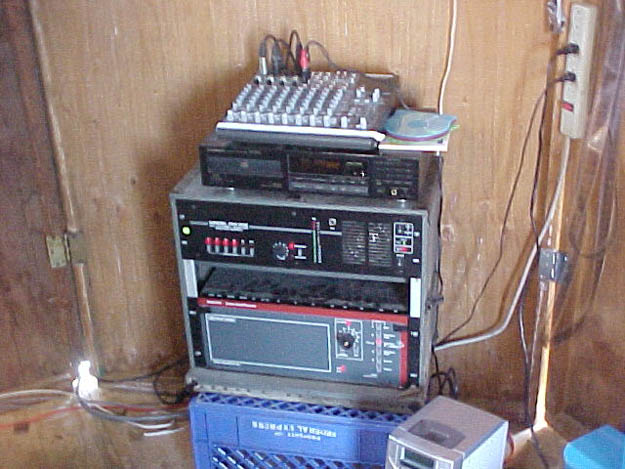 The other side of the sound system: From top: Mackie mixer for the PA system, USL monitor, Pioneer CD player (that died in the final week of the fest), and Dolby CP65.

---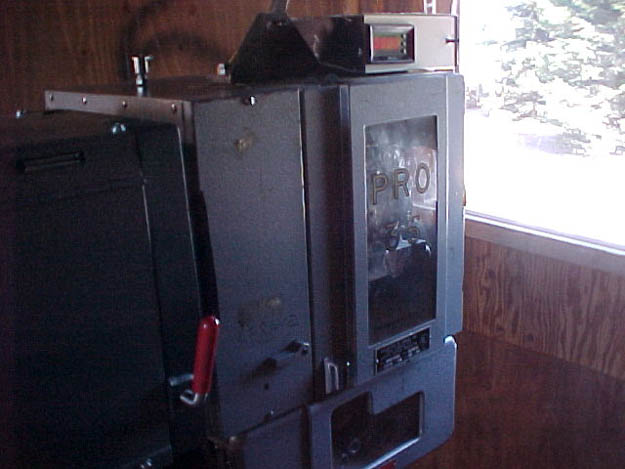 Another look at the PRO-35

---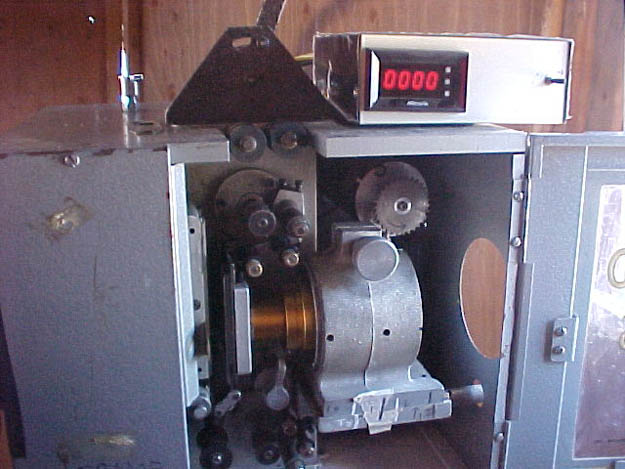 The modified PRO-35. It has a special DC motor setup (upper right, and it looks suspiciously like an AW3 motor) that allows operation at multiple speeds without having to change out pulleys and belts. The speed control is the thing on the top.

---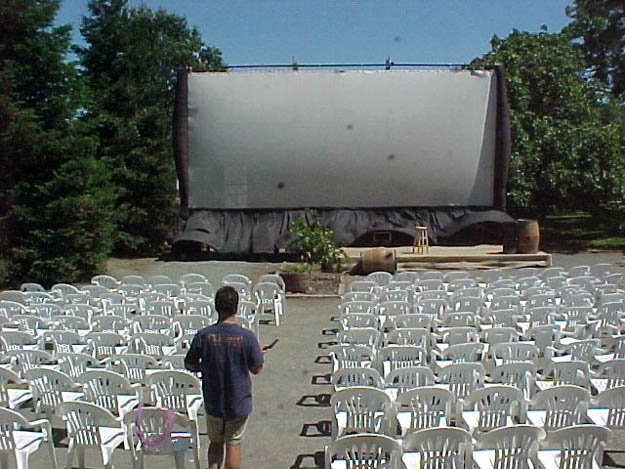 View of the screen, seats, and Dolby's Dan Sperry from the porthole. The specks in the picture are dirt on the portglass.

---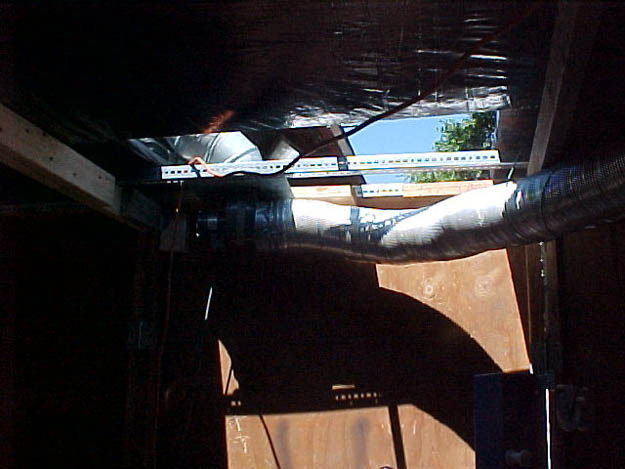 The xenon exhausts via this interesting homebrew blower setup.

---
16mm Venue: Native Son's Hall, St. Helena, CA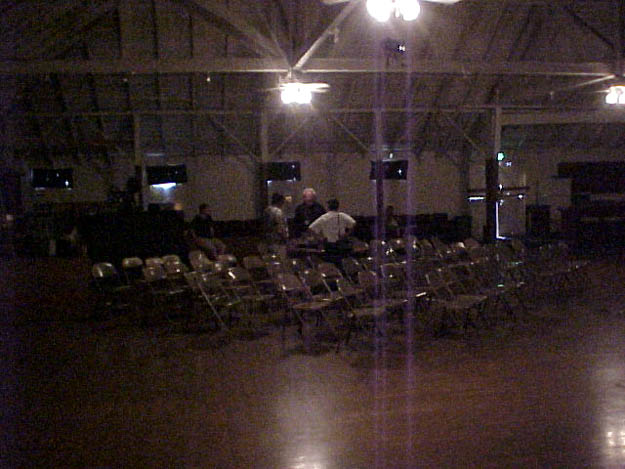 Inside the 16mm venue.

---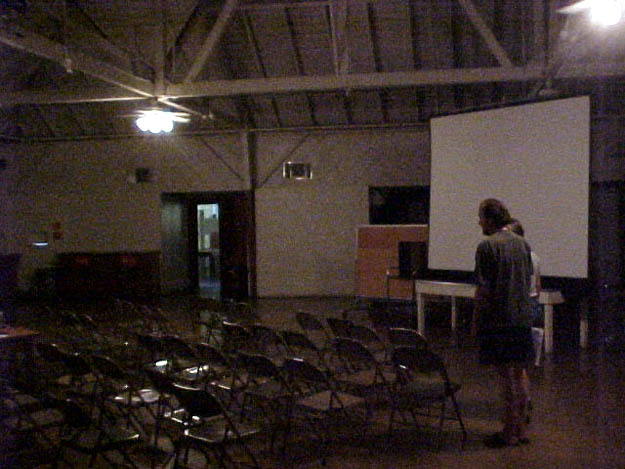 Another picture as the patrons are entering.

---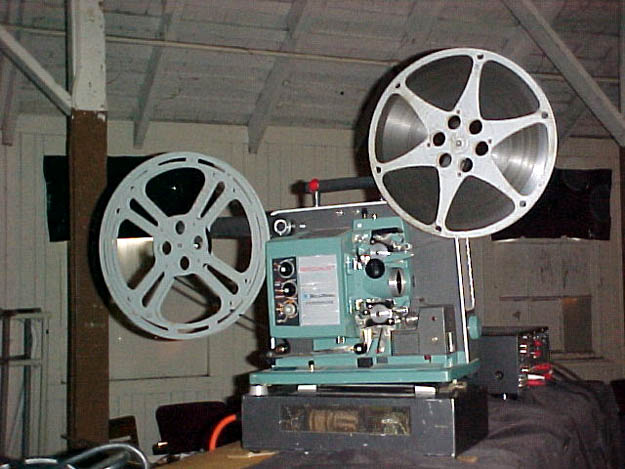 16mm (all of it shorts this year) projection was handled by a Bell & Howell projector with MARC300 lamp.

---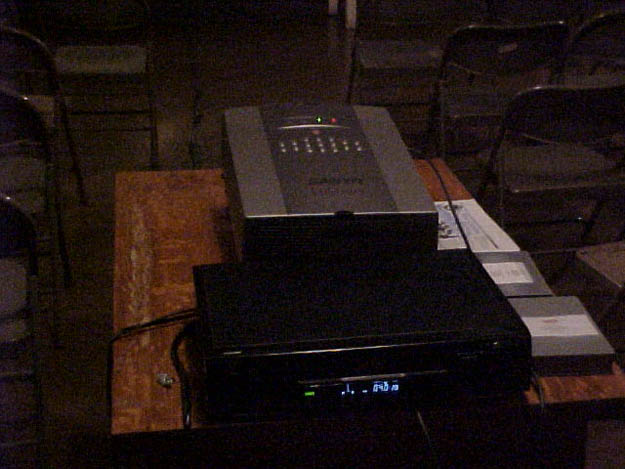 The Sanyo digital projector used for the feature length films and the pictures that arrived in video formats. This unit also was used for some outdoor screenings.

---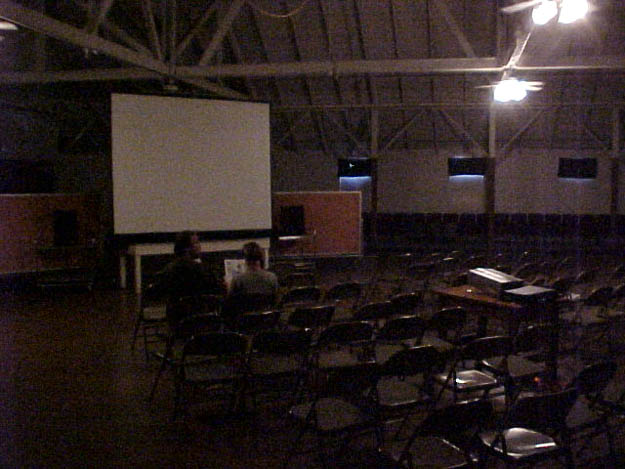 Another interior shot of the small format venue. Sound was a JVC home theatre amp and Altec speakers.

---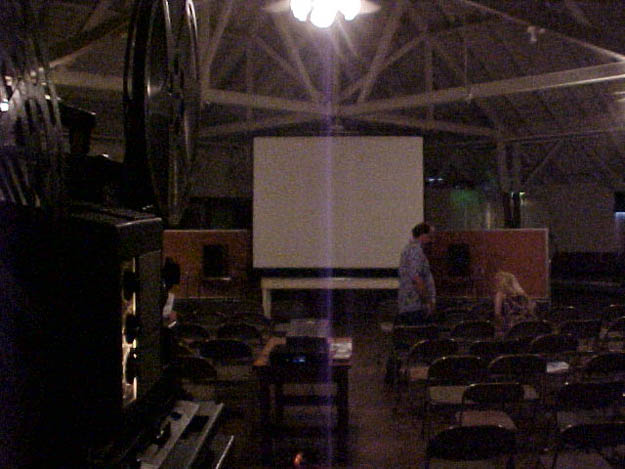 The projectionist's-eye view.

---
Outdoor 35mm Location #2: Jack London State Park, Glen Ellen, CA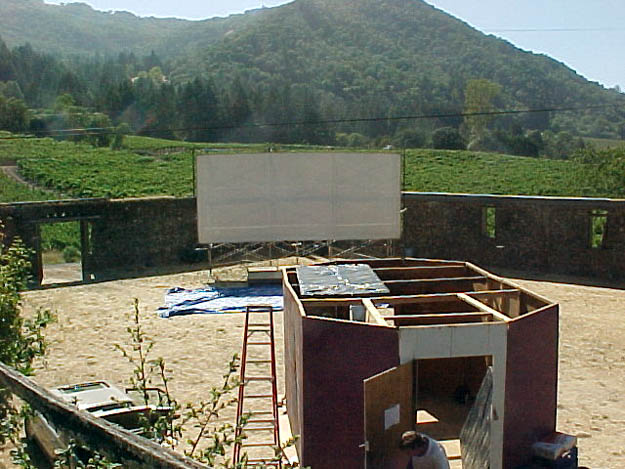 The outdoor booth before the roof was put on. The location is what was a winery building built by Jack London in the 1850's.

---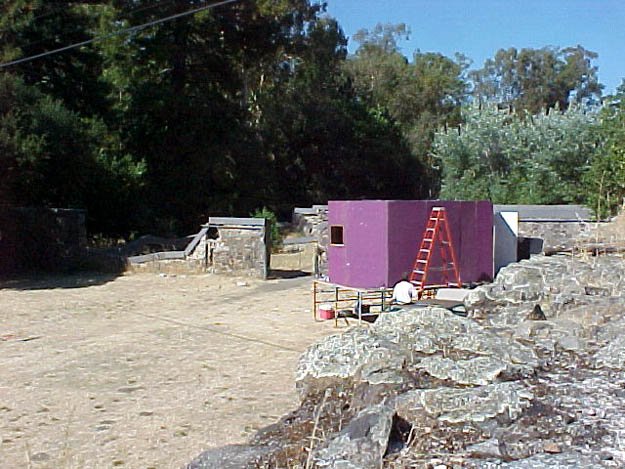 Another view of the lot.

---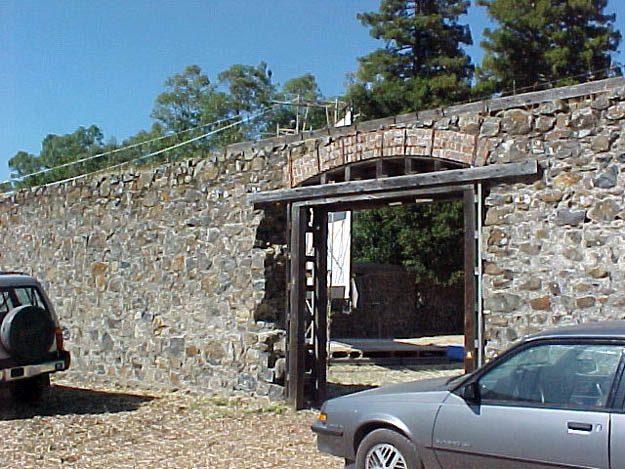 One of the entrances to the venue.

---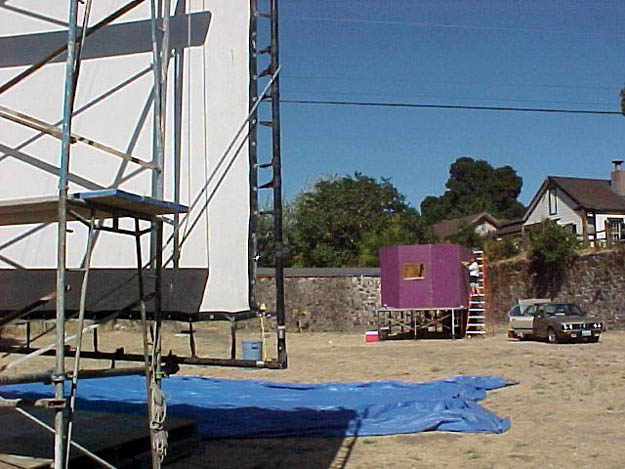 More of the inside of the lot during setup. The same projection equipment was used here that was at the first outdoor venue.

---

Special thanks to Aaron Sisemore for the pics.