---

UA Cine 6
Corpus Christi, Texas, USA

---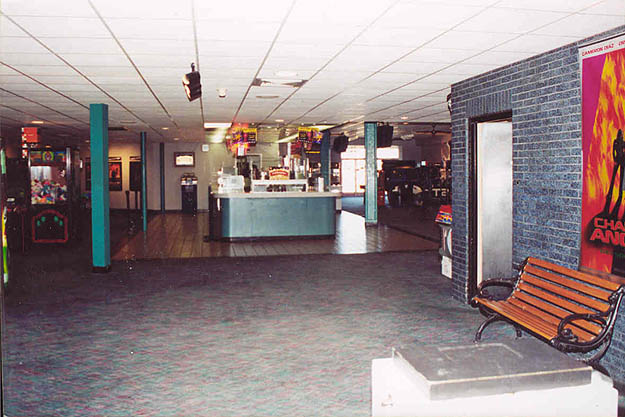 Lobby as viewed from outside Auditorium 1. Auditorium 2 is around the left of the games. 3 & 4 are beyond concession and storeroom, and 5 & 6 are to the right of the concession stand. The door way goes to the box office and stairs to the projection booth.

---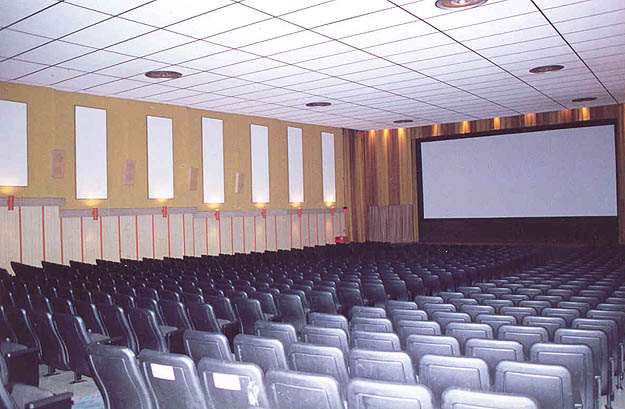 Auditorium 1 as viewed from the back. 667 seats. Originally had 738 seats before these news ones were installed and required more space between rows. Auditorium had operating traveler curtains at one time, but had been non-functional for over 15 years.

---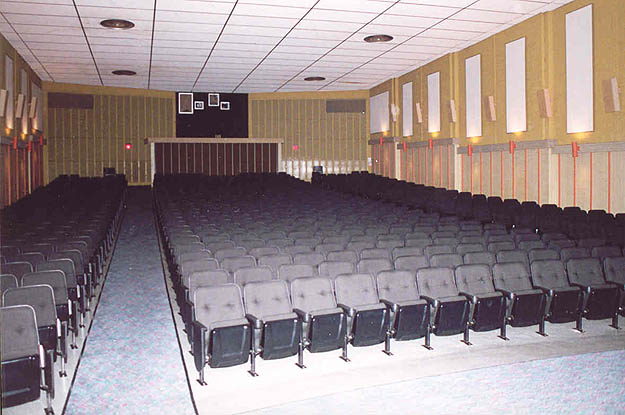 Auditorium 1 as viewed from the front.

---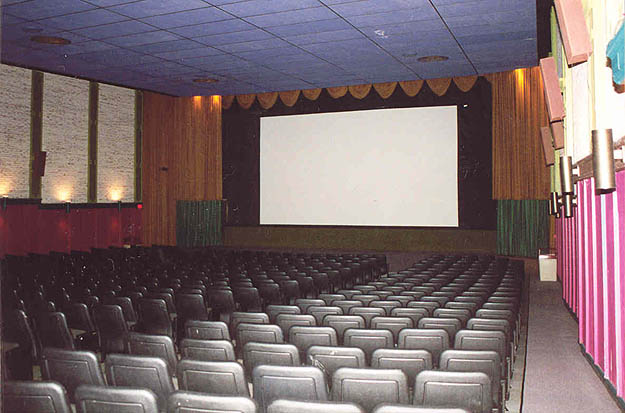 Auditorium 2 as viewed from the rear. Seats 500. Originally seated 548 before new seats were installed. This was one of the original two auditoriums built as Duex Cine in 1968. At that time this was also a 70mm screen with waterfall curtains that continued to operate until 1986 or 87. Top masking was also adjustable for a 70mm presentation.

---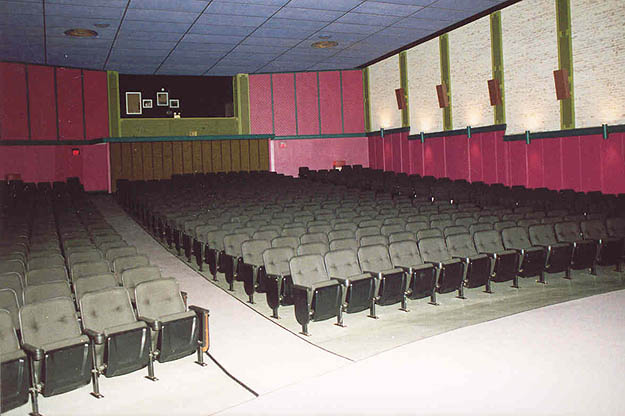 Auditorium 2 as viewed from the front.

---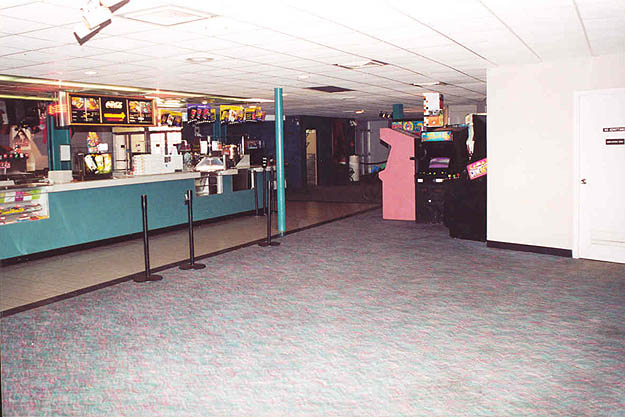 Lobby as viewed from outside Auditorium 2. Auditorium 1 is around the games to the right, 5 & 6 are across the lobby and 3 & 4 are off to the left.

---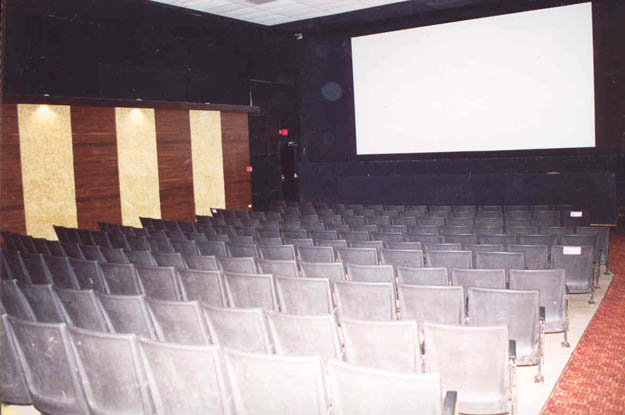 Auditorium 3 as viewed from the back. 225 seats original from the 1978 addition. This was the only mono house at closing and was one of the two last screen added to the complex.

---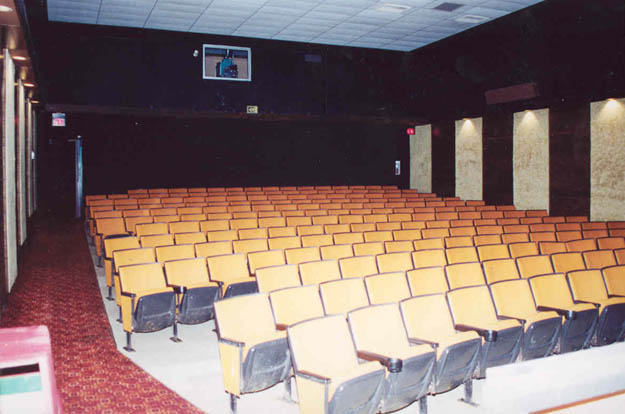 Auditorium 3 as viewed from the front. This house was supposed to get a Kintek Stereo in at the time of a 1987 remodel job, but only auditorium 4 received one. However, home made surround speakers were hung in anticipation of some sort of stereo system being put in here that never happened.

---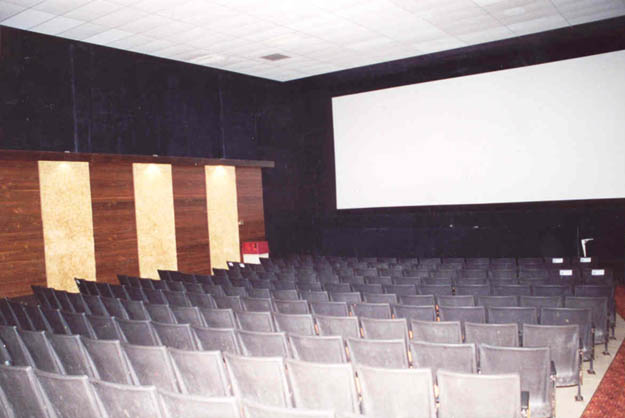 Auditorium 4 as viwed from the back. 225 seat that are the originals.

---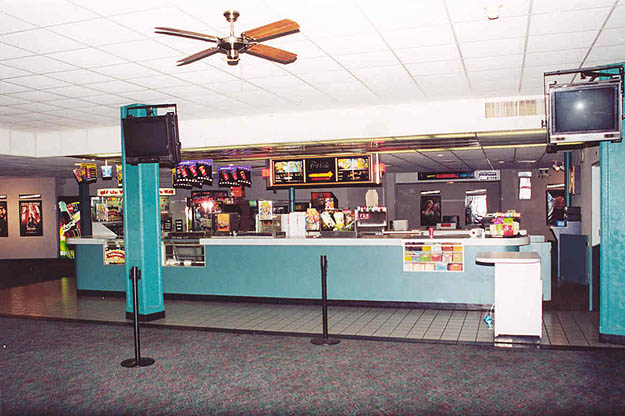 Lobby as viewed from outside Auditoriums 5 & 6. Entry into Theatre 2 is visable across the concession stand.

---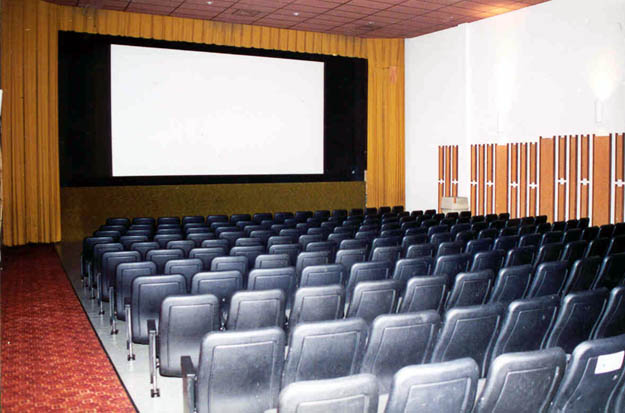 Auditorium 5 as viewed from the back. 201 seats after new ones were installed. It originally had 225. This theatre was originally auditorium 3 in the 1972 addition when Duex Cine became Cine 4, however when the last two auditoriums were added in 1978, this became auditorium 5 to keep the number sequence going clockwise from the entry point.

---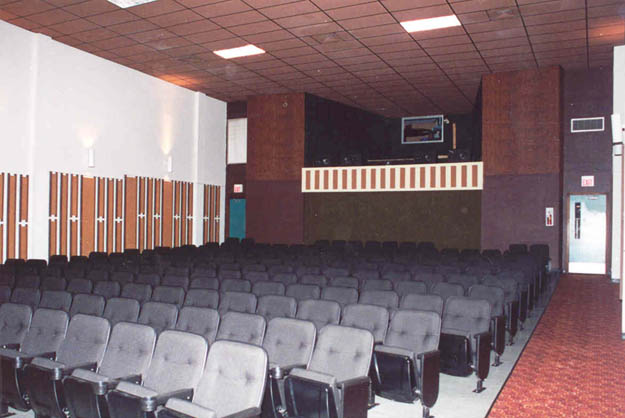 Auditorium 5 as viewed from the front. Note the only surround speakers are on the ledge in the back.

---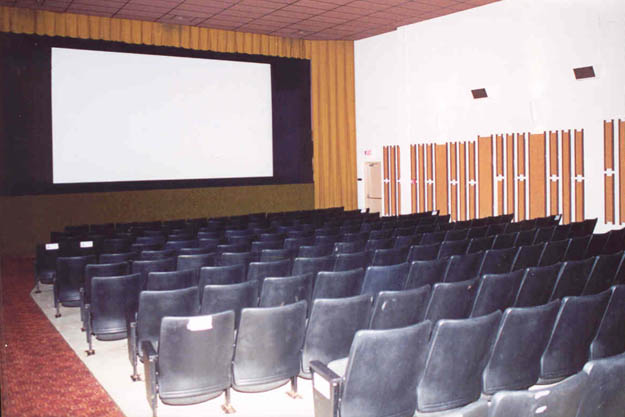 Auditorium 6 as viewed form the back. 225 seats. This was originally Auditorium 4 in the 1972 expansion. Both this and Auditorium 5 were originally Mono houses, but both were later outfitted with Dolby CP50's and full stage speakers.

---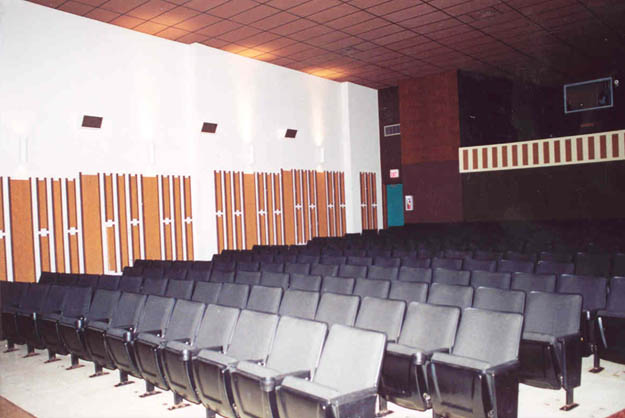 Auditorium 6 as viewed from the front.

---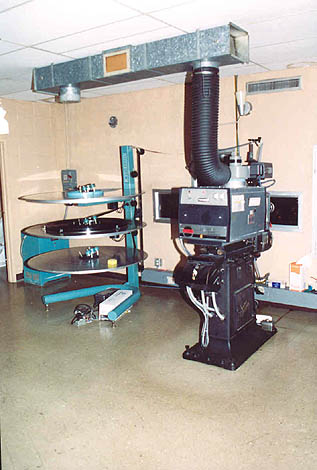 Booth 1 with a Chritie AW3 platter, Strong Super 80 lamphouse And Simplex projector. This and booth 2 were originally changeover houses.

---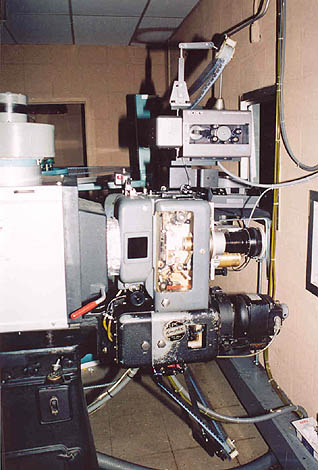 Close up of the Booth 1 projector showing the SDDS reader that was attached to this projector. It also had an DTS unit at one time, but it was later removed and sent to a theatre in Dallas. These projectors had a weird lens turret added on after the projectors were built.

---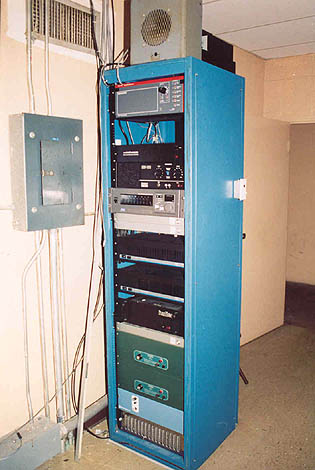 Sound rack for Booth 1 featuring a Dolby CP65. The blank spot had a DTS 6D player at one time, Distribution Amp, Booth Monitor, SDDS Unit and various amps

---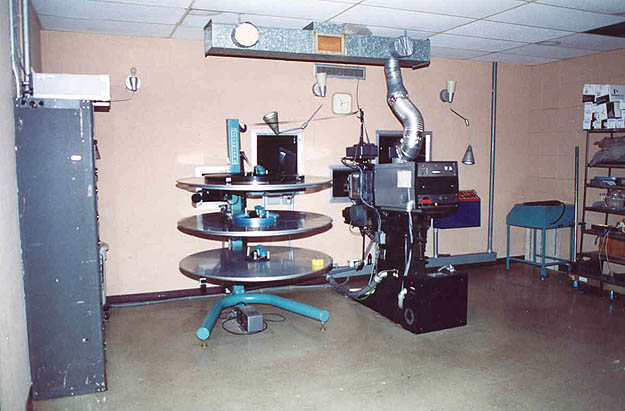 Booth 2 with the same equipment as booth 1. Both booth 1 and 2 set in separate rooms.

---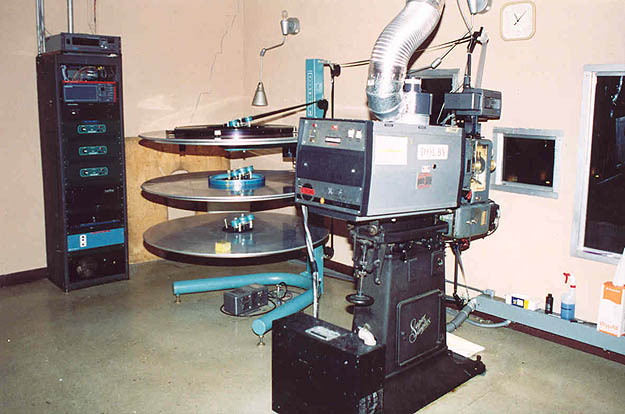 An overall shot of booth 2 with the soundrack up against the far wall. Showing the SDDS player on top of the rack, blank spot where the DTS unit that is now in Auditorium 6 was, a Dolby CP65, Booth Monitor, Various Amps and a Kelmar Exciter lamp supply.

---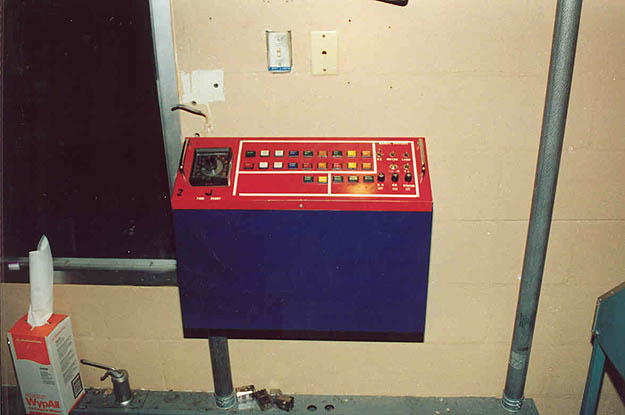 Automation in booth 1 and 2 were these Ed Glenn homebuilt jobs. Somehow I know Richard Tucker is going to have horrible flashbacks of the Presidio Lakehills 4, Southpark 3, and Dobie Twin here in Austin when he sees this picture.

---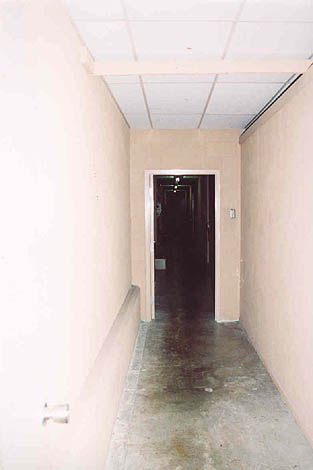 Hallway that leads to booth 3 & 4. Booth 5 & 6 is directly across this hallway to the left.

---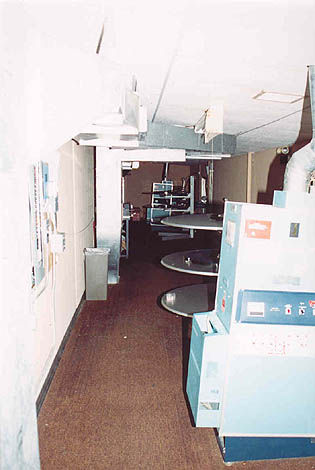 Booth 3 & 4 as viewed from the entry from the hallway. Both had Christie Consoles with AM7C automation, which was slightly modified in 1987 for picking up a second inboard cue to swith a stereo unit over, however only 4, in the foreground, ever had the stereo unit put in. This was not a completely automatic cue either as there was a switch on the panel that in the up posistion would and the Inboard Cue switch in off posistion would force a stereo processor into stereo. After the first inboard cue went by, the projectionist had to put the inboard cue switch back to house lights and the stereo switch back to the off posistions. If this was not done the second inboard cue would then again pulse the processor for a stereo mode. # 3 also had this modification to it, but since it never received a stereo unit, the switches were never messed with. These two auditoriums had Century SAW projectors with a Kelmar belt driven lens changer that just slide one lens to the side while sliding the other into place.

---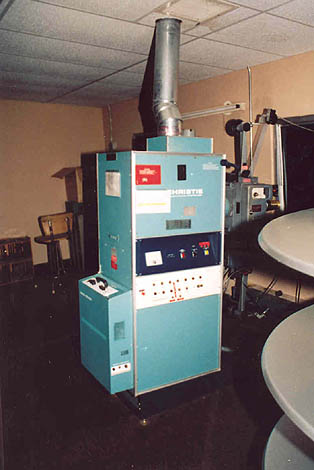 Close up shot of Number 3 showing the mono sound system still in use. Platters for these two rooms were originally AW3, but those were swapped out later on for 2 Potts Alpha Platters that came from the Cine West theatre in Corpus when it closed in 88.

---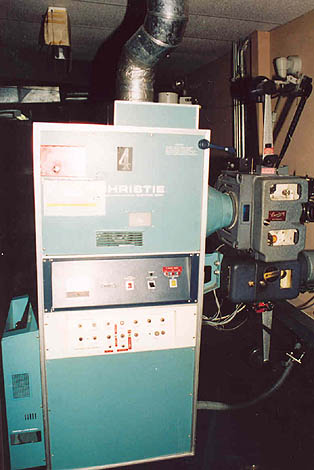 Close up of projector 4

---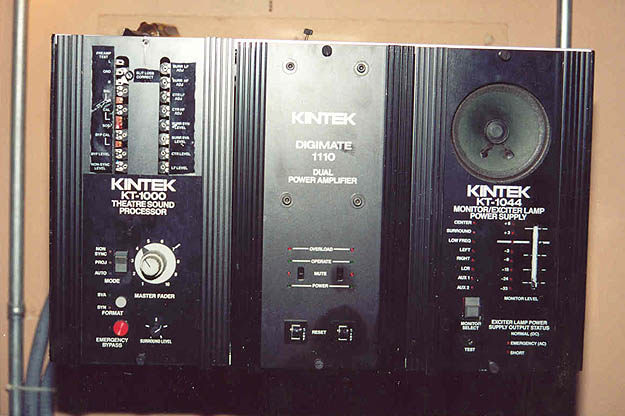 Sound System for Auditorium 4

---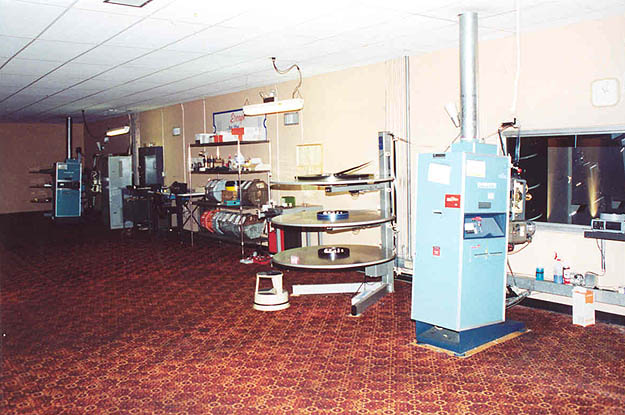 Booth 5 & 6. Projector 6 is in the forground, 5 is far off. These had Christie consoles and Simplex projectors identical to 1 and 2. Platters here were originally AW2, but were switched to Potts Alpha platters at some point.

---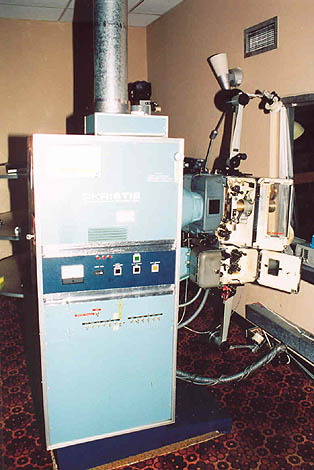 Close up of projector #5 waiting to be threaded. Automation for these two auditoriums were homebuilt by Charlie Anderson and did not have auto start capabilities.

---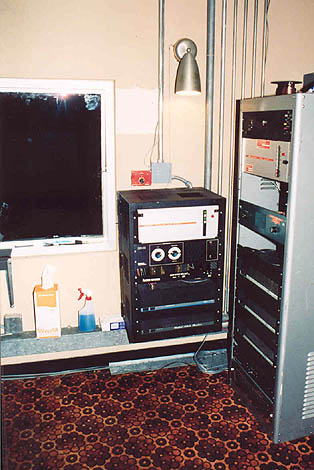 Sound rack for Auditorium 5 consisted of a Dolby CP50, Component Engineering MS55 monitor, a proteus Network interface and two QSC 1400 amps

---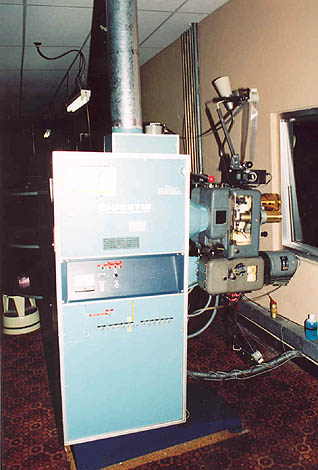 Projector 6 threaded and ready to roll. Note the DTS reader atop the projector.

---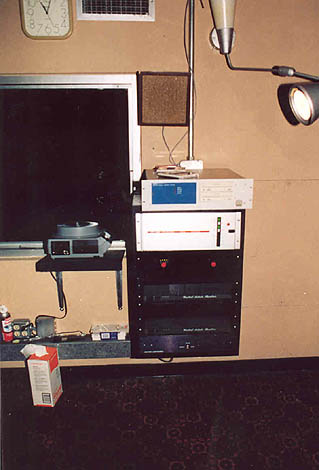 Sound system for Theatre 6 consisted of a DTS unit from Auditorium 2, Dolby CP50, homemade booth monitor, two QSC 1400 amps and an exciter supply.
---

Special thanks to William T. Parr for the pics.