---

Cinemark Tinseltown Plano 20 Projection Booth
Plano, TX, USA

---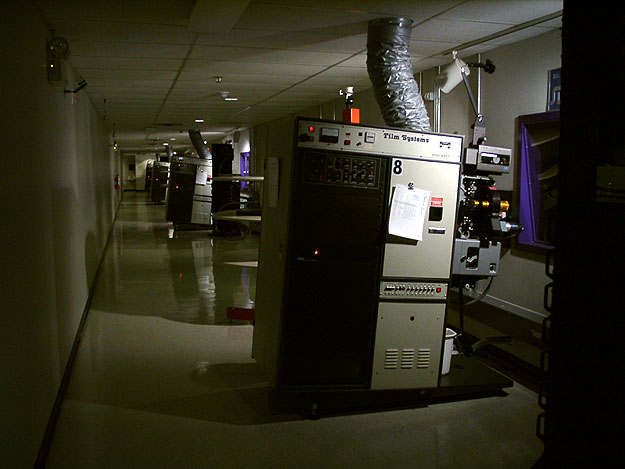 Featured in this flagship theater is Cinemark's standard 1990's equipment, except with Century projector heads instead of Simplexes

---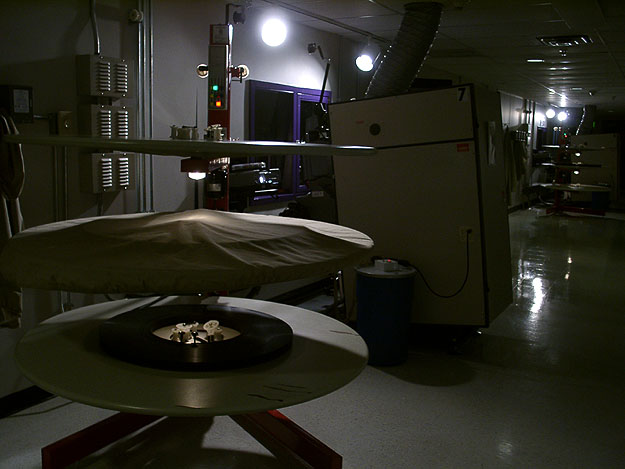 CFS lamphouses of 4000 watts are utilized in the small auditoriums and 7000 watts are utilized in the large auditoriums. Platters are SPECO.

---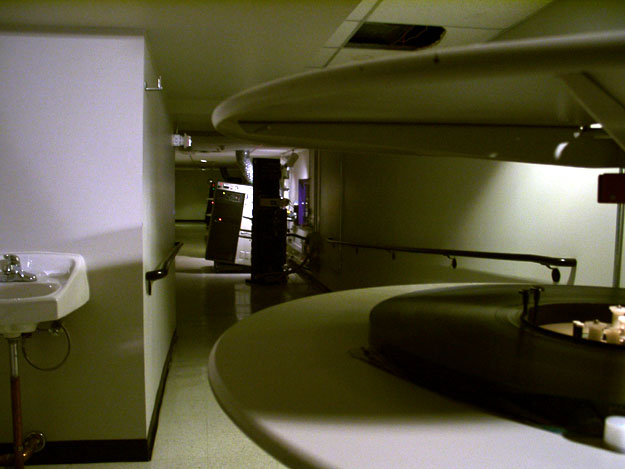 This booth is very spread out with tons of hallways, ramps and stairs to navigate.

---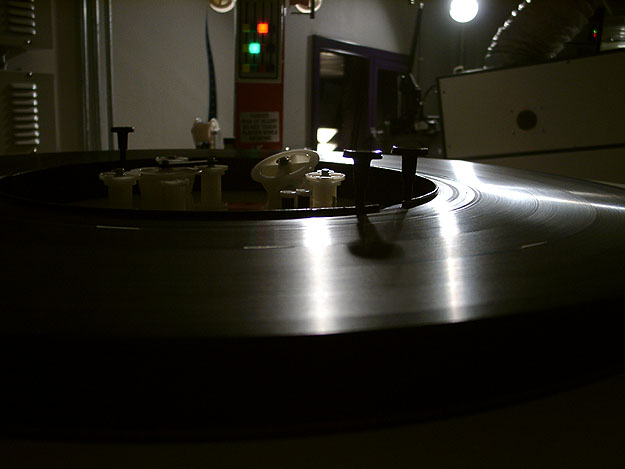 These SPECO platters have the newer style center feeds.

---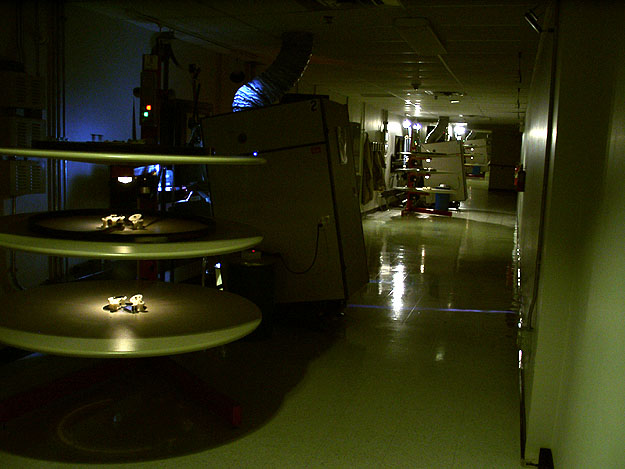 No hallway features more than 3 projectors, as seen here.

---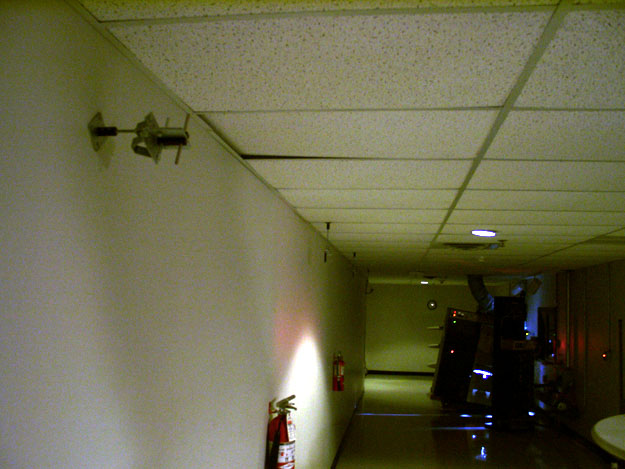 The interlock rollers are mysteriously missing from their brackets.
Hopefully there won't be a need for an interlock without warning!

---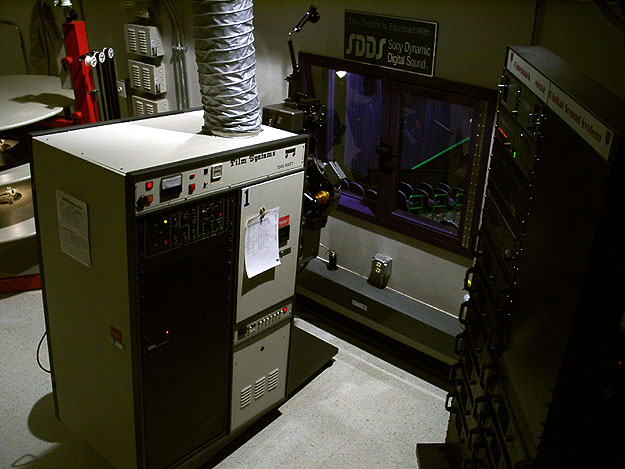 A bird's eye view of the standard equipment placing.

---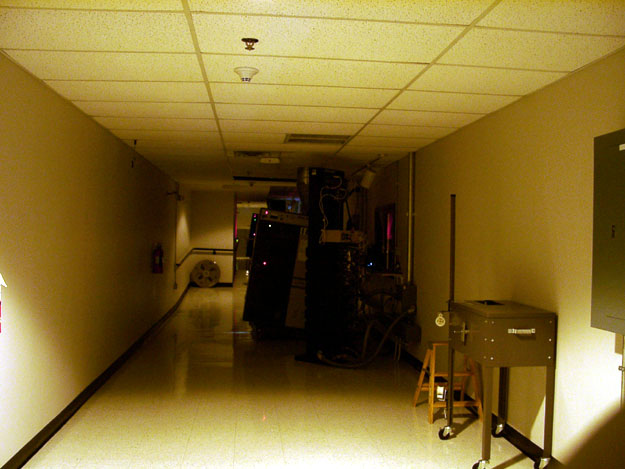 Another hallway with 2 projectors.

---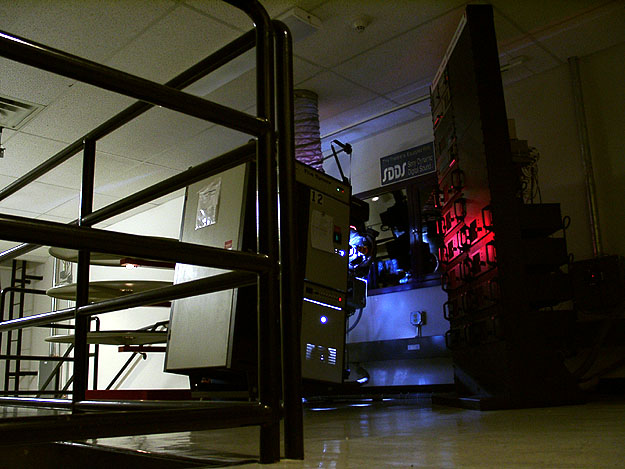 Many projectors are positioned on their own little platforms, due to the stadium seating requirements.

---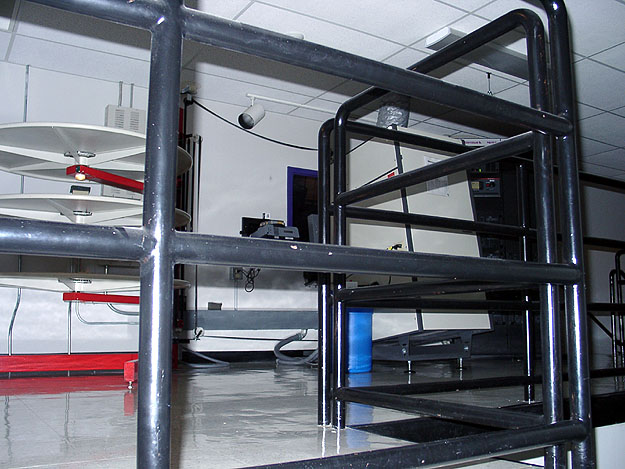 Another example of a projector on a platform.

---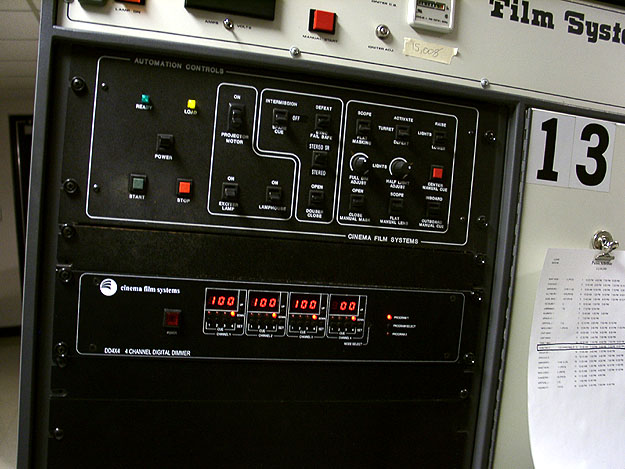 Here is a new CFS digital dimmer unit that this theater is testing out in the lucky number 13 auditorium.
(Guess it wasn't too lucky for CFS.)

---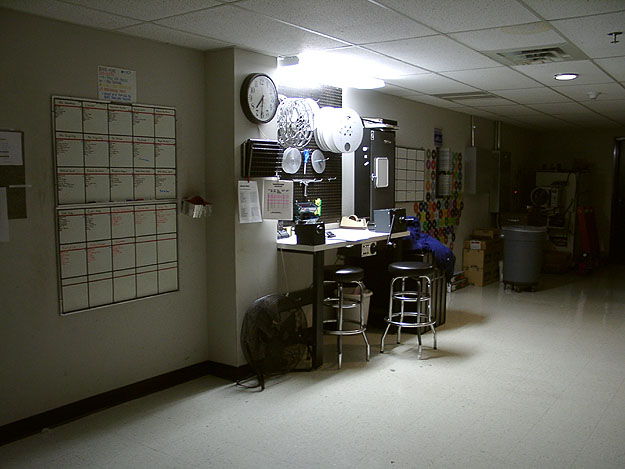 This is the main buildup station, located at the highest level of the booth between the two large auditoriums.

---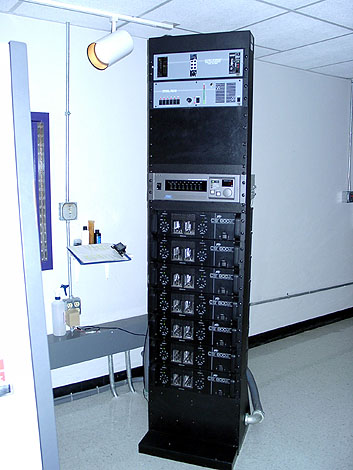 Here we have a standard sound rack. The only difference between the small auditoriums is the digital playback format. This rack features SDDS.

---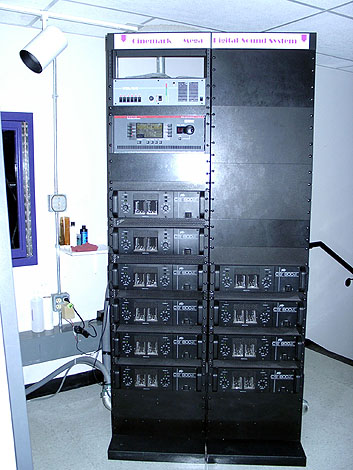 A sound rack for a medium sized auditorium utilizing a Dolby CP500 with built in Dolby Digital.

---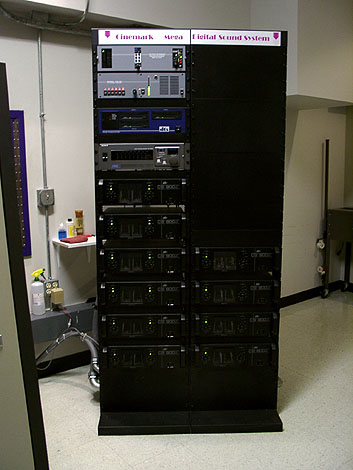 Another medium size auditorium's sound rack featuring DTS and SDDS.
But what is that thing on top of the sound rack you ask?

---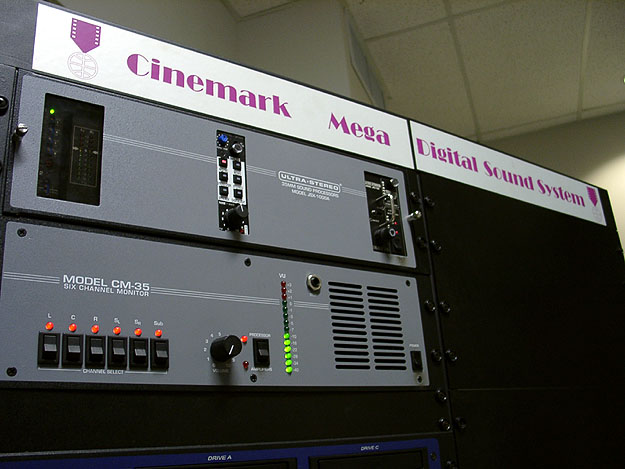 It's two bumper stickers clearly stating that this is a "MEGA Digital Sound System", just to make sure there is no confusion.
But if there is a "MEGA Digital Sound System", could there possibly be anything better?

---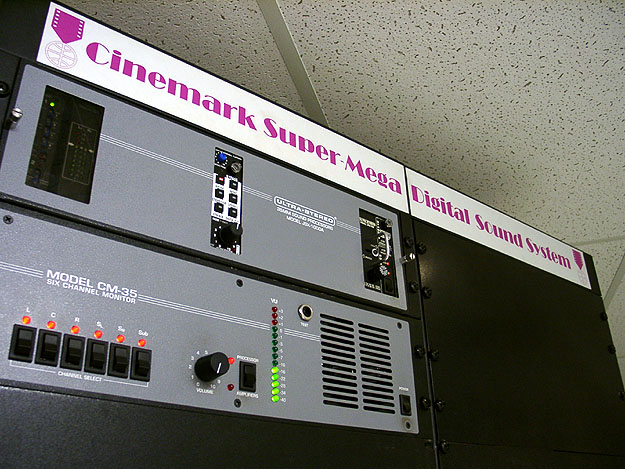 You bet! Check out the "SUPER-MEGA Digital Sound System"!!!
(Ok before you ask, there is no "Super-Duper-Mega Digital Sound System".)

---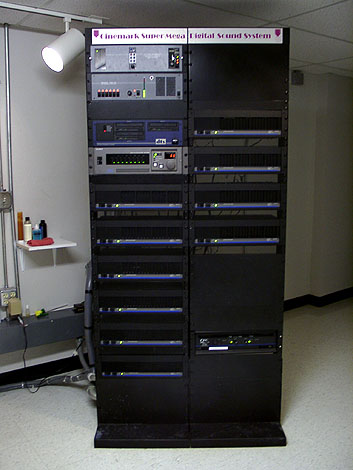 A wide shot of the "Super-Mega Digital Sound System" that powers the large auditoriums.

---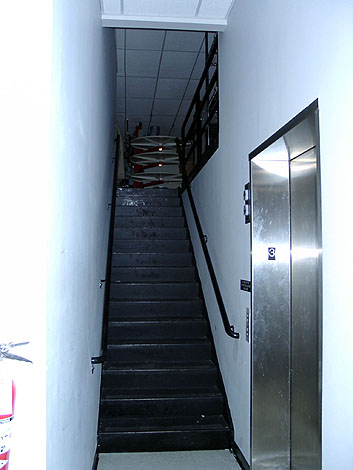 Oh no, the manager has just declared that the latest Costner epic isn't doing good business and you must move it!
Down these narrow stairs you must go.

---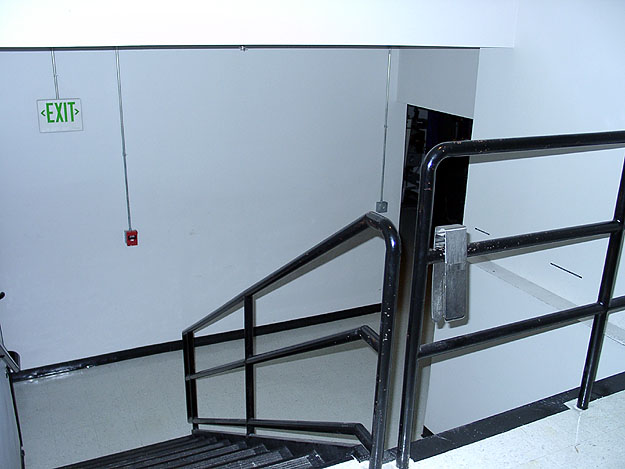 And then down these stairs...

---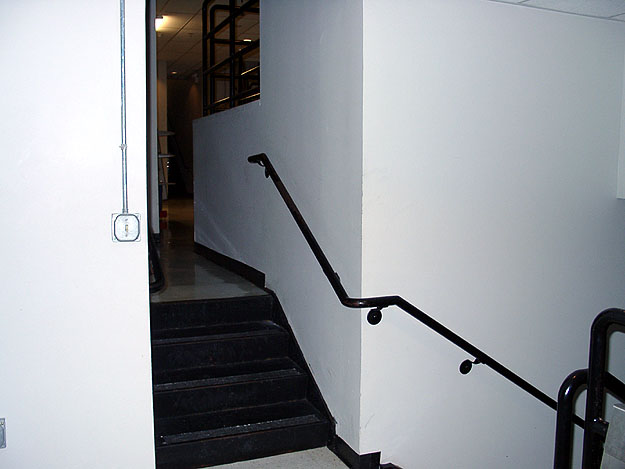 ...and then around this corner and down another set of stairs...

---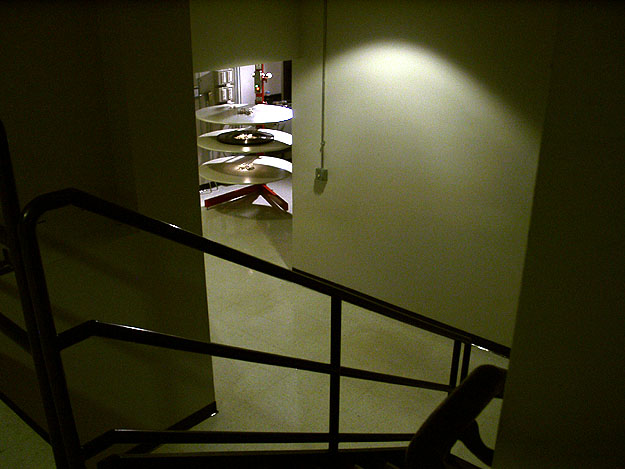 ...and down MORE stairs past some projectors...

---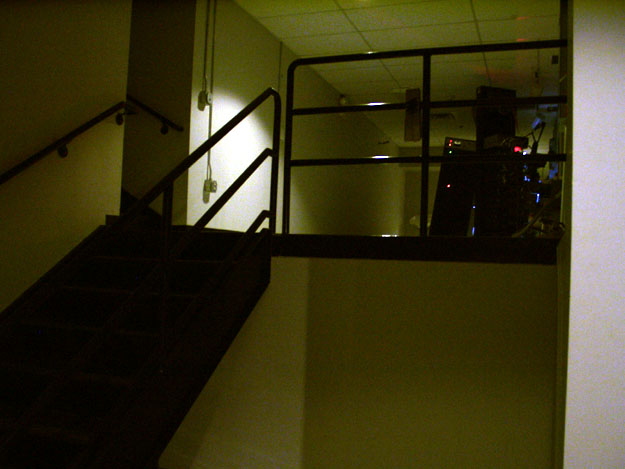 ...and then up this flight of stairs to it's final destination. When you get there with the print, you are just happy that #1 it did not fall apart during the move and #2 it wasn't from one end of the building to the other. Whoever designed this booth obviously has never had to move a 3 hour print up and down stairs and through narrow hallways! This booth has the most stairs and doorways known in any megaplex.

---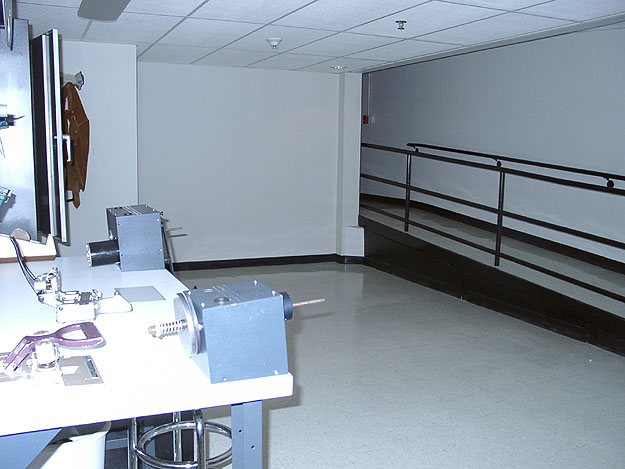 We leave this tour with a shot of the film work station at the lowest point of the booth, some several levels down from the other work station.

---