---

Telluride Film Festival 1999
Telluride, Colorado

---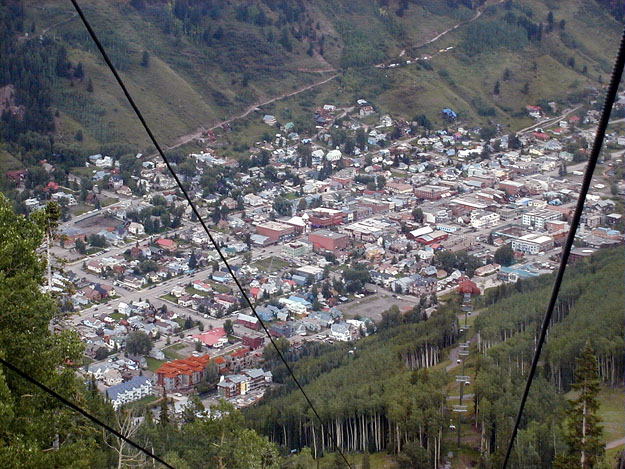 The town of Telluride as seen from the Gondola. The Gondola is used to gain access to the newest venue at the festival, the Chuck Jones Cinema.

---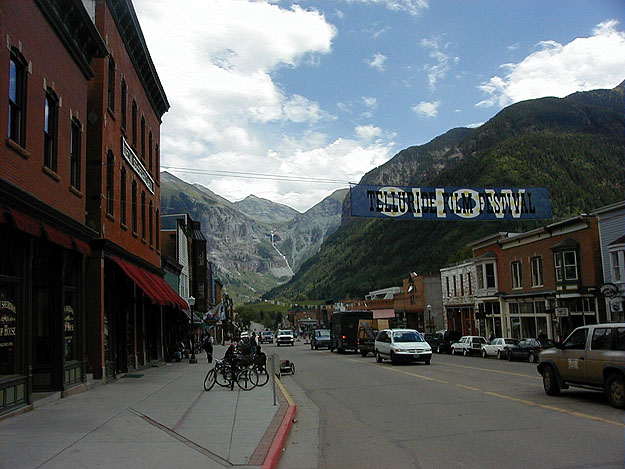 The main street through Telluride. There is not any place that would be better to hold a film festival.

---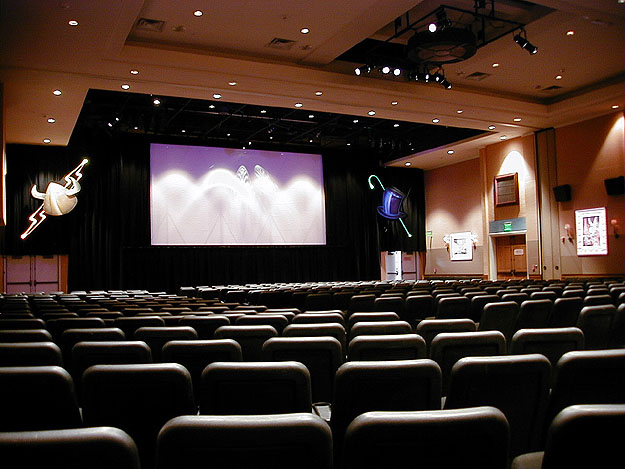 The interior of the newest venue, The Chuck Jones Cinema, with seating for over 500 people and Dolby Digital sound.

---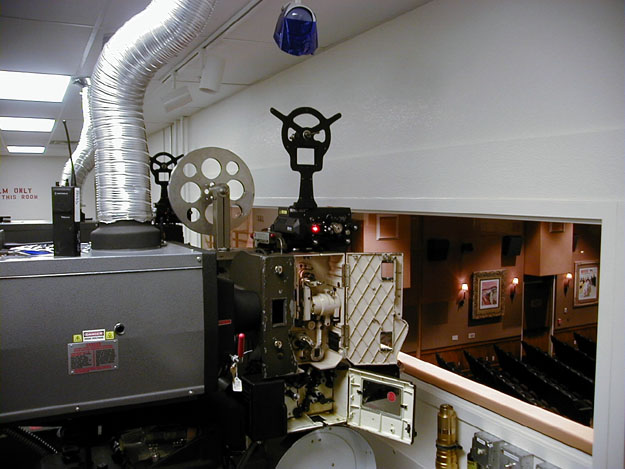 The booth at the Chuck Jones Cinema. Brenkerts are used reel to reel (there are no platters at the Telluride Film Festival). The port glass is one of the largest pieces of optical glass in the world.

---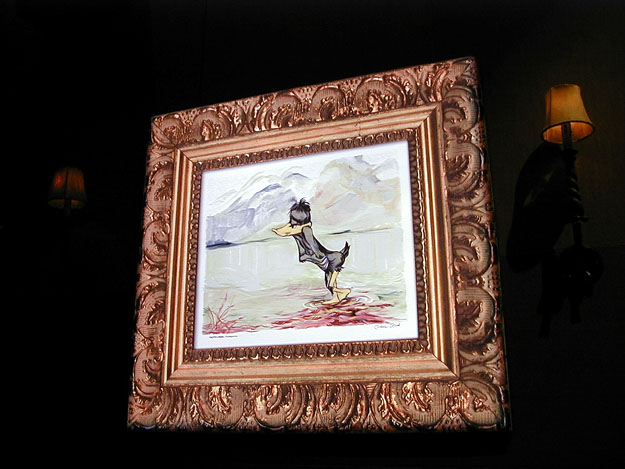 Original paintings from Chuck Jones are displayed throughout the auditorium.
This is one of them.

---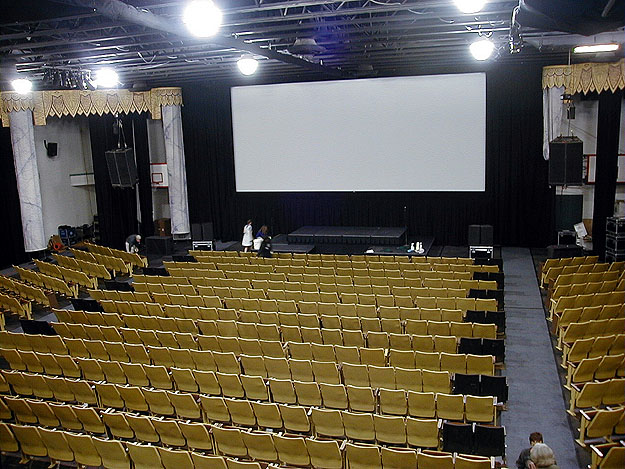 The auditorium of The Max, which is converted from a high school gym. This picture was taken a little after halfway through the conversion. Seating for over 700 and also where most of the really special shows are held, like tributes to Catherine Deneuve, Phillip Glass, and director David Lynch (yes they were all there in person).

---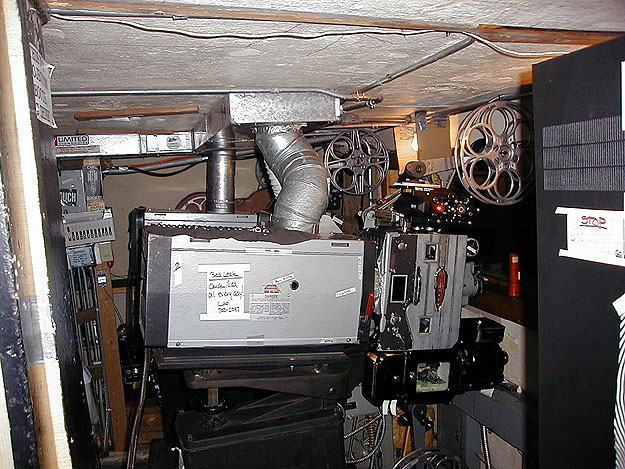 Here is the projection booth at the Nugget, one of the 7 venues. Brenkerts are used. Dolby Digital is also available. The ceiling is only 6 feet high. A 16mm projector sits between the two 35mm projectors (unseen in this photo).

---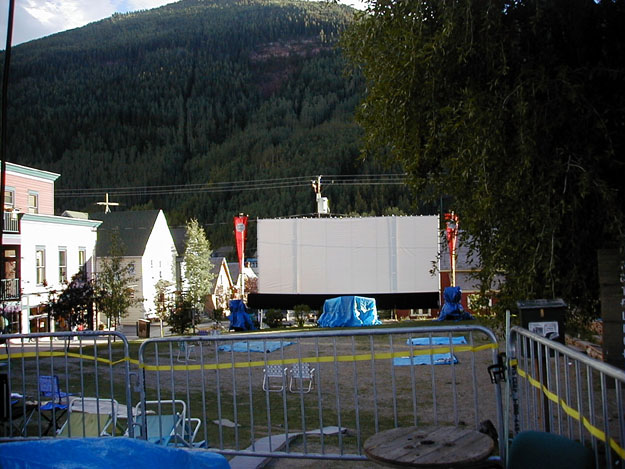 Here is the screen to the Outdoor Cinema. It is free and anyone in town can attend. The sound is quite amazing considering that it is open air. To end the festival, the Alloy Orchestra played along to silent shorts from Charlie Chaplin, Laurel and Hardy, and Buster Keaton. All live and in perfect sync with the onscreen action.

---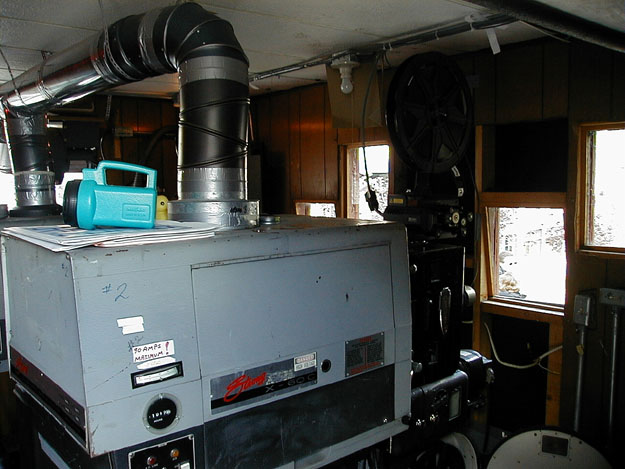 Here is the booth to the outdoor cinema, which is literally a small trailer parked alongside the street. Brenkerts are used (4 of the 7 venues use Brenkerts, the rest use Centurys). Dolby Digital is also installed and sounds fantastic outdoors! Even the subwoofer! The surrounds are placed on the balconies of buildings on the side of the park. The sound rocks!

---

Special thanks to Joe Redifer for the pics.