---

Movies in the Park
Brooklyn, New York

---

Celebrate Brooklyn is in it's 20th year. All summer long, live shows are presented in the Prospect Park Bandshell. Three years ago Cinema was made part of the Festival. This year, we installed our own system rather than renting and the film schedule is expanded. Next year it is anticipated that there will be a film showing every Thursday with possibly a Wednesday added throughout the summer.

---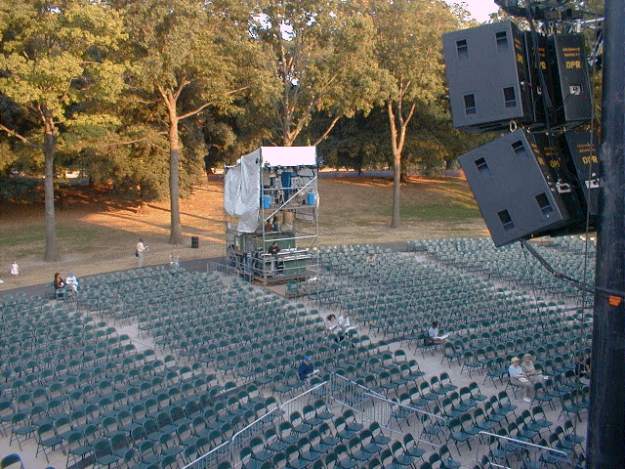 This picture shows the 2000 seating area, the three story booth structure in the center of the picture and the Right Channel speaker cluster in the foreground. The "Lawn People" bring their lawn chairs and blankets and populate the area behind the seating area. This venue can accomodate over 3000 people.

---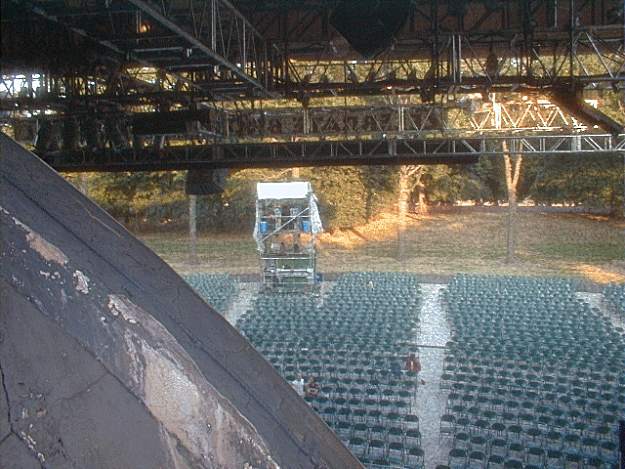 A view from one of the lighting scaffolds on the stage.
At the top of the picture is the lighting trusses and the screen rigging.

---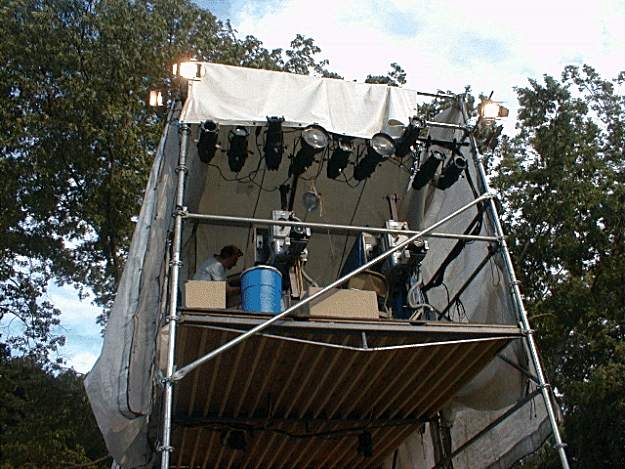 The booth houses the sound mixer on the ground floor, the lighting console on the second floor and the projection system on the top floor. The two blue cylindars at either corner on the top level are the water tanks for the circulation system.

---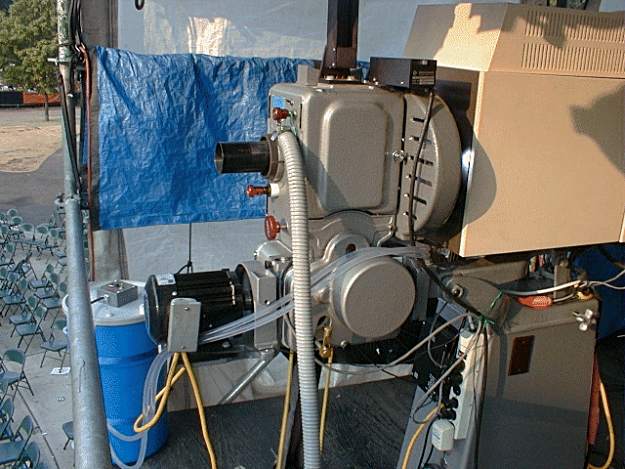 Back shot of the projector and the area below.

---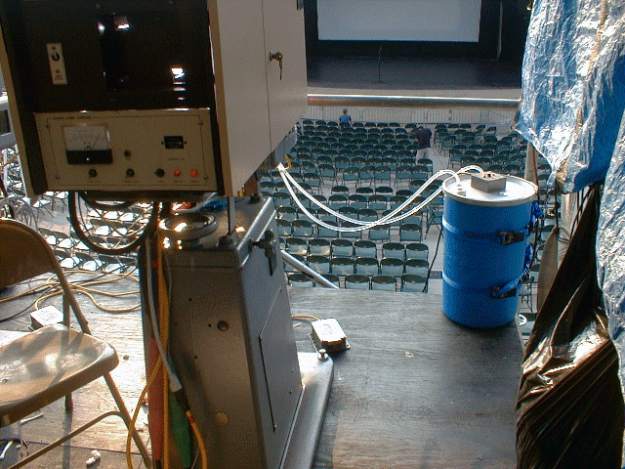 Screen set at Academy ar for the silent film STEAMBOAT WILLY -- with the Alloy Orchestra playing live. The instruments are just visible to the left side of the screen, or for the theatre people who know such stuff -- Stage Right. Visible is the blue water tank, the Century Film Stabilizer turbine (nothing but an air blower) and the old time foot switch for picture change-over -- sound change-over is acomplished with a pushbutton on the single gang electrical box just visible at the top left corner of the picture.

---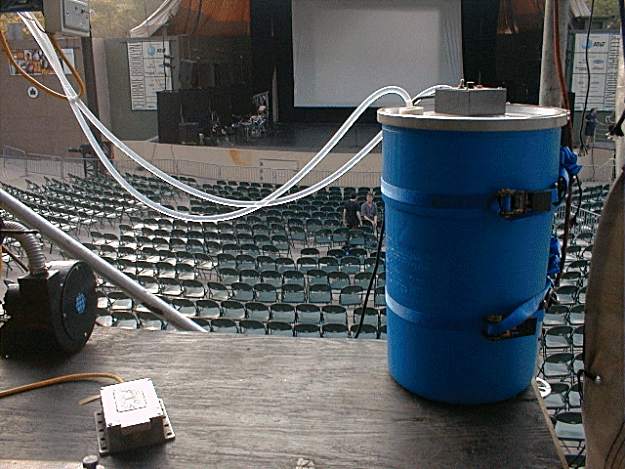 Notice that there is nothing at all, not even a small lip at the end of the floor to separate the projectionist from the booth and the 30 foot drop off the edge to the ground below.

---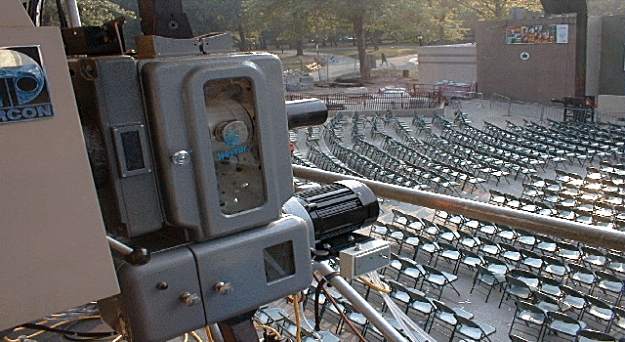 Projectionist's view of the audience from Projector #2.

---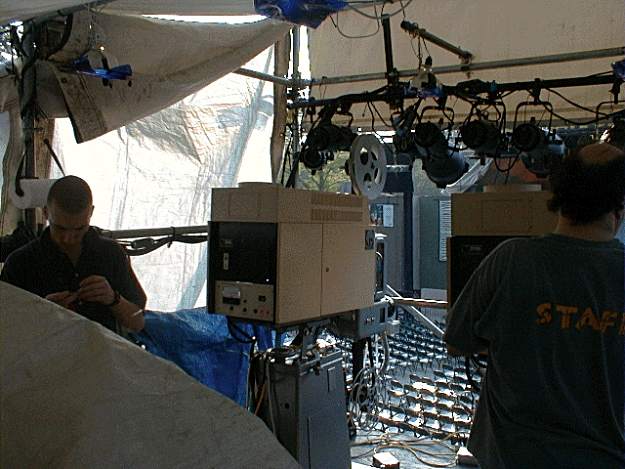 Techs making final adjustments to the equipment preparing for the show.

---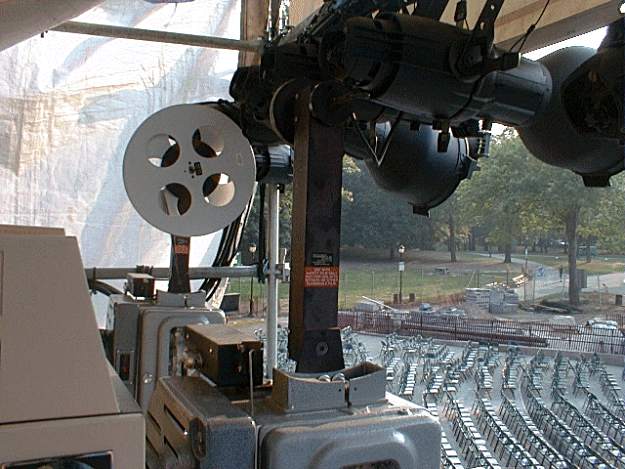 Another view looking out at the seating area. Visible are both projectors and the large (and somewhat anoying) lighting instruments that are hung very close to the projectors.

---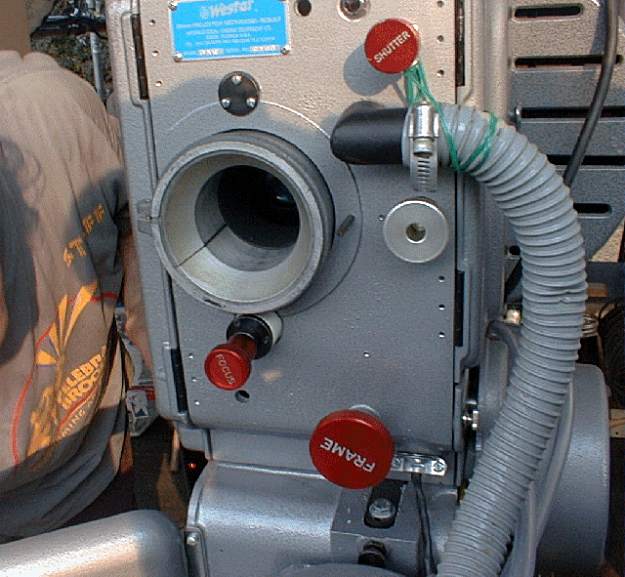 Air hose from "Century Film Stabilzer" turbine which sits on the floor and enters projector head just to the right of the lens; note the high tech green garbage bag tie holding the hose in a position so that it will not interfere with the threading knob shaft.

---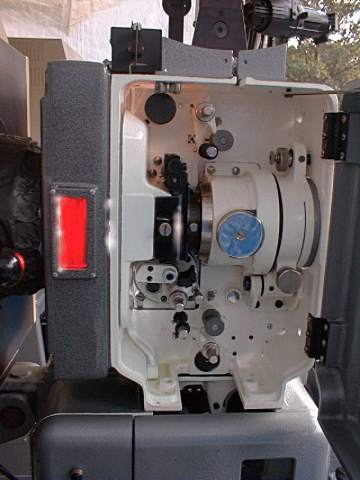 Interior of the projector head.

---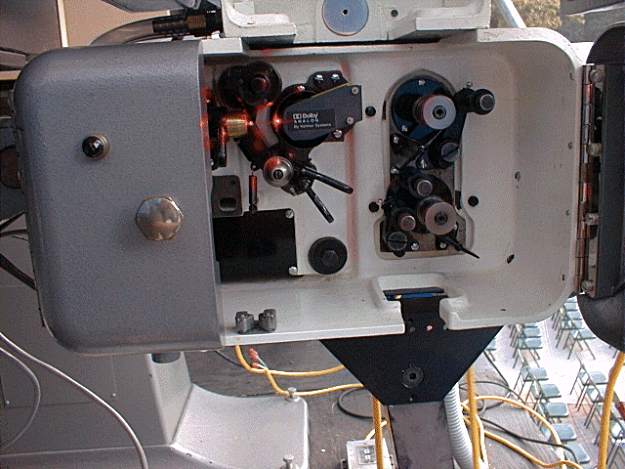 The soundhead has been modified with a Kelmar led reverse scan.

---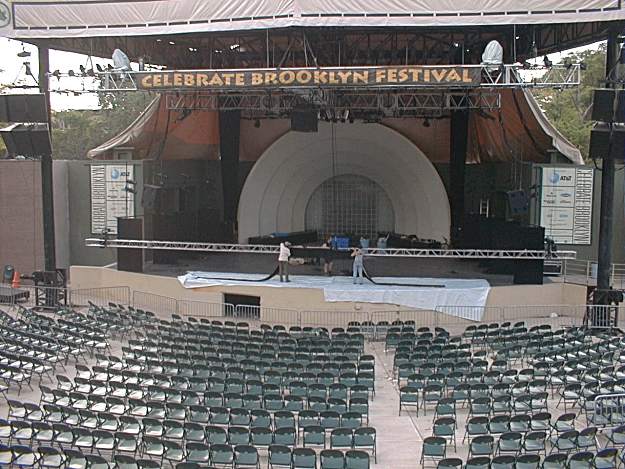 Crew preping the screen frame. Screen span is 55 feet. Note the speaker clusters right, center and left. Additional subbass bins are behind the screen.

---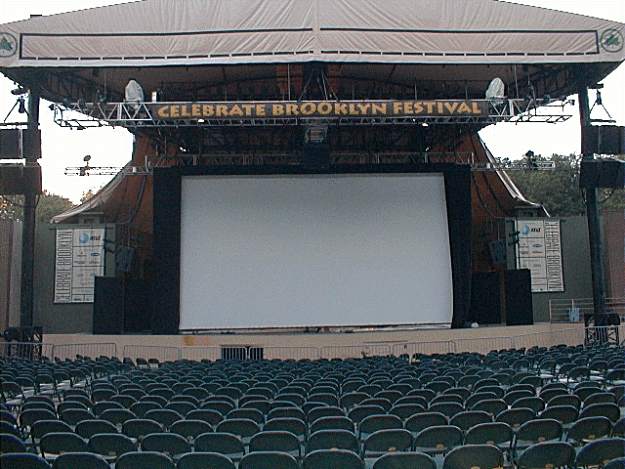 Screen set at 1.66, ready for the presentation.

---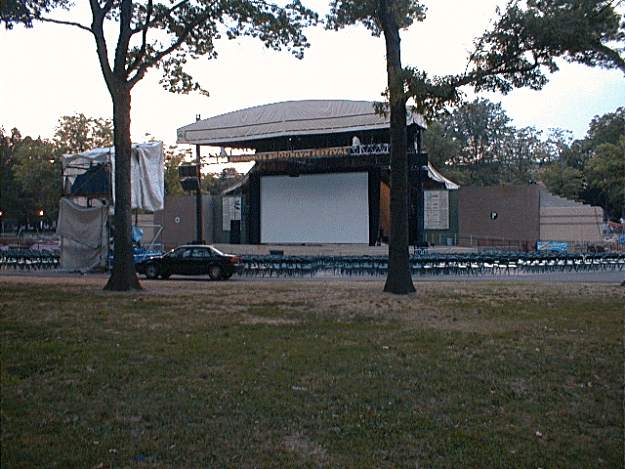 View of the back of the booth as seen from the area populated by the "Lawn People."

---

Special thanks to Frank Angel for the pics.