---

Mercyhurst College
Mary D'Angelo Performing Arts Center
Erie, Pennsylvania

---

The Mary D'Angelo Performing Arts Center is a 'full service' performing arts center. We feature all forms of stage shows and concerts... music, ballets, operas, and of course, movies. Performances have featured acts such as "10,000 Maniacs", "Great Big Sea" and "Ballet Folklorico de Mexico" with 65 musicians and singers.

We show mainly cultural and foreign films but we hosted a "Hitchcock Double Feature" and a Halloween showing of "Phantom of the Opera" with a live orchestra playing the score. We are hoping to have a "Y2K Sci-Fi Film Fest" this year.

Because we feature such a wide variety of programming, we must remain flexible. The screen and speakers are portable enough to be moved at a moment's notice. Usually it takes one 'guy' between 30 minutes to an hour to get ready for a movie. The screen and masking are attached to the 'fly' ropes. They can be raised and lowered as needed. The speakers are on roll-away carts. Everything is 'spiked' (marked) to that it can be put in place precisely as needed.

The sound system is run through a Peavy Media Matrix Digital Signal Processor. The film sound processor (Smart Mod II-B) decodes the soundtrack as normal then feeds it out to the D.S.P. for distribution to the amps and speakers. This way we maintain sound system flexibility with the press of a button.

Michael Fuhrman (Director)
Greg Hardner (Stage Manager)
Randy Stankey (Head Projectionist)

---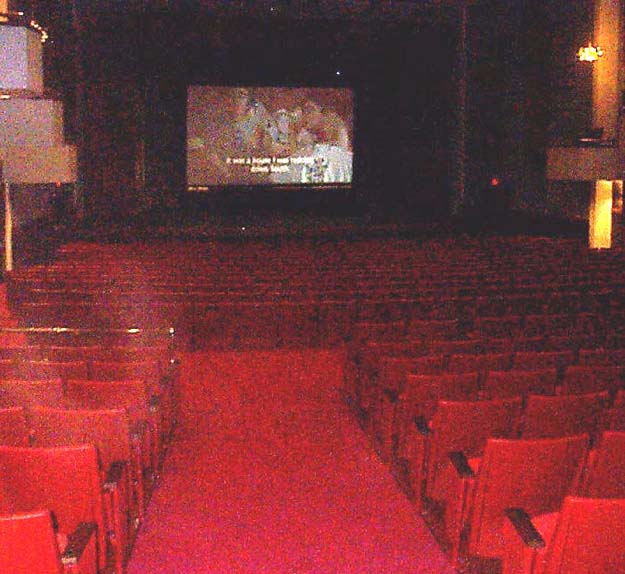 View from the back of the house. The balcony ceiling, overhead, has concealed speakers for sound 'reinforcement'.

---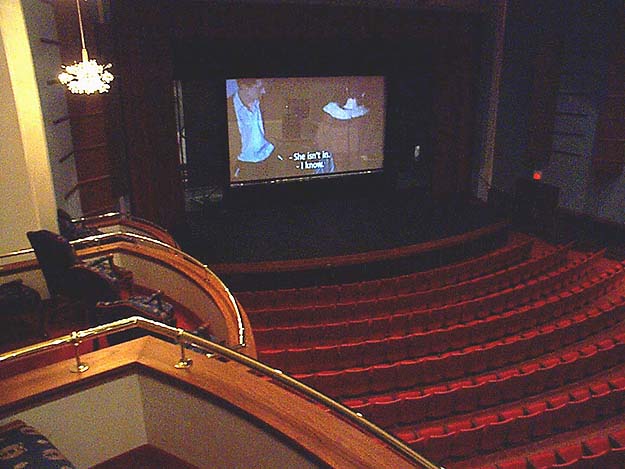 Looking down to the screen from one of the six box seats, reserved for V.I.P.s and benefactors of the college. The dark area below the screen is the orchestra pit. (Not very visible in the photo.)

---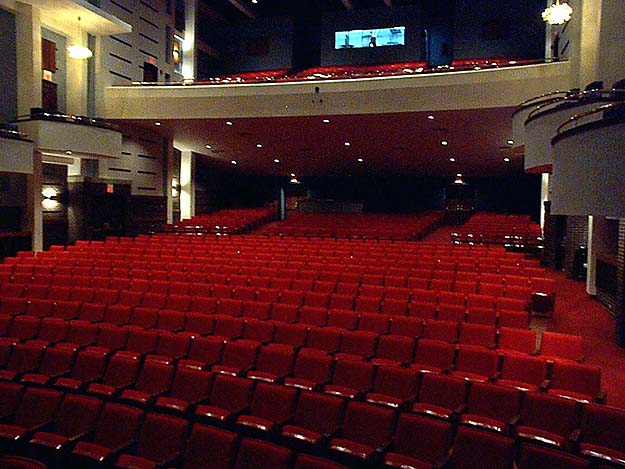 Affectionately dubbed the "Met" of Erie. Superb acoustics and interior design are the main features of the hall, dedicated in 1996. The hall has 825 Seats. It has a GeoExchange heating and cooling system for absolutely quiet environmental control.

---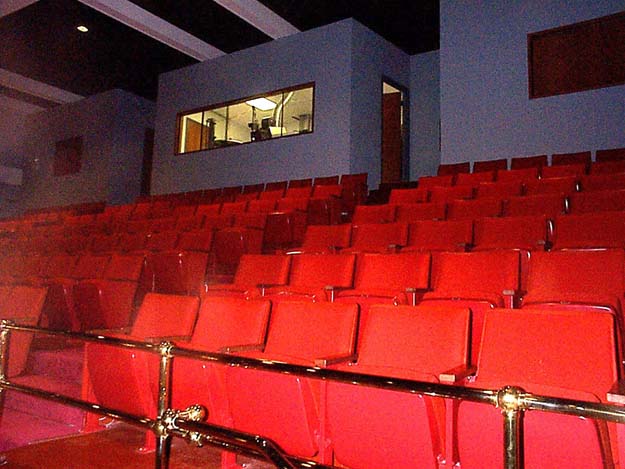 Entering the balcony, looking up to the booth. It also doubles as the control booth for stage presentations. Note the follow spot booths on the sides.

---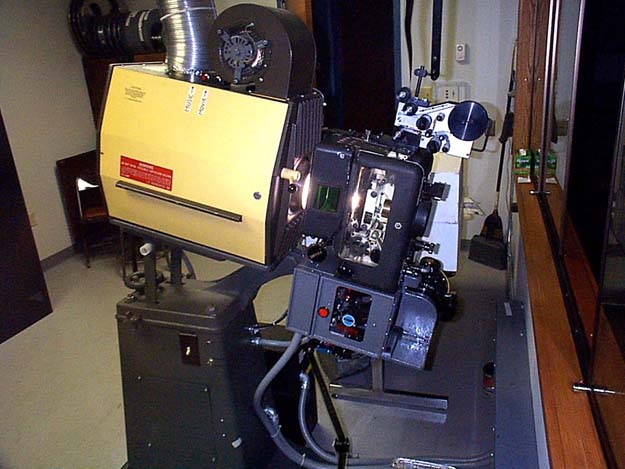 Simplex XL Proj. -- 2000 W XeLamp light source. -- Potts-Alpha Platter. -- ZERO automation
(Although the Kelmar cue detector/ FS combo does operate the sound processor.)
Note the Kelmar film cleaner. We use FilmGuard on every run.

---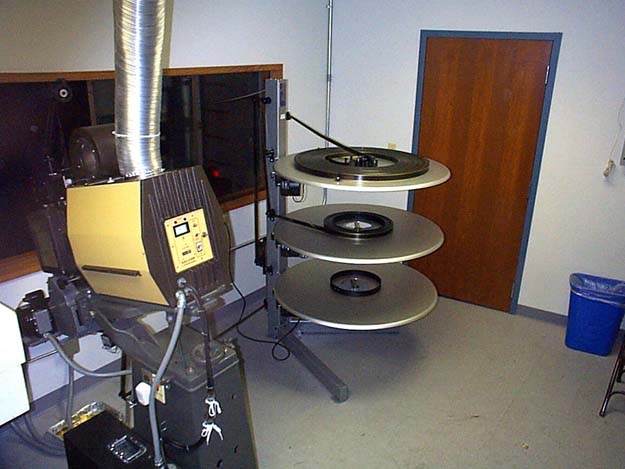 Entering the booth. It has two doors, one on either side. The platter was installed on the right to provide better access to the booth and maintain 'flexibility'.

---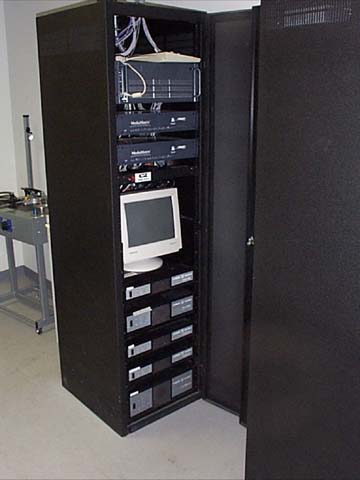 There are two sound racks. One is a 'standard' rack with the Smart cinema processor and exciter power supply. This view shows the 'second' rack. The Peavy Media Matrix DSP receives the signal and routes it where it is needed. The unique feature of the system is that it can send any input to the backstage speakers or to the auditorium's main speakers at the flip of a switch.

---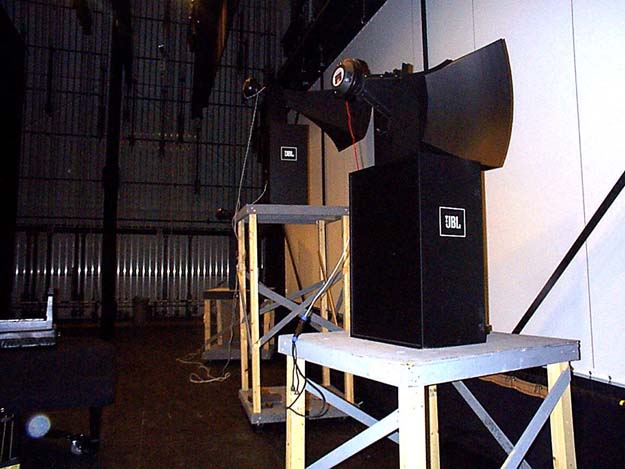 JBL Cinema speakers are placed on roll away carts. There are marks on the floor for locating them after they have been moved. The Hurley Super-Glo Screen (13' X 31') is mounted to the theatre's 'fly' system. (Visible in the background.) It can be raised and lowered by one person. We can put on a ballet performance on one night and show a movie the next night. With one or two 'guys' doing the work, we can be ready to go in 30 - 60 minutes.

---

Special thanks to Randy Stankey for the pics.