---

VistaVision projector
Constructed by Mark Gulbrandsen

---

This projector was built out of a 4" lens mount model "C" main casting that I bought from ICECO about 5 years ago. I had no plans except a fairly detailed set of pictures of an original VV machine taken by a friend. These pictures were scaled up on a Xerox machine and measurements taken and a rough set of plans drawn. The movement is an SA movement that has a 32 tooth "Positrol" sprocket, loop stabilizer, and oil seals on all shafts. It is filled with LaVezzi oil and has proven completely reliable. The other sprockets are stock Lavezzi 32 tooth sprockets that have been slightly modified. The film gate pad assembly is a much modified "C" assembly that was machined out to allow for the 8 perf frame area. The modofied trap is from a 35mm Cinerama projector. The small film hold back housing is from an old Westrex R-8 magnetic reproducer which was from the Warnerphonic days and used on "House Of Wax" and was apparently the same casting that Century used when they constructed the original machines. The projector has been on several films for viewing VistaVision plates and has never damaged a single frame of film.

---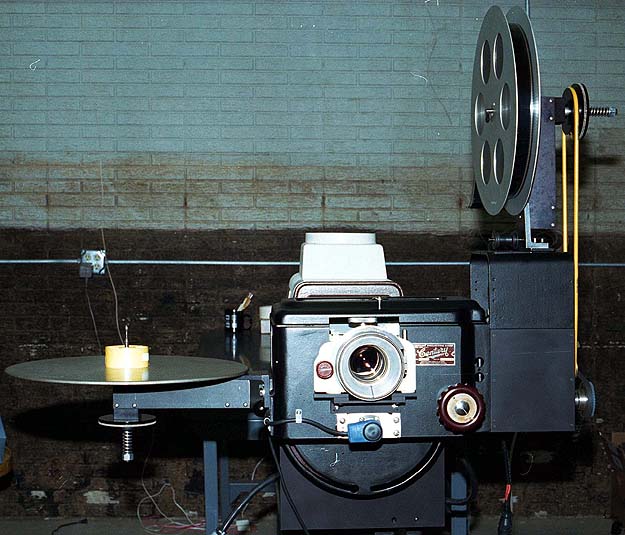 Front View of projector. Self locking framing handle assembly is from a Gaumont Kalee model 21.

---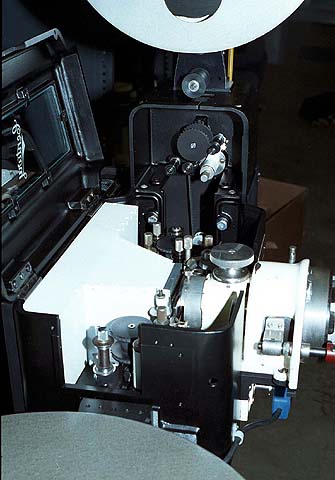 View showing holdback section. This casting is from a Westrex R-8 Warnerphonic sound reproducer.

---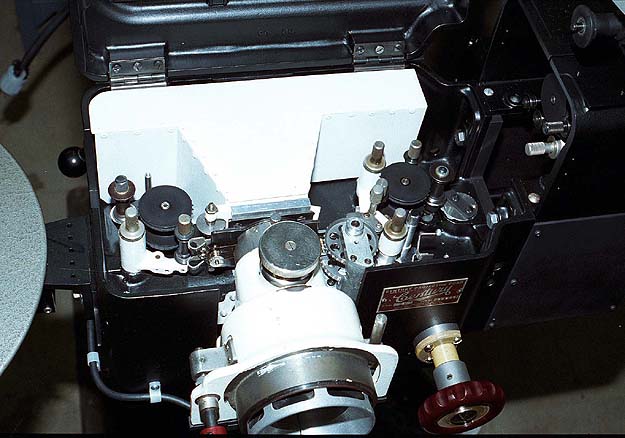 Top view of projector. The Kalee framer mechanism, which is self locking, is visible on the front as is the 32 tooth "Positrol" sprocket on the intermittant. Tha cable visible is for a FPS Tachometer.

---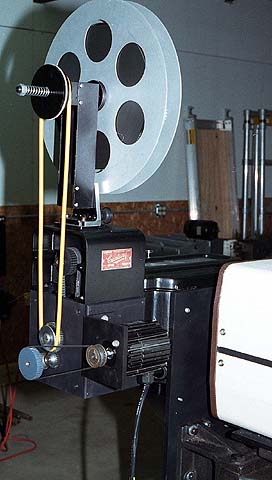 The Drive Side. A small 1/4 hp Bodine hall effect electronic drive motor was used to advantage. Custon timming pulleys were made for the hold back sprocket and standard Century take up gears were used for the T.U. belt drive.

---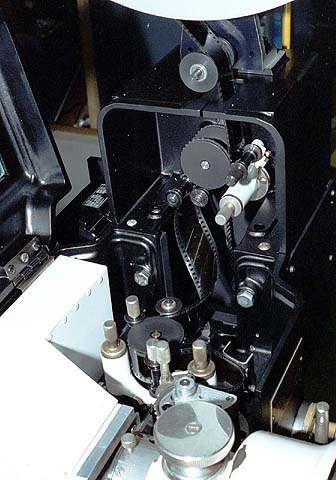 The loop stabilizer fingers are visible just above the outboard intermittant arm. These stabilizers eliminate film scratching that is common in so many other VV projectors.

---

Special thanks to Mark Gulbrandsen for the pics.