---

Rialto Cinemas Lakeside
Santa Rosa, California

---

CLICK HERE to download a radio interview with the owners Ky Boyd and Ian Price.
MP3 format - 4.73 megs - 27 1/2 minutes

---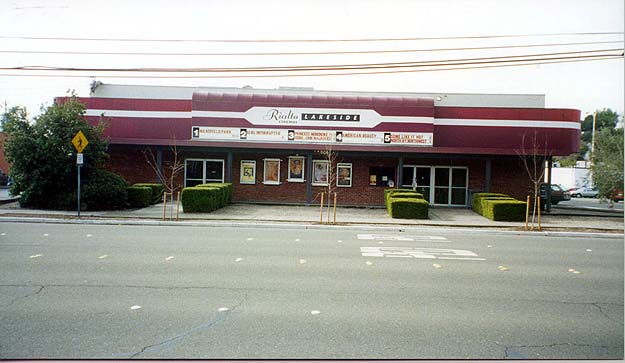 Welcome to the newly remodeled Rialto Cinemas Lakeside.

---

Let's take a closer look at the front of the building. Here we can see the new paint job better.

---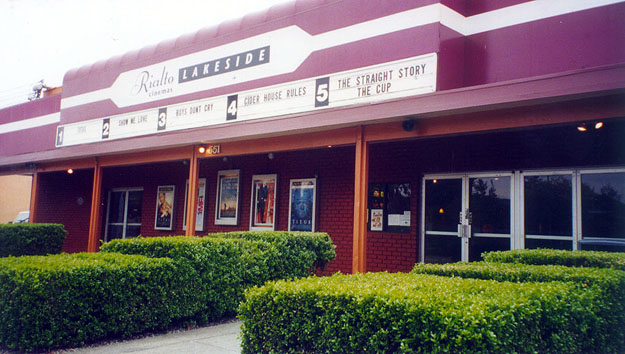 Nicely trimmed shrubbery!

---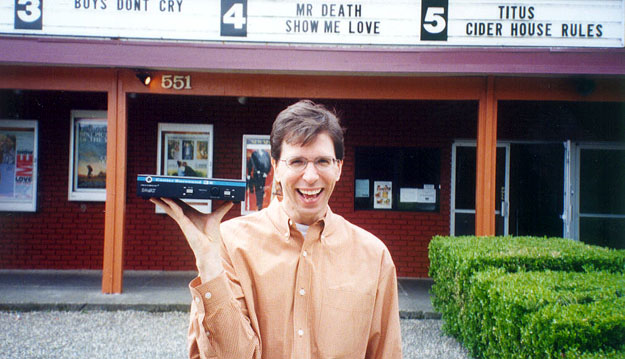 Before we go inside, Ky wants to show everyone his Smart Center Surround 3X that he won at ShoWest!

---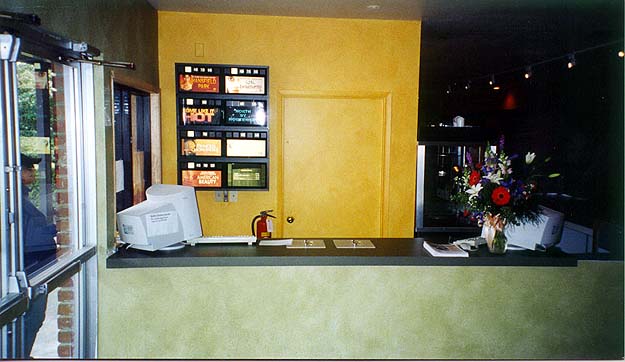 The newly remodeled box office.

---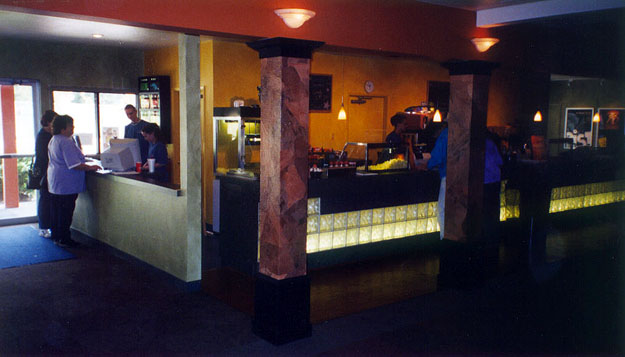 The lobby complete with customers (a good thing).
Note the cool paper job on the columns.

---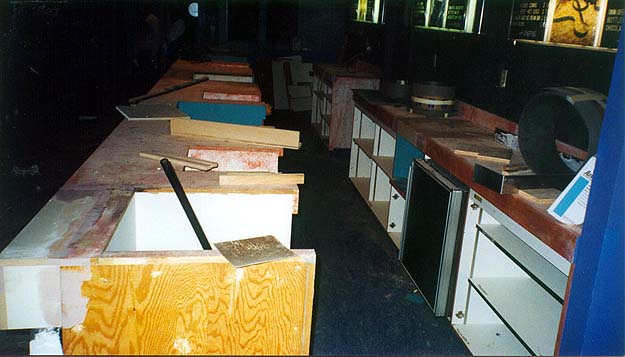 Here's what the concession stand looked like before Ian and Ky took over!
(Actually, it was just their construction in progress.)

---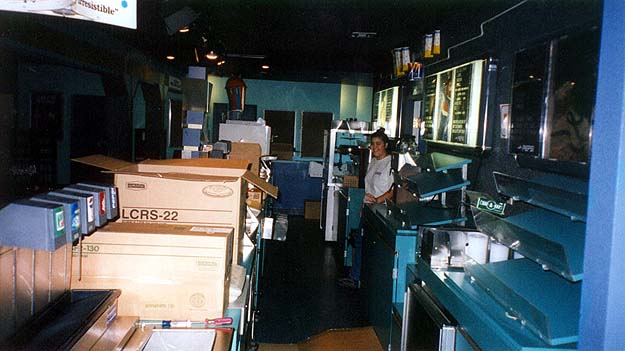 This is a shot of the concession stand as it was when the old owners moved out.
---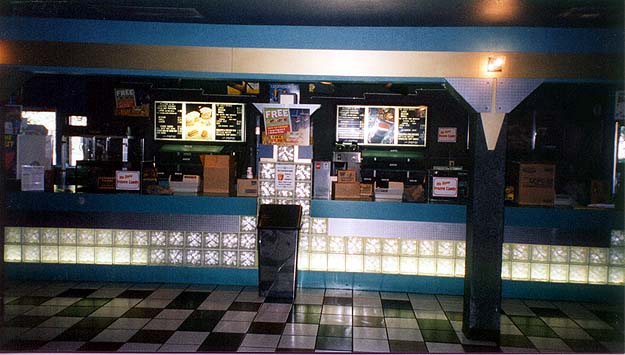 Concession stand before construction.

---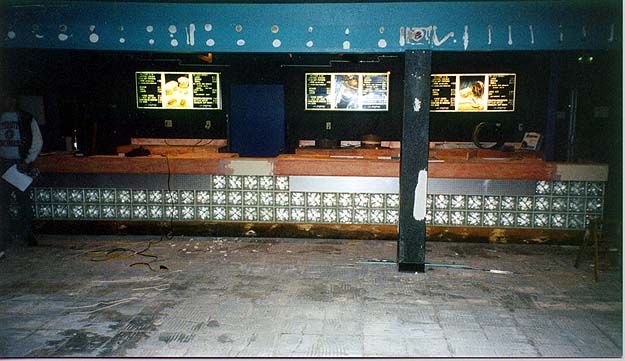 Concession stand during construction.
---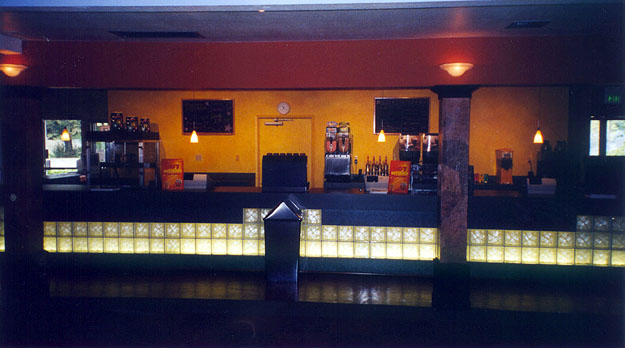 And the concession stand as it stands today.

---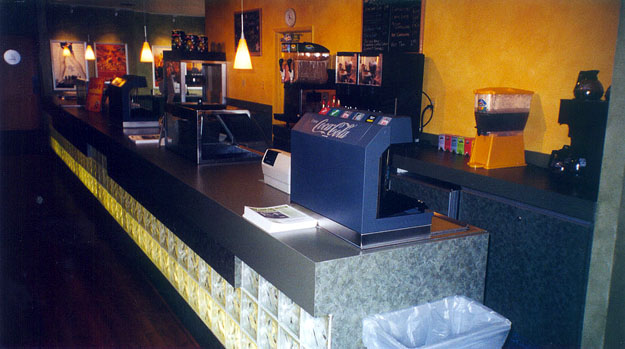 Let's get another shot of that stand. Very nicely done!

---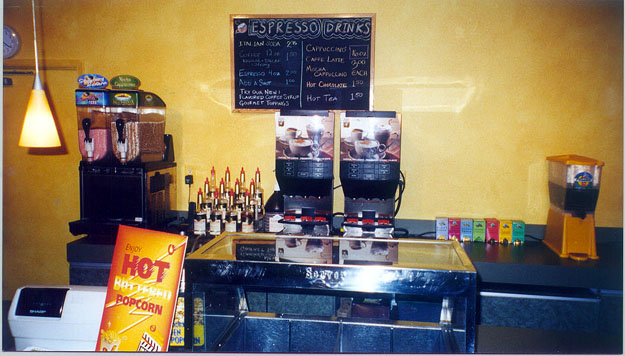 But that's not all, now they serve capuccino, latte, mocha java, strawberry/banana smoothee, italian soda, iced and hot tea.

---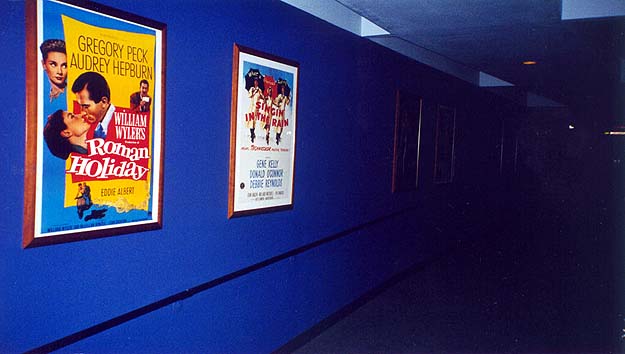 Classic posters have been hung down the hallways and are now lit with mini spot lights.

---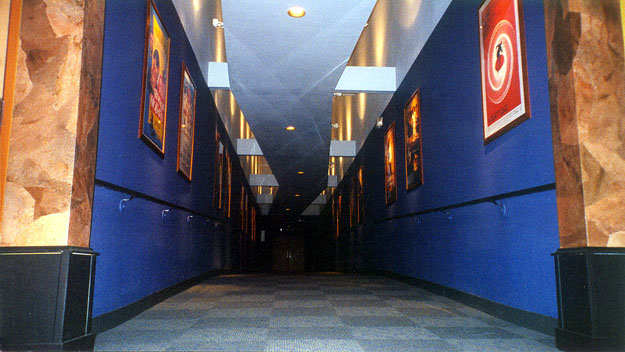 Another shot of the hallway. There is a catwalk above to get between booths.

---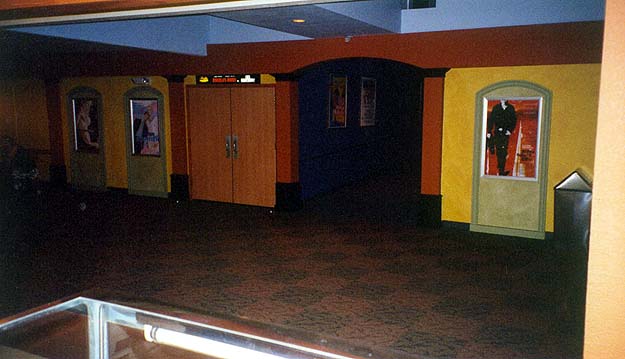 Shot of the lobby from the concession stand's perspective.

---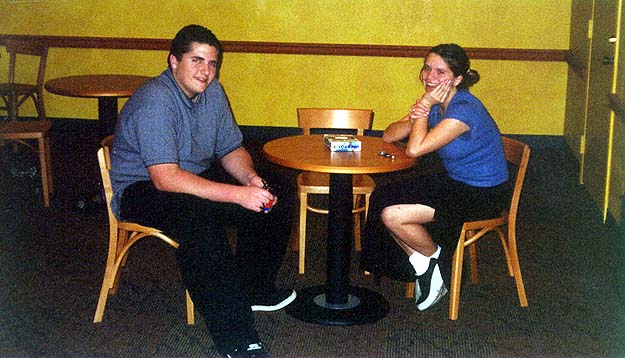 The "cafe" area.

---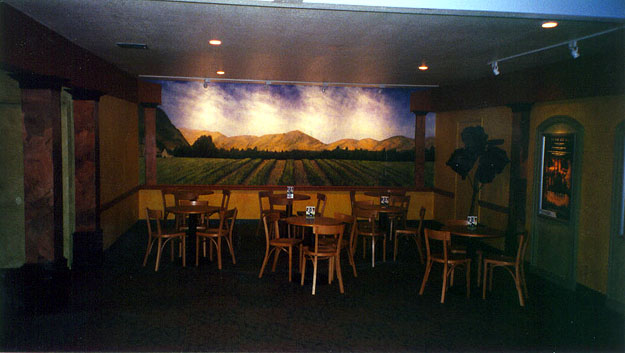 Wide shot of the cafe area.

---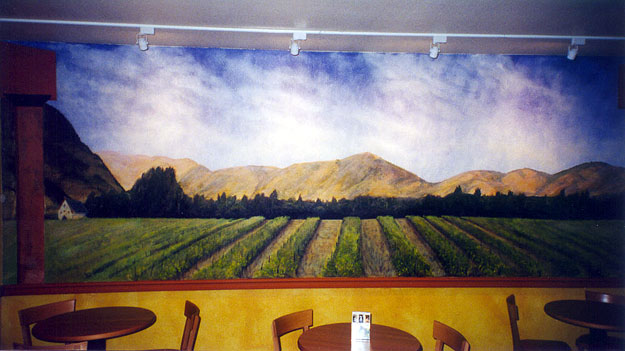 The murial was done by LeAnn Boyd, Ky's cousin.
Vinyard in Sonoma County, CA.

---
---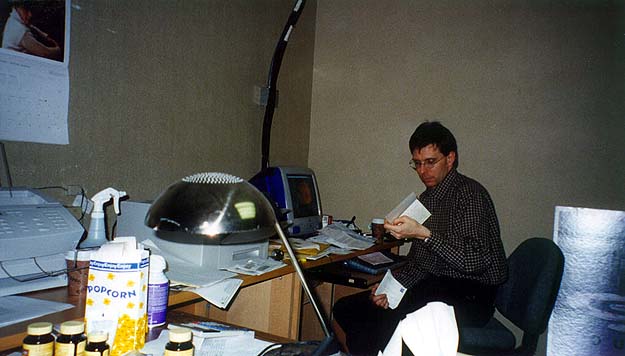 Ky looking over the bills for all of this remodeling in the office.

---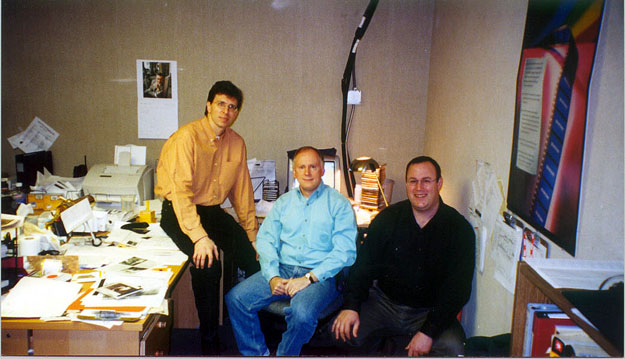 And here is the office as it stands today!
From left to right, Ky Boyd, Michael O'Rand and Ian Price.

---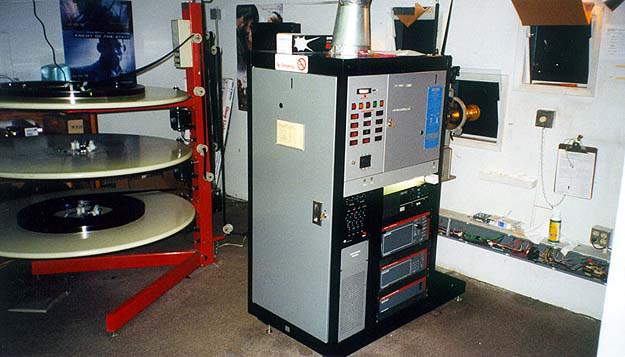 Ok, now we're finally going to get into the booth!
This is the #1 house, now outfitted with a Dolby CP-65 processor and Dolby digital.

---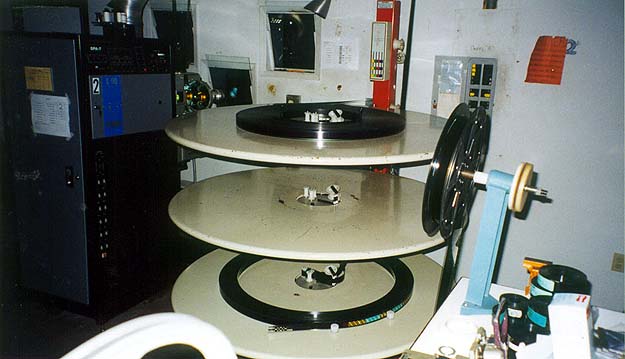 Older SPECO platters handle the film to and from the Simplex projectors.

---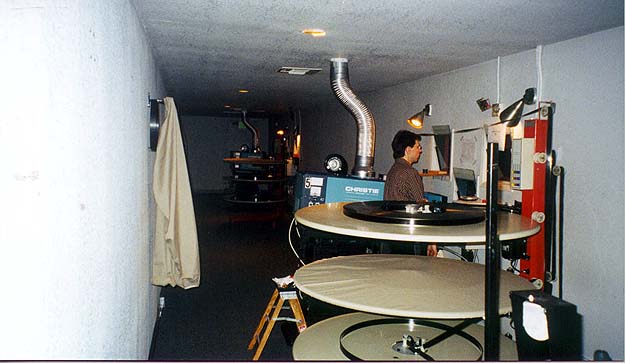 #5 with Ky checking up on the ushers through the port window during the end credits.

---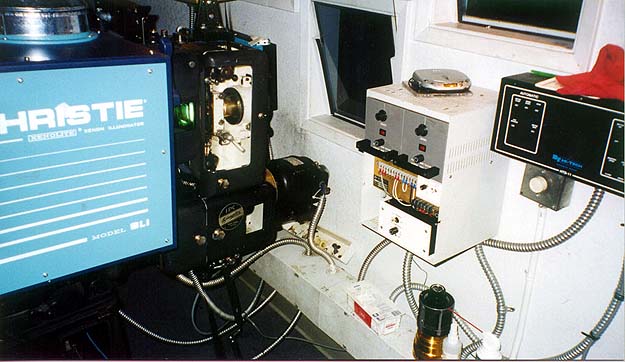 Older SH-1000 soundheads are used in conjunction with new Christie SLI lamphouses.
All booth upgrading performed by Gary Stanley.

---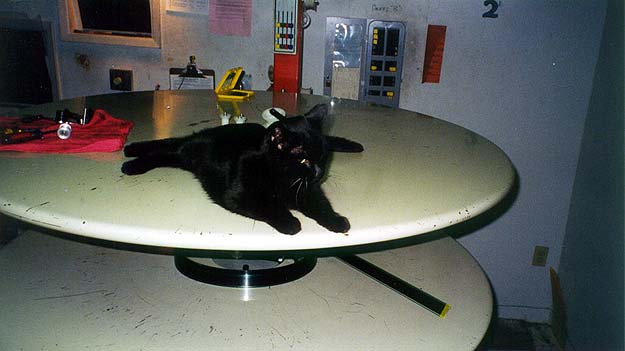 Athena, the platter kitty claiming territory.

---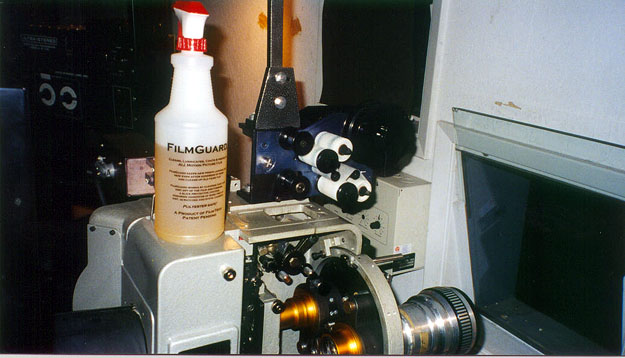 And finally, the FilmGuard shameless plug.

---

Special thanks to Ian Price and Ky Boyd for the pics.
This now sets the record for the picture page with the most pictures.