---

Kahilu Theatre
Kamuela, HI, USA
---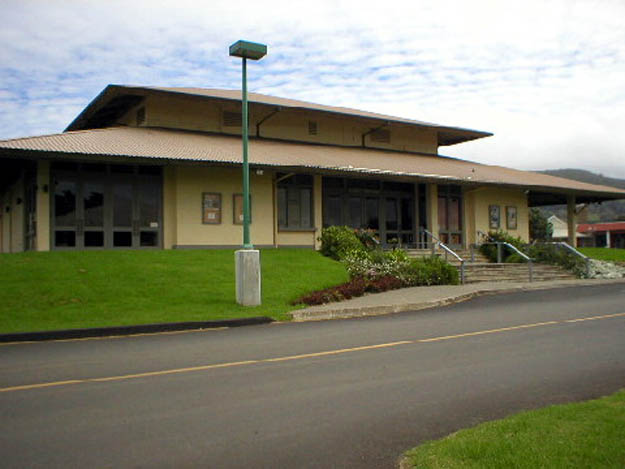 Exterior of the theatre from across the street.

---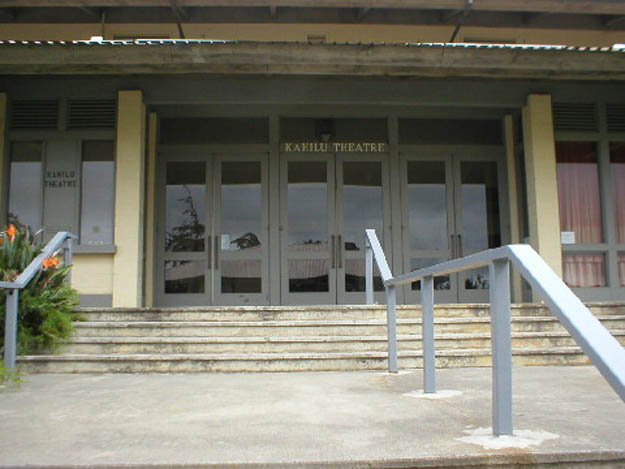 Front entrance.

---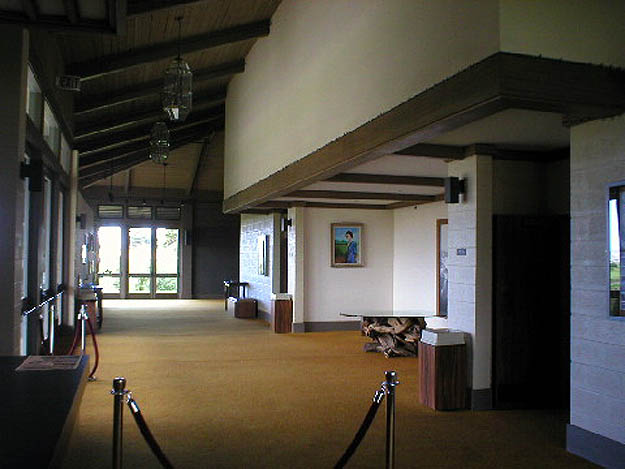 Lobby from snackbar end.

---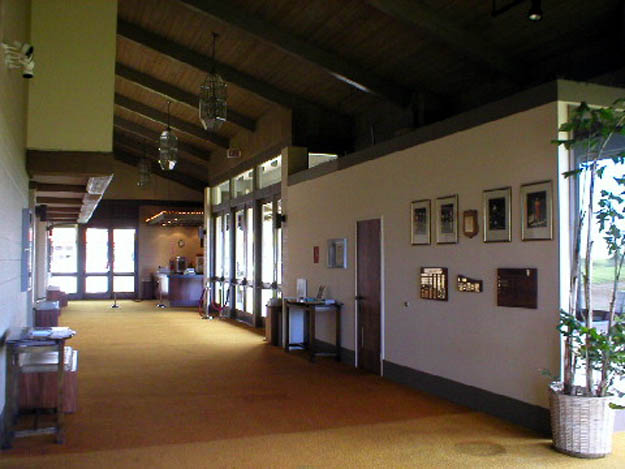 Lobby from art gallery end.

---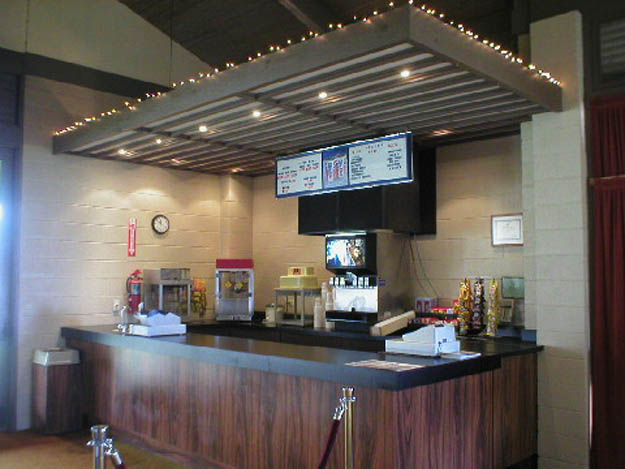 Snackbar. BIB has been replaced by 20 oz. bottles due to noise from ice machine.

---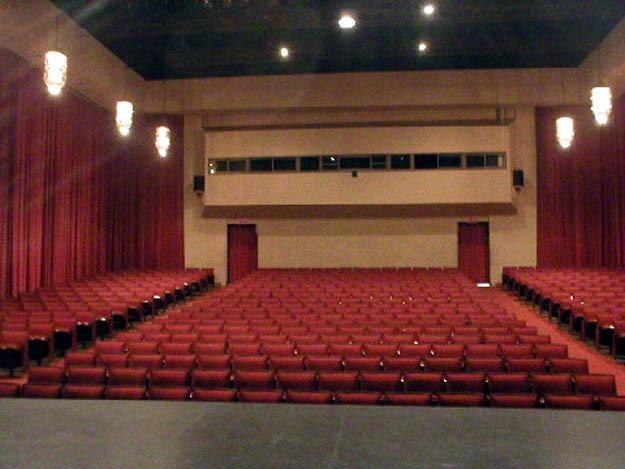 Auditorium from stage. Note full-width booth windows. 2 JBL 4311 surrounds at either end of booth.

---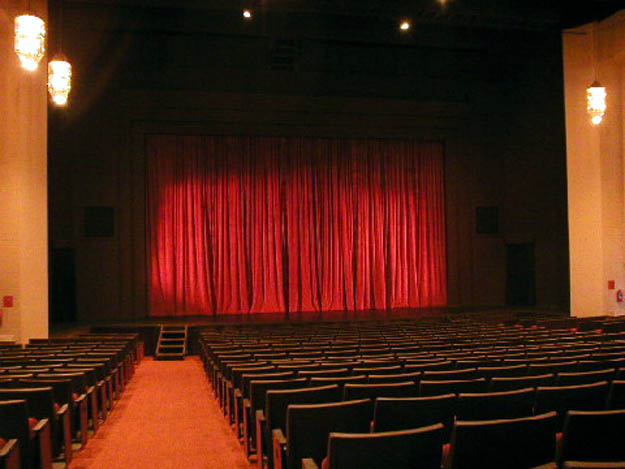 View of auditorium with main drape in. This theatre is used mainly for live performances, with films shown on "dark" weekends.

---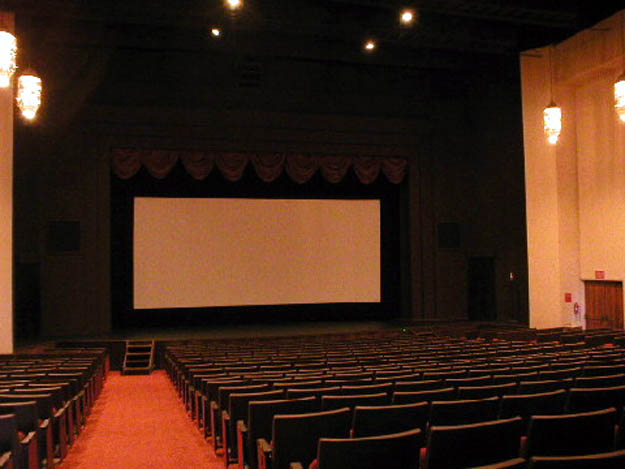 Screen set for scope, 31 feet wide. Screen frame is on overhead track, stores offstage when not in use.

---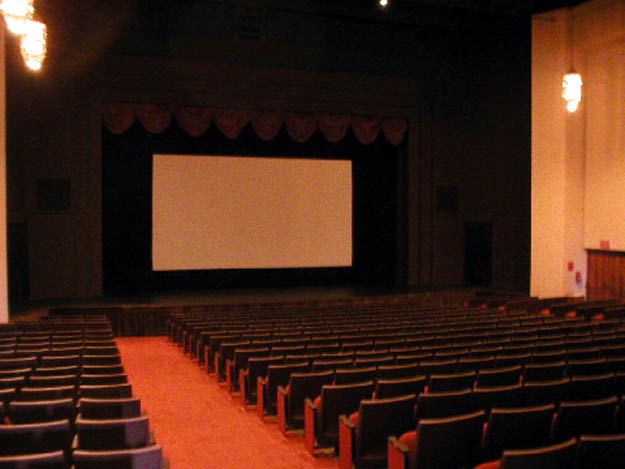 And set for flat. Masking is duvetyne. Screen is Hurley Superglo.

---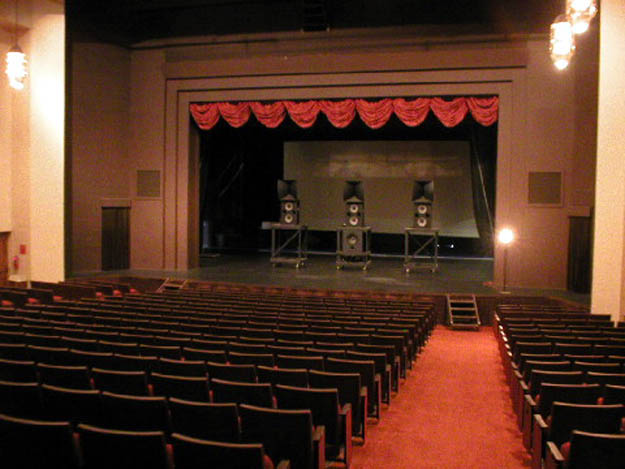 Screen stored, speakers ready to roll into place. JBL 4675s with additional 18" subwoofer under center speaker.

---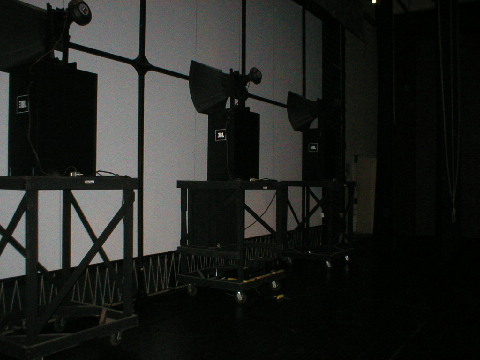 Rear view of screen and speakers. Stage drapes are flown in to reduce echoes backstage.

---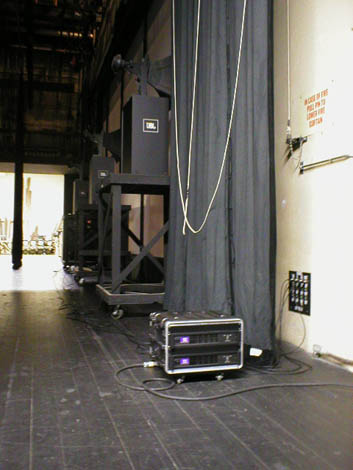 From stage right. Small rack with 2 QSC amps drives screen and sub speakers. Also used to drive stage monitor speakers for live shows. Signals are sent from booth via house mic lines.

---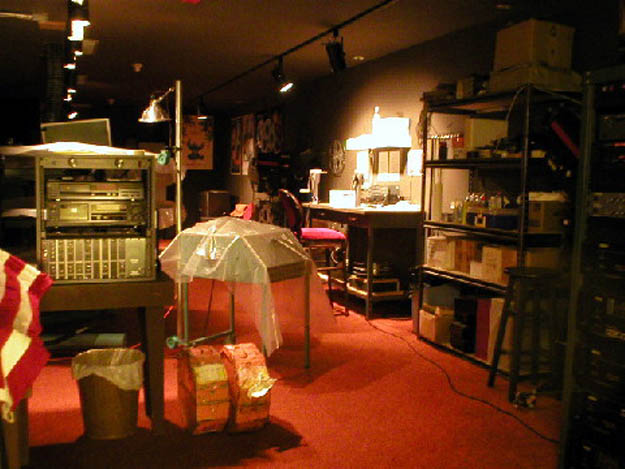 Entering the booth, Kintek processor to left, Neumade editing table at rear.

---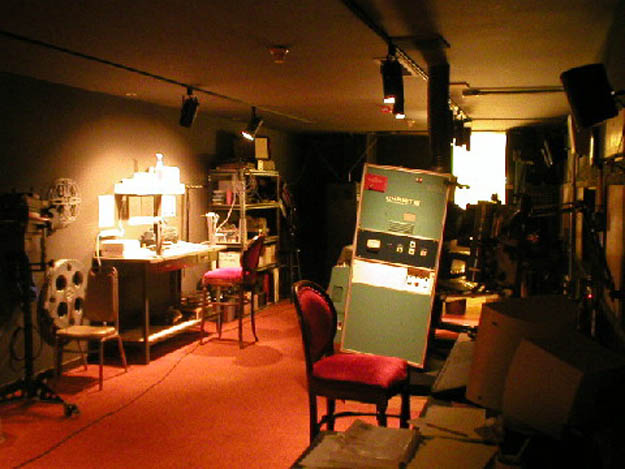 Reverse view of the booth. Christie CH10 console with SLC mirror, P35C projector, AM3 automation. We only use show-end cues. House lights are controlled by projectionist.

---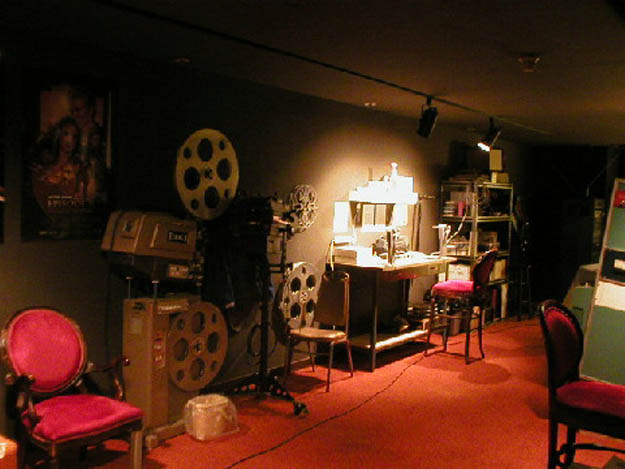 Eiki EX6100 16mm projector rolls between main projector and platter, but is very rarely used.

---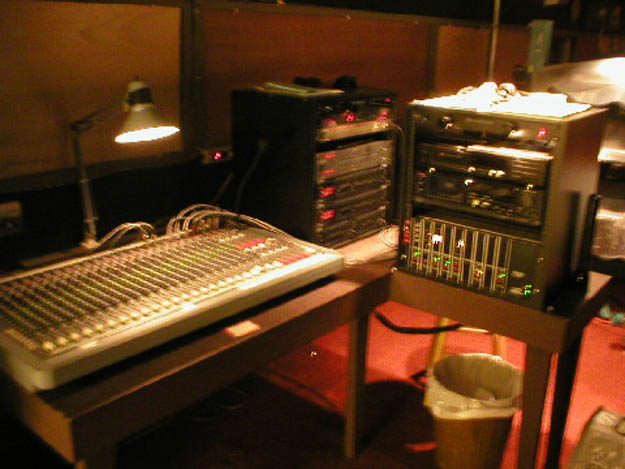 Kintek KT-700 and CD & cassette decks. Soundcraft 24 channel mixer and EQ rack for live shows. There is a remote fader for the Kintek next to the projector. Note the thin plywood panels covering most of the booth windows.

---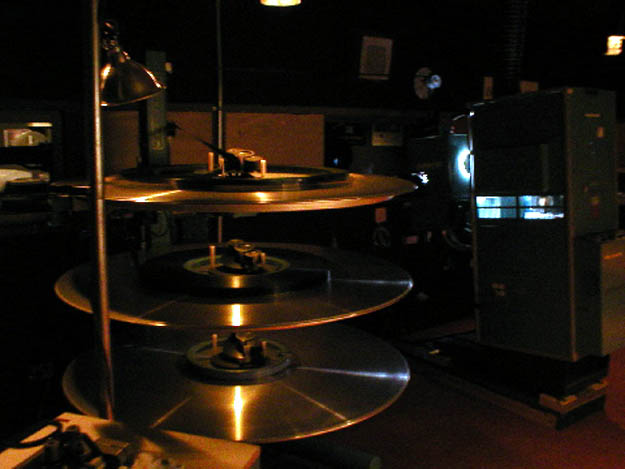 AW3 platter with resurfaced decks.

---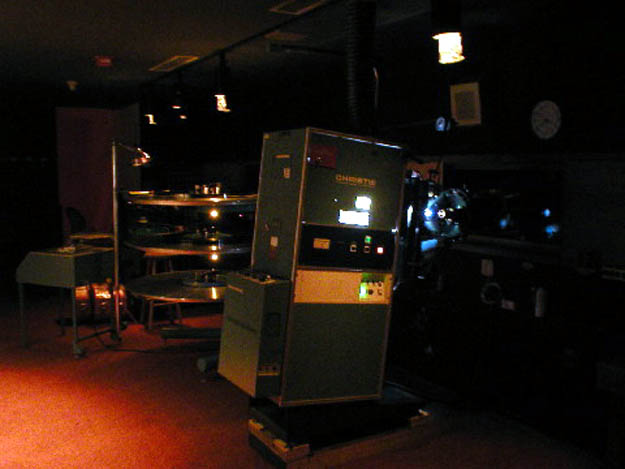 Running a show.

---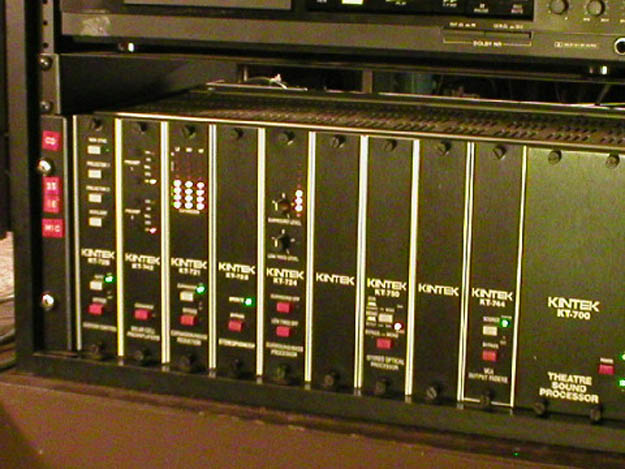 The mighty Kintek. Projector 2 is set up to take the solar cell output from the Eiki.

---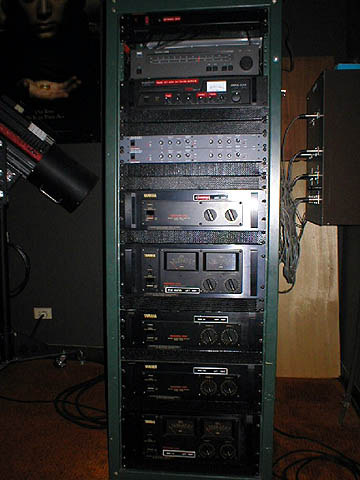 House sound rack. NAD tuner for tunes, Program/PA amp used as booth monitor, active 3 way crossovers for house main speakers, Yamaha amps for film surround, spare stage monitor, and house main high, mid and low.

---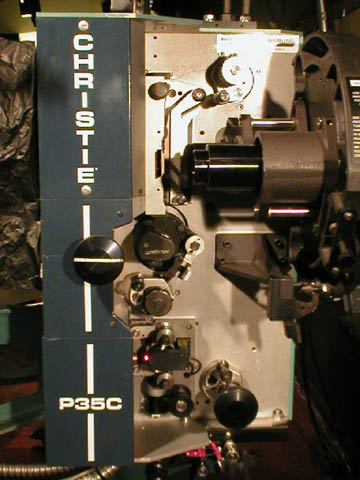 Christie P35C with Kelmar reverse-scan LED. Sankor scope and Cine-Navitar flat lenses.

---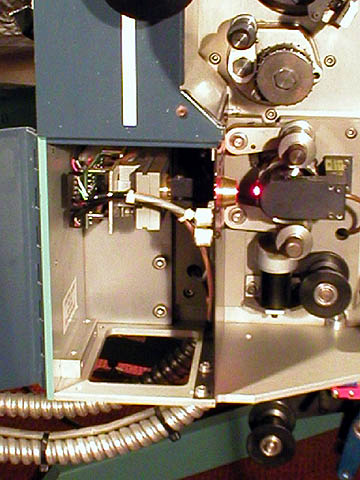 Close-up of Kelmar reader.

---

Special thanks to Chris Markiewicz for the pics.