---

Classic Cinemas - Charlestowne 18 Theater
St. Charles, IL USA

---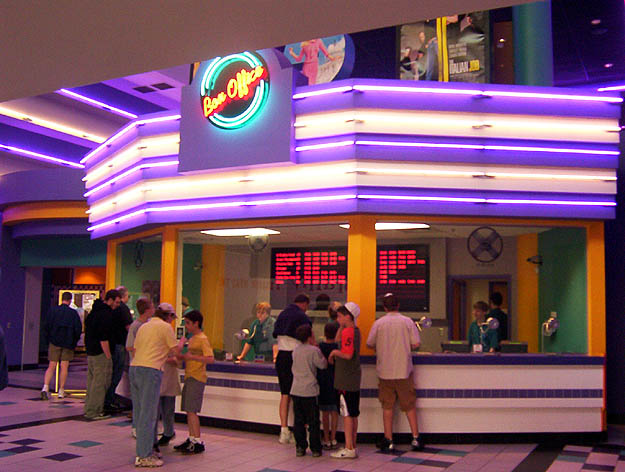 Interior shot of our box-office. Theater was originally owned by REGAL.
We are the largest theater of the Classic Cinemas chain. We opened on Friday, September 28, 2001. The theatre features all of the latest amenities including stadium seating and digital sound. Among the improvements added by Classic Cinemas are two new birthday party rooms and an updated color scheme. With the addition of Charlestowne 18, Classic Cinemas now operates 12 theatres and 78 screens in the suburban Chicago and northern Illinois area.

---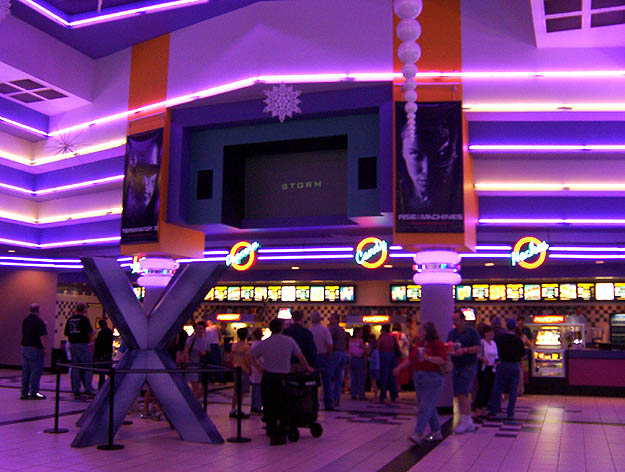 Interior shot of our lobby and concession with preview screen above.

---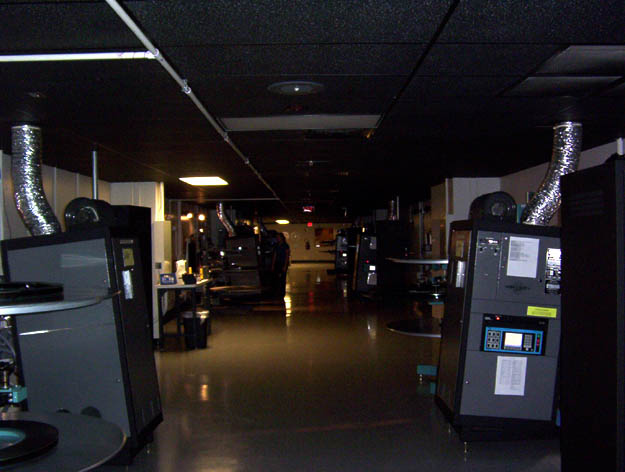 Our booth is arranged as a T shape. One long hallway with 14 projectors back to back, which range from 100 to 200 seat theaters. The front four theaters are the largest with seating up to 300. All projection systems feature the standard Strong package. Simplex Millennium projectors, Simplex 5 star soundheads, Highlight II consoles & CNA200 automation.

---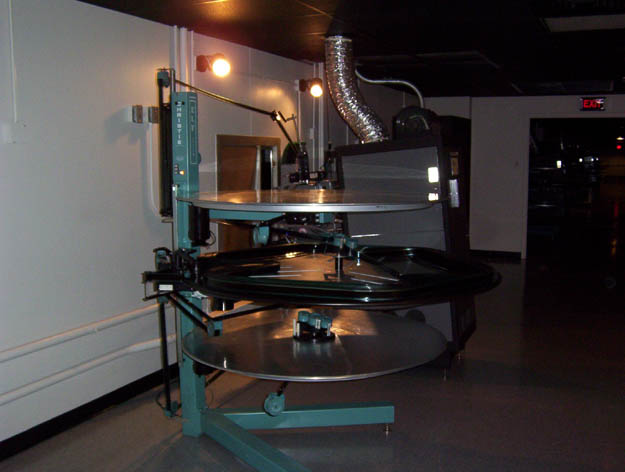 We have a total of eight Christie ELF platter systems (endless loop)

---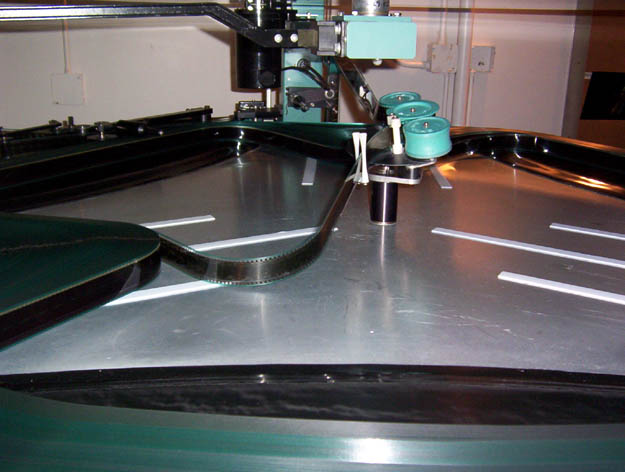 Another view of the Christie ELF platter in action.

---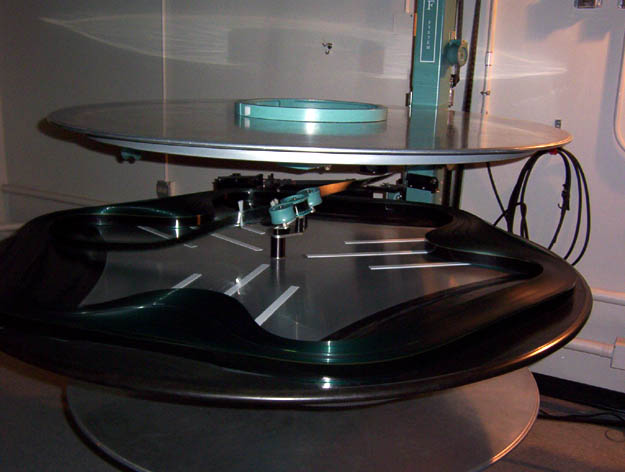 Better view of the Christie ELF platter loaded and running.

---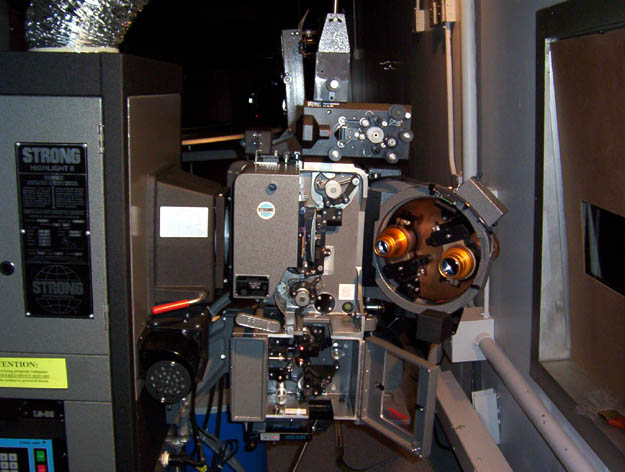 Eleven of our systems feature Dolby Digital 500 w/ 701 readers.

---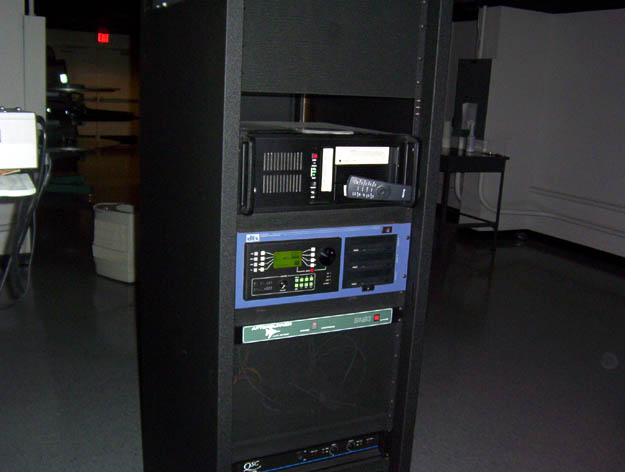 Six of our theaters feature the DTS-6AD processor w/ reader. The component above the DTS processor can be found in each of our sound racks this is a computer, which runs our digital slide show.

---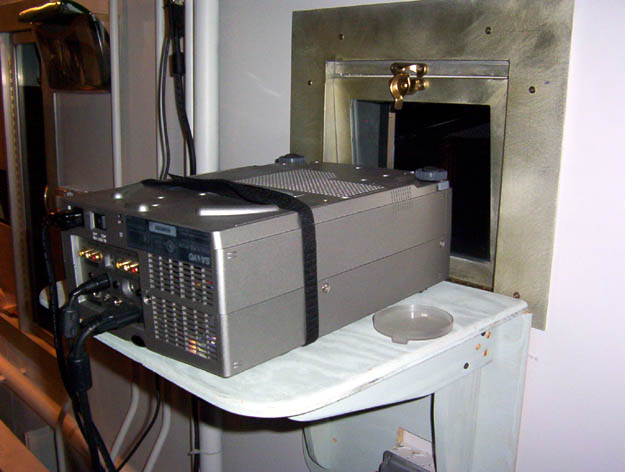 One of our 150watt Sanyo digital projectors used for our digital slide shows.

---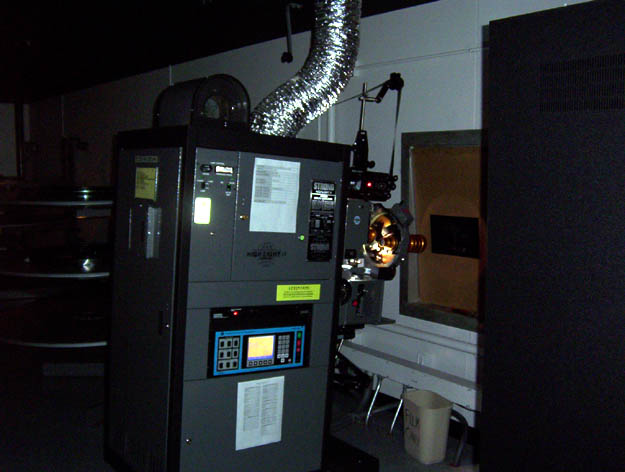 Our four largest theaters run 4000watt Osram lamps w/ water-cooled heat shields. The other fourteen projection systems run 3000watt Osram lamps.

---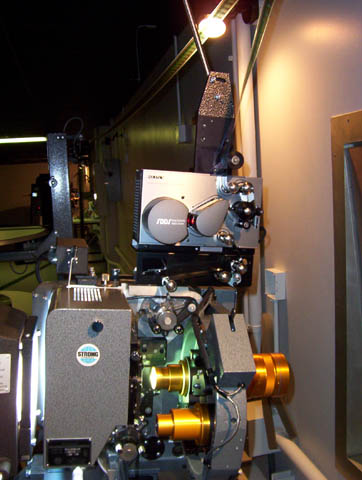 We also have one theater that runs the SDDS-3000 processor w/reader.

---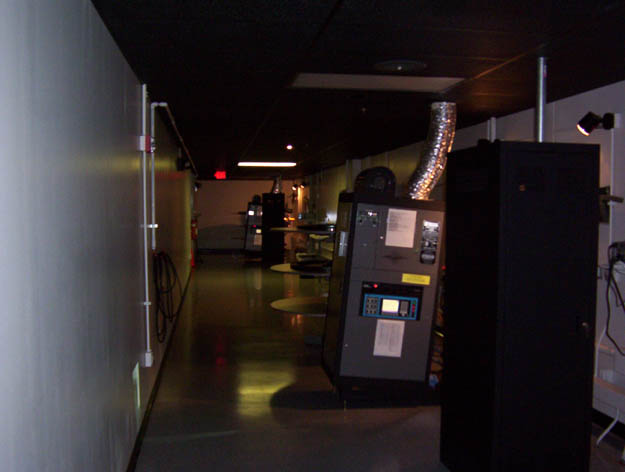 Shot of a couple projectors.

---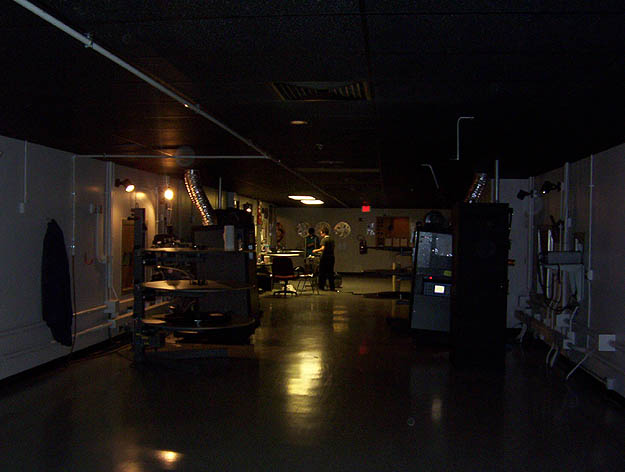 Another shot of the booth looking towards the print build area.

---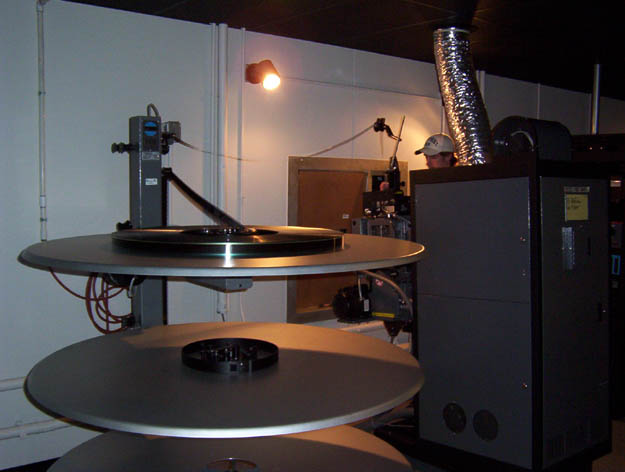 Ten of our projection systems feature Strong AP3 platters.

---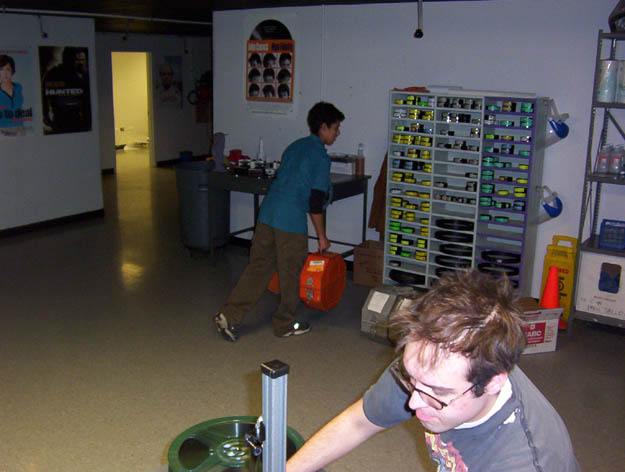 Staff in action on a Thursday night. Notice the rollers hanging from the ceiling we are setup to run interlock between theaters 1 thru 4 and also theaters 17 & 18. Long hallways and a few corners make it very interesting.

---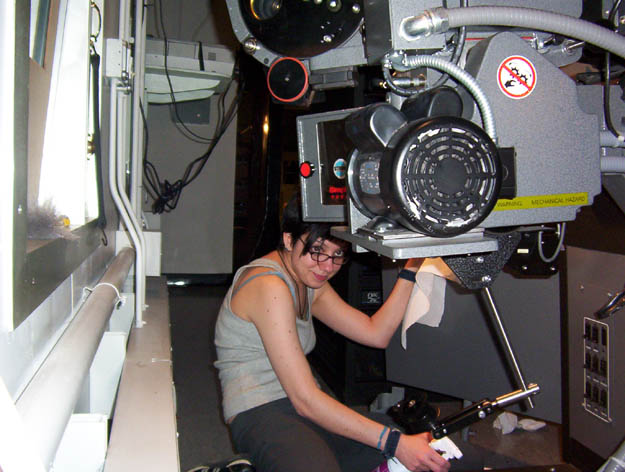 Staff member caught cleaning.

---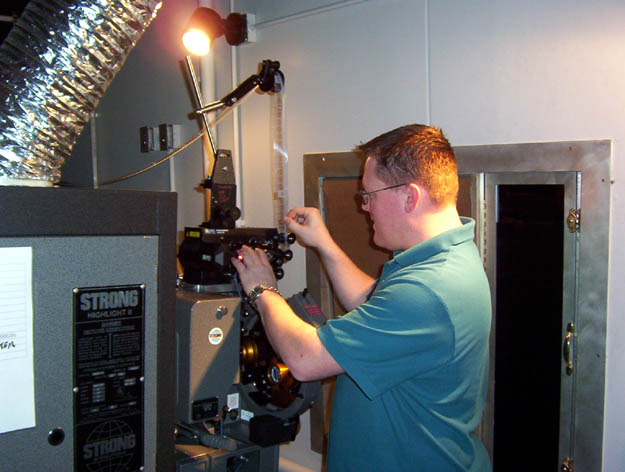 Staff member catching me double-checking my work.

---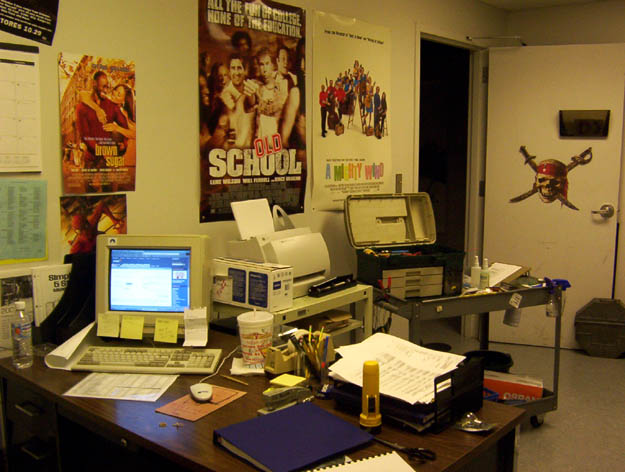 Here's my office complete with computer and tool cart. The computer is a great asset to the booth. We can enter in showtimes and upload information to each of our CNA 200 automations and also view reports for problems. We also use problem codes that can be inputted by staff into the automations explaining what the problem was or enter codes for maintenance. All of this information is then downloaded to my office for viewing. Works great!

---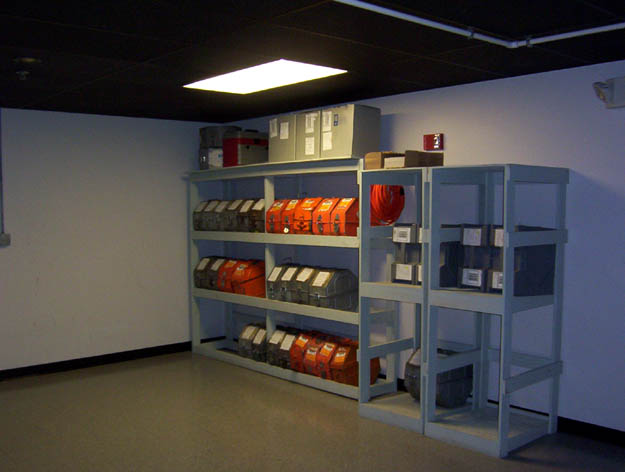 Film can storage area, not pictured is our elevator just to the right.

---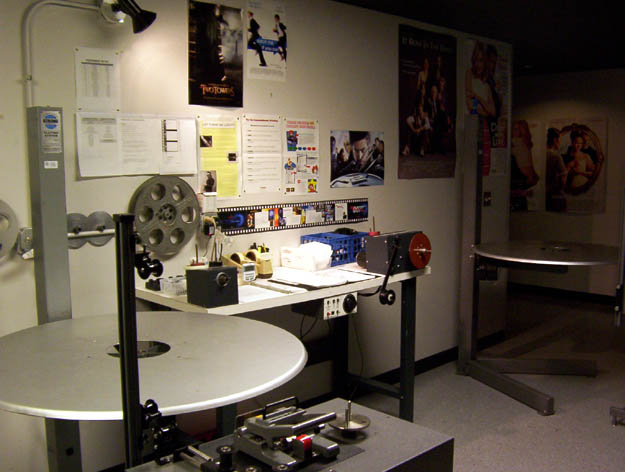 This is our print build area complete with two Strong make up decks and Kelmar rewind bench. We have a total of five Strong MUTS and two Christie MUTS. Throughout the booth we have five Kelmar workbench stations, which are stocked with cleaning supplies and a few tools.

---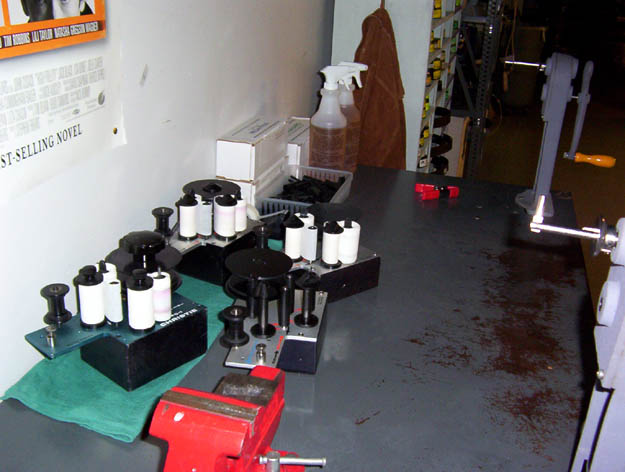 Our Film-Guard loading station and hand rewind table. Yes a table just for Film-Guard we love this stuff!

---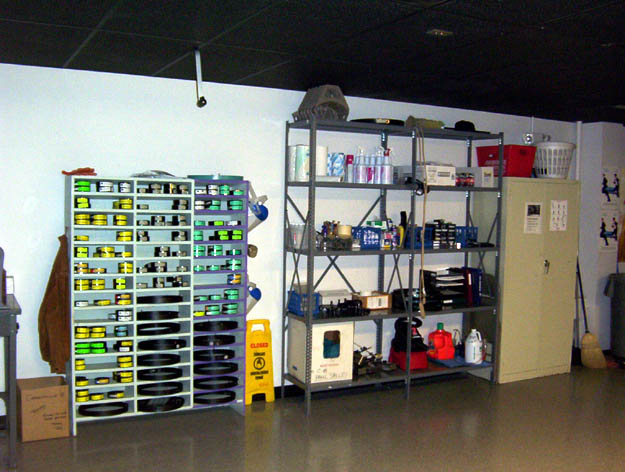 Trailer storage and booth supply shelf also a locker for staff.

---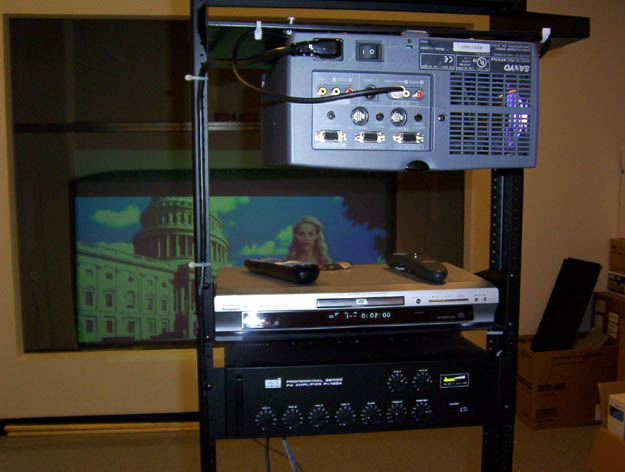 Rear projection is used for our lobby preview screen.

---

Special thanks to Paul Salley for the pics.