---

Cape Cinema
Dennis, Massachusetts

---

THE HISTORY:
In June 1930, just three years after successfully launching the Cape Playhouse for legitimate stage productions, young Raymond Moore opened the Cape Cinema, "a new miniature talking picture theater deluxe."

Designed by Alfred Easton Poor, (Wright Brother's Monument) to Moore's specifications that it be "intelligent and artistic," with its facade modeled on the Congregational Church in Centerville, Mass., and its sides given the appearance of a cow barn, it not only was an architectural gem on the outside, but its interior was modern, spacious, and comfortable. There were 300 individual arm chairs of black lacquer with tangerine suede seats, purchased from the Frankl Gallery in New York.

The Cinema's crowning glory, however, was the mammoth mural vaulting its curved ceiling, more than 6400 square feet in size. When installed that spring, it was claimed to be the largest single mural in the world, dwarfing even "Tintoreto's Paradise" in the Doges Palace in Venice.

Moore choose Rockwell Kent, one of America's most original and controversial artists, to design and execute this masterpiece. Money to pay for this treasure come from Mrs. Edna B. Tweedy, a wealthy Wianno widow who was Moore"s behind- the scenes benefactor before their secret marriage in 1935.

In his autobiography," It's Me, 0 Lord," Kent describes his meeting with Mrs. Tweedy in her New York apartment and tells of the financial and arrangements he made with her for the mural.

Kent and a young assistant, Ellen Goldsborough, did the overall design and detailed drawings at his studio in Ausable Forks, New York. At Kent's request, Jo Mielziner, an outstanding scenic artist of the era, handled all other matters and was paid extra to install the mural since Kent had vowed never to have anything to do with the Commonwealth of Massachusetts after what he felt was "the murder of Sacco and Vanzetti" in 1927 although Kent did attend the opening of the cinema and was photographed signing the mural.

The subject matter the mural portrays is a modernistic, symbolistic concept of the heavens, which Kent said was designed to make people think. It shows the sky in various shades of blue, gold and orange. The Milky Way, comets, galaxies and constellations, the Dog Star and the Bull are all there; while floating through this imaginary, imaginative firmament are pairs of embracing lovers and free-flying individuals who seem to be on their own personal space odysseys. The whole effect is one of vast space1 grandeur, color, and beauty.

On the stage Moore had a curtain installed which opened and closed like a Japanese screen. Kent decorated it with a gold painted sun with wavy rays, and he said the rays emanating from the projection booth represented the rays of the moon.

In his lifetime Kent did only five murals of which three are still in existence: two for government buildings in Washington (the post office and the marine bureau of fisheries) and this one in Dennis.

Once considered "an endangered species," due to weather, time and neglect, the trustees of the Raymond Moore Foundation, which owns both the Playhouse and the Cinema, wisely decided in 1981 to restore this priceless treasure, using money raised from the opening of the Emily Lawrence Shop (owned by Emily Levine, Playhouse trustee) and from the sales of Pairpoint Glass cup plates featuring a scene from the mural.

The project was completed by conservators associated with the Museum of Fine Arts in the late fall of 1981. Recent renovations include a modern concession stand which features gourmett food items as well as the old standards, a heating and air conditing system and a state of the art surround sound stereo system.

Cinema Phone Message: 508-385-2503
Cinema Business Phone: 508-385-5644
Cinema Mailing Address: Box 1111, Dennis, Mass. 02638

---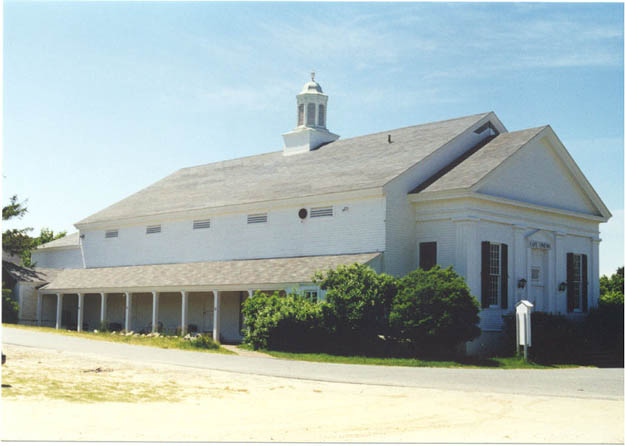 The exterior of the Cape cinema. The design was modeled after a church.

---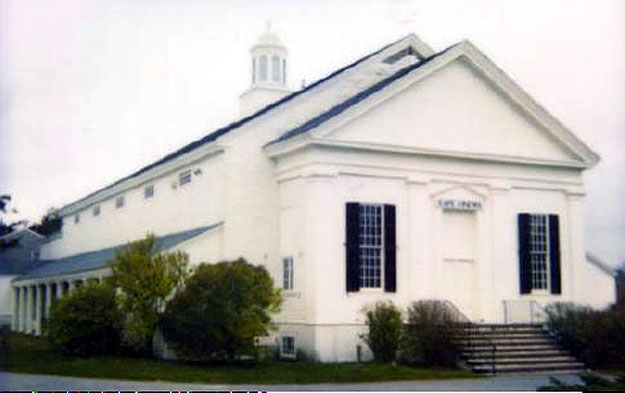 The theatre is still going strong. It is open only in the summer and will close for the season at the end of October.

---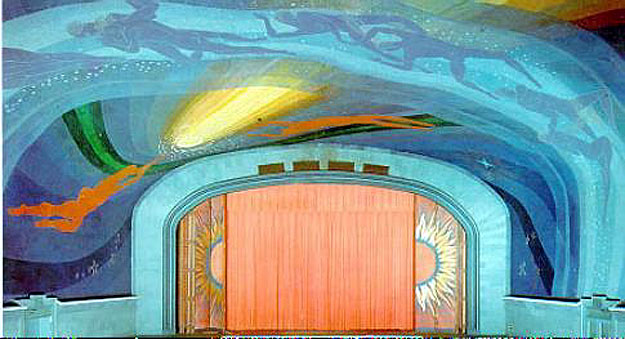 The stage with muriels.

---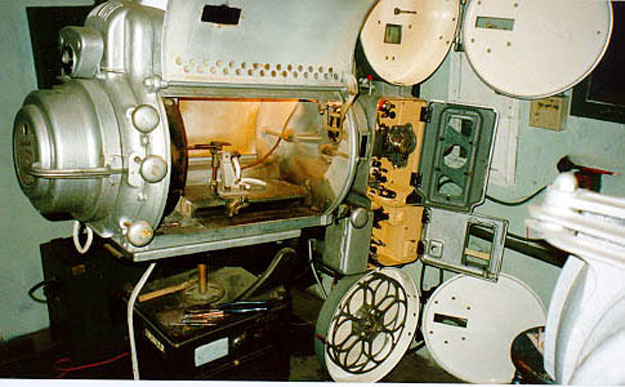 They still use carbon arc. It is a Century with a Peerless Magnarc lamphouse. It still has the same projectionist when they ran Rock Horror in 1978. They have a new stereo system but it isn't exactly "state of the art." It is a Smart processor with three QSC America series amplifiers.

---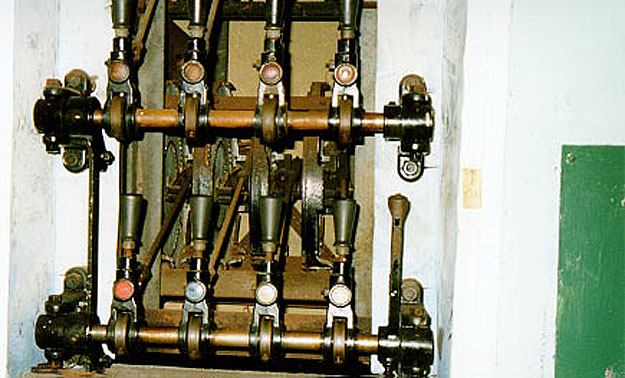 These are the dimmers for the lights at the Cape Cinema. They use to use the same system at the Cape Playhouse. They take a lot of strength to move up and down. The resistor packs pump out an incredible amount of heat when the lights are dimmed. They squeak when you move them.

---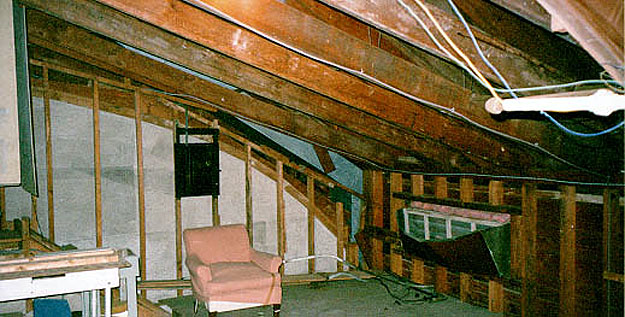 I guess this is where the projectionist hangs out when he isn't doing changeovers and keeping the lamphouses very clean.

---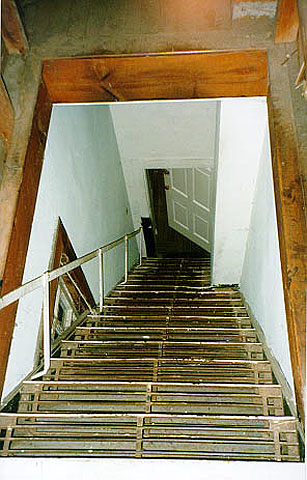 Imagine hauling film cans up this ladder. The rule is, one film can at a time and hold on to the railing with the other hand.

---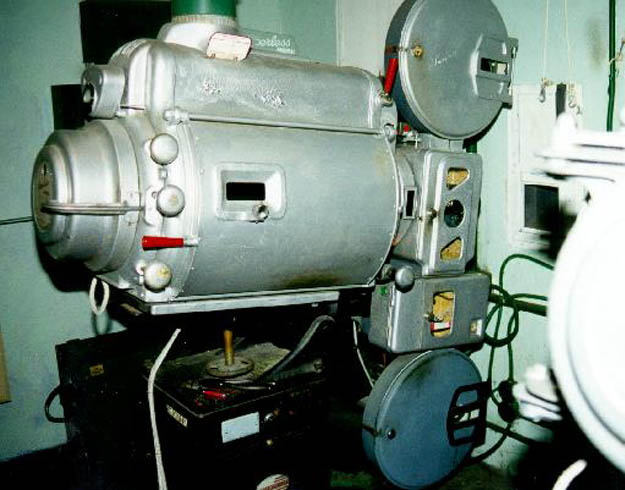 Projector #1. These are Century Cs with Peerless "J" lamphouses.

---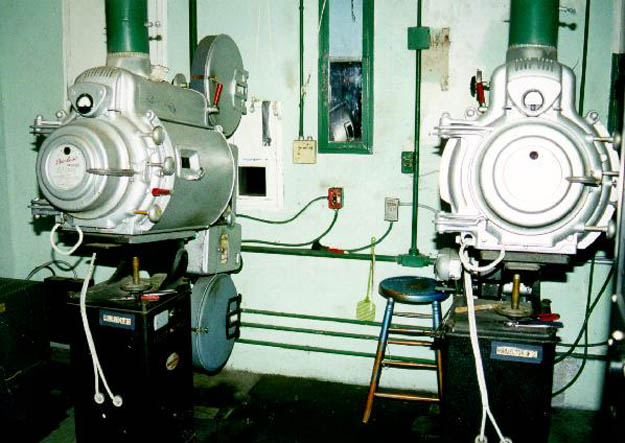 Another shot of the booth interior.

---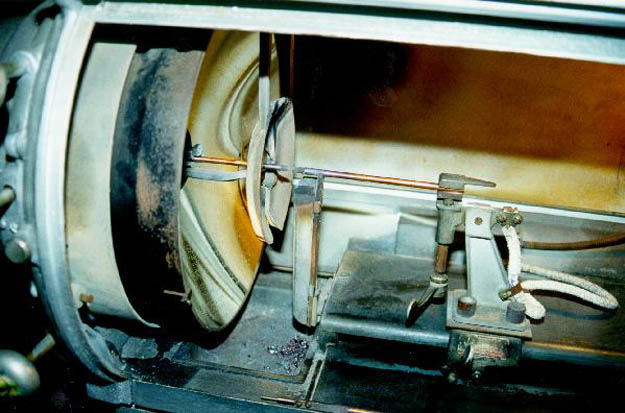 Interior of lamphouse (6mm negative / 7mm positive)

---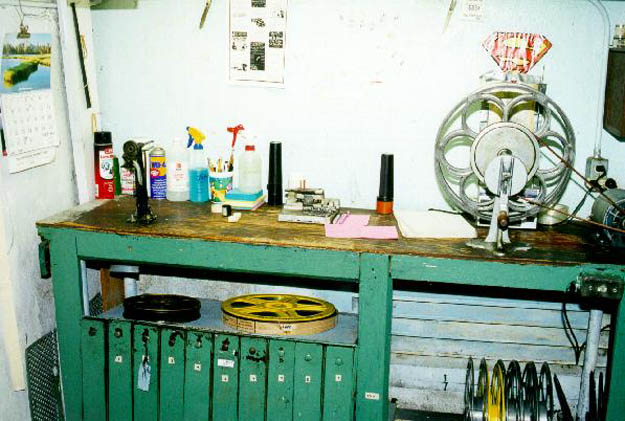 Rewind bench and film cabinet.

---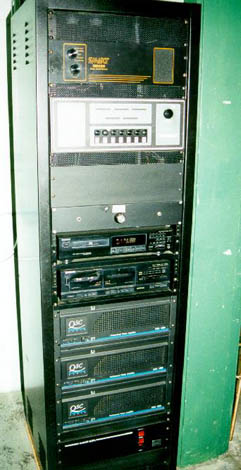 The sound rack. From top to bottom: SMART booth monitor, SMART MOD-VI processor with pseudo-SR, cd player, tape player, QSC USA 1300 amplifiers.

---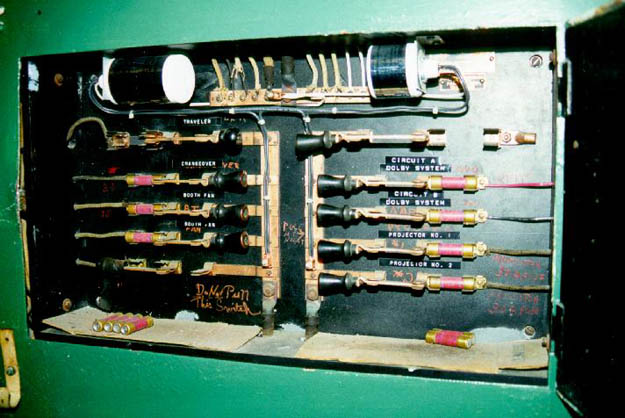 Knife switch panel...good for keeping the faint of heart out of the booth.

---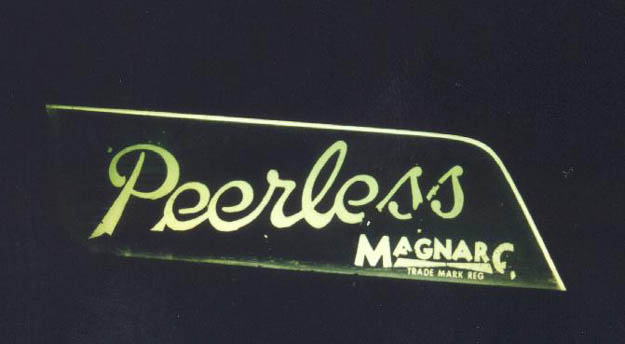 Peerless logo. Definitely one of the best looking pieces of cinema equipment ever built.

---

Special thanks to Ian Price and Scott Norwood for the pics.