---

USAF Hanscom AFB Theater
Bedford, MA, USA

---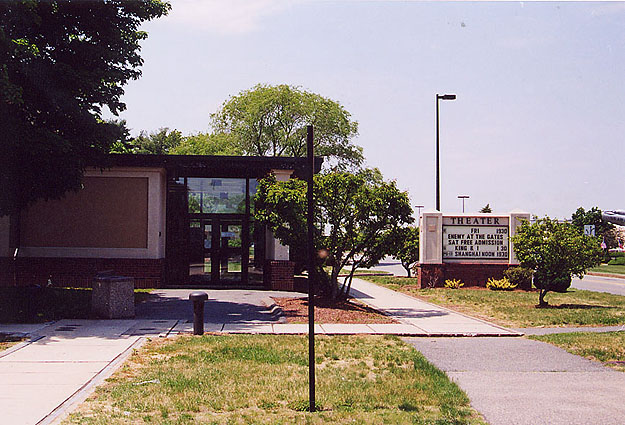 Shot of the theater exterior from a few years ago. The building is also used for lectures and other events.
Film are usually shown on Fridays and Saturdays only.

---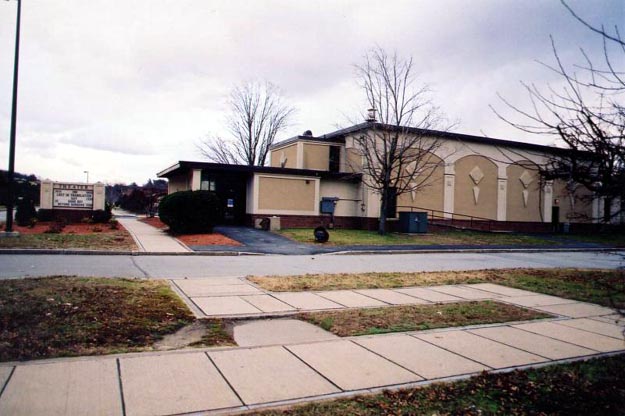 A newer exterior shot of the theatre. Hasn't changed in two years, except for the titles on the marquee.

---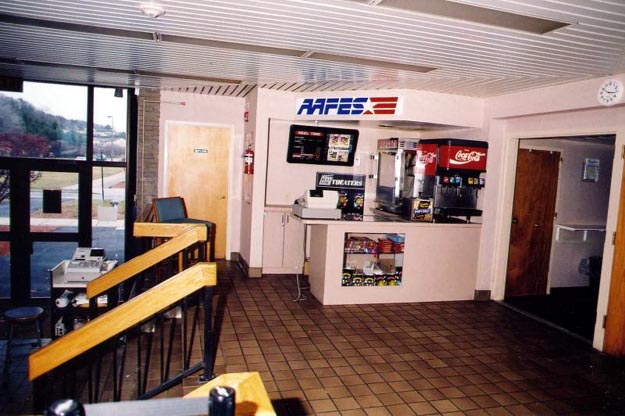 Lobby, with cash register for ticket sales ($3 for adults, $1.50 for children) and concession stand.

---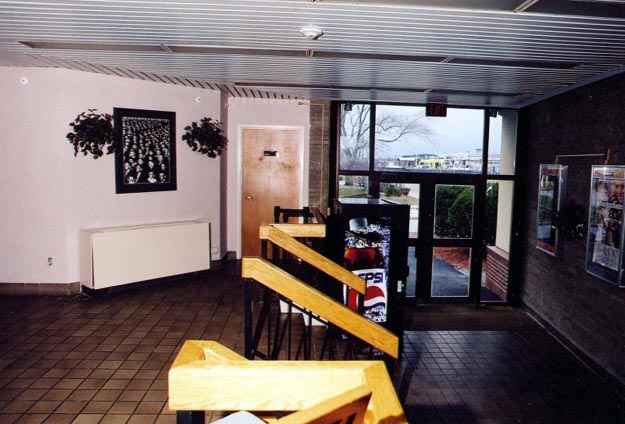 More shots of the lobby.

---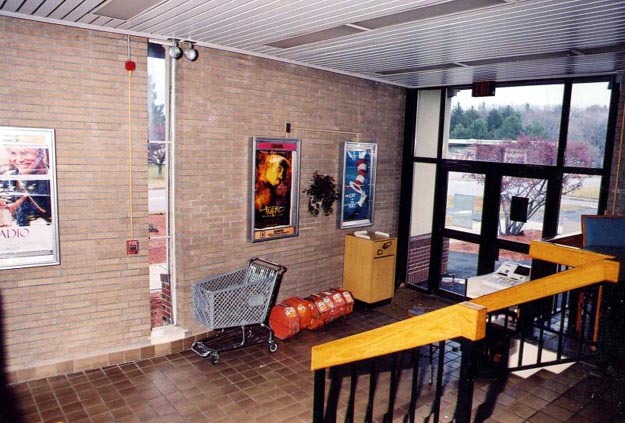 Looks like Technicolor hasn't picked up films in awhile.

---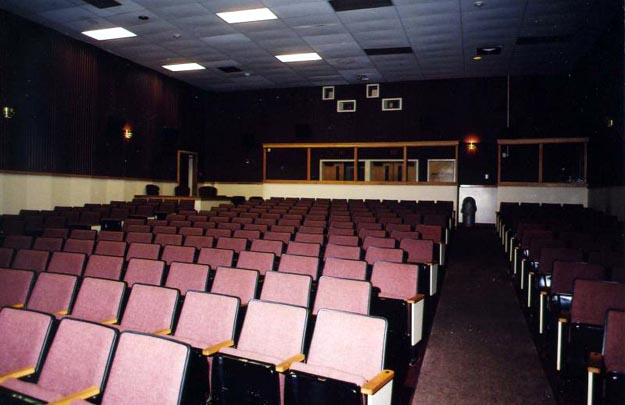 Interior of auditorium, with new JBL surround speakers. The fluorescent
lights are for cleaning (and photographic) purposes only.

---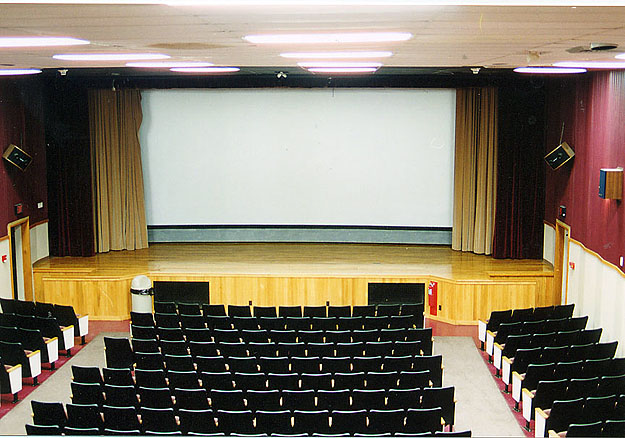 General view of largeish auditorium from the booth. Behind the screen, they're using the small JBL horn speakers. The screen frame is of the shallow-curve type and the screen itself is nicely sized. There is no side masking per se; the curtains can be opened to whatever width is appropriate for the film being shown.

---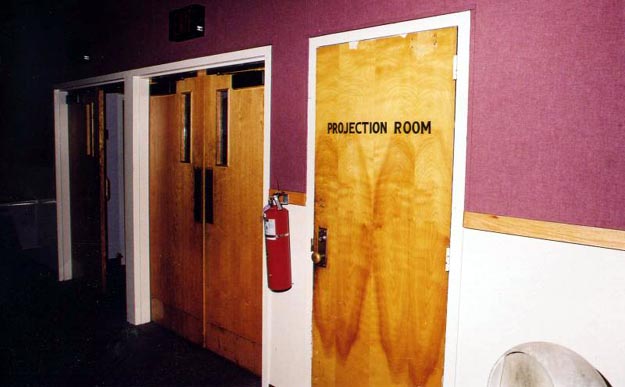 Auditorium entrance doors from the lobby. The door on the right is labelled "Projection Room" in order to confuse customers and employees. It actually goes to the projection room.

---
ORIGINAL BOOTH PICTURES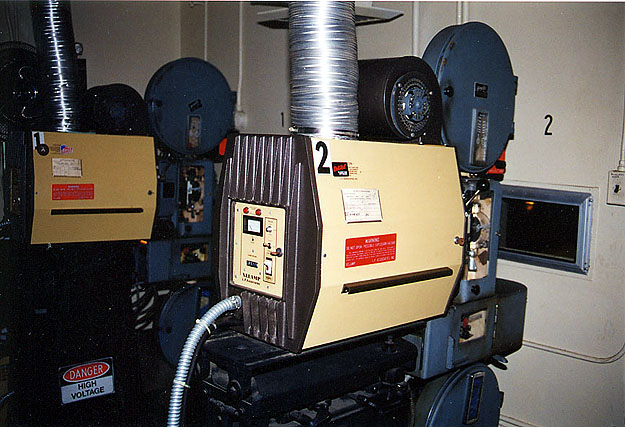 Equipment includes Simplex XLs, RCA 9030 soundheads, and 2kw xenon lamps. The bases are Heavy Duty Super Simplex models. This booth is 35mm-only. There is no 16mm capability (odd, it would seem, for a military theatre...). The projectors are painted military-spec. grey.

---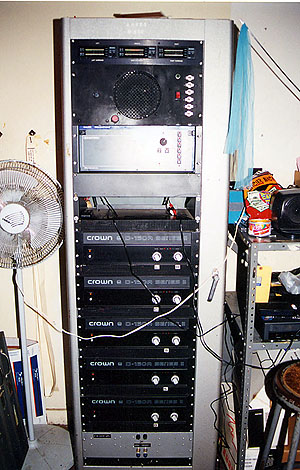 Sound rack. This is fairly recent, and includes a CP55 (Dolby A only) and Crown amps. This system is not bi-amped.

---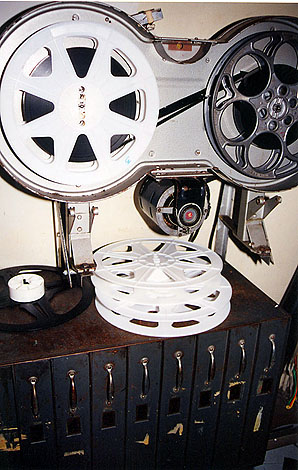 Goldberg power rewind and reel cabinet. Note rare view of unbroken Technicolor reels!

---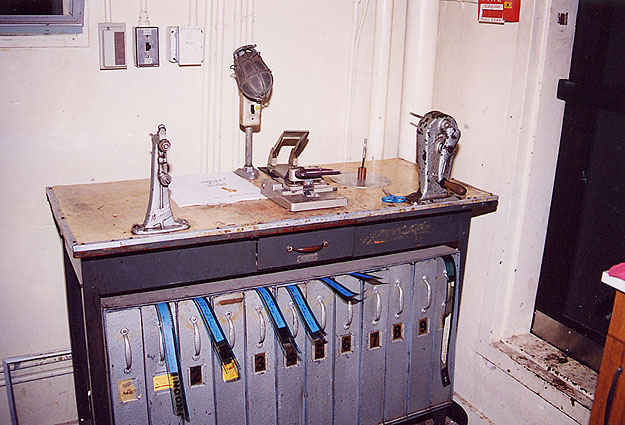 Handcrank inspection bench and reel cabinet. There is no motorized inspection bench here, nor is there any large-reel capability (not a major issue, since films are almost never shown more than once.) The leftmost slot in the reel cabinet contains a National Anthem film which is shown at every presentation (this being a military theatre and all....)

---
NEW BOOTH PICTURES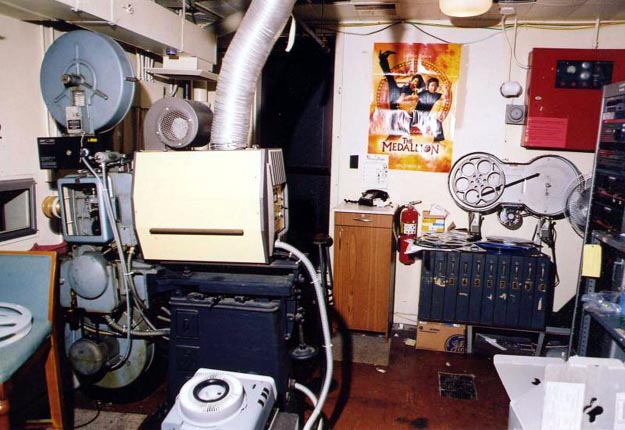 Interior of booth taken from booth entrance at the top of the stairs.

---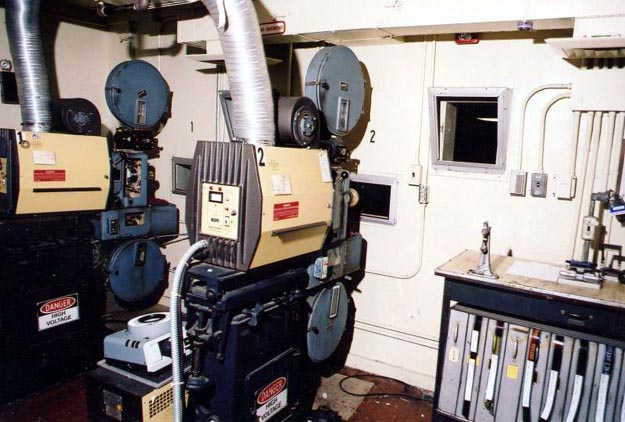 Simplex X-Ls, now with Dolby cat. 702 SRD penthouse readers and RCA soundheads, now with Jaxlights. I'm not sure what the evil slide projector was doing on top of the rectifier. Hopefully cinema advertising hasn't invaded the AAFES theatres yet. There are controls for curtain and changeover at each machine, yet the houselight dimmer controls are oddly distributed with some controls next to each machine.

---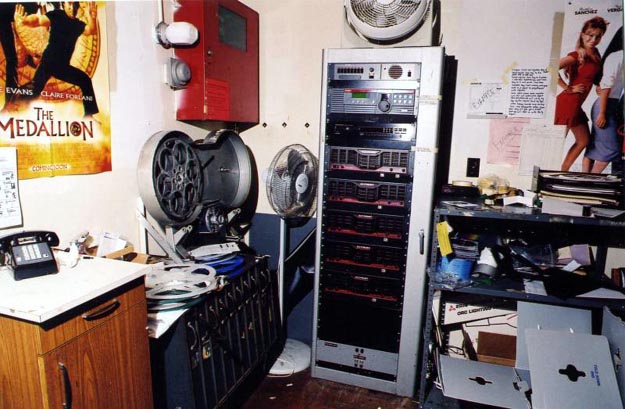 Booth phone, Goldberg motorized rewinder, and new sound rack. From top to bottom: new booth monitor, CP650D, new Marantz CD player, new Crown amps, and unknown exciter power supply.

---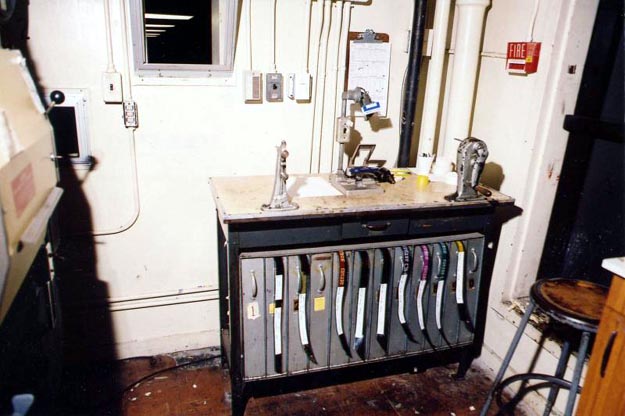 Whoever decided to do the sound upgrade didn't think to upgrade therewind bench, too. Thus, the Neumade handcrank bench is still needed for film inspection.

---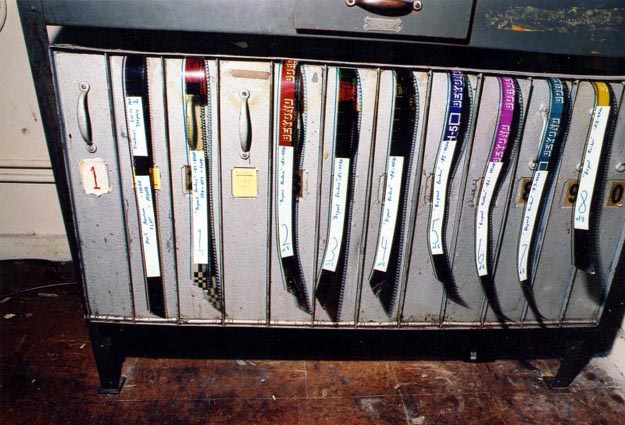 Print of "Beyond Borders" is ready to show. The trailer reel is at the far left and begins with the national anthem, which is always the first thing to hit the screen during a show at any military theatre. A couple of slots in the reel cabinet are damaged and not usable.

---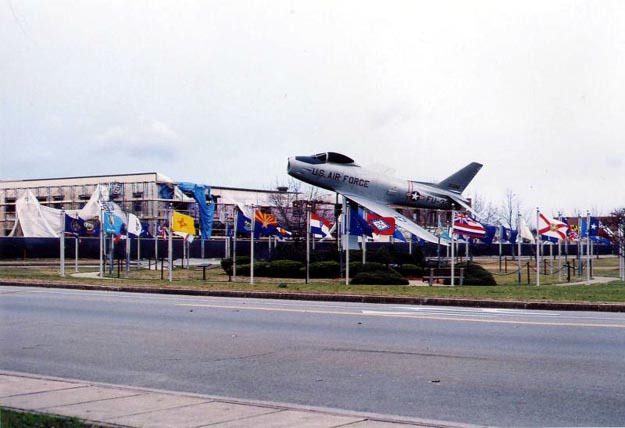 F86 Sabre Jet on display outside across from the theatre.

---

Special thanks to Scott Norwood for the pics.