---

Platter Safety Ring
for 52" platter decks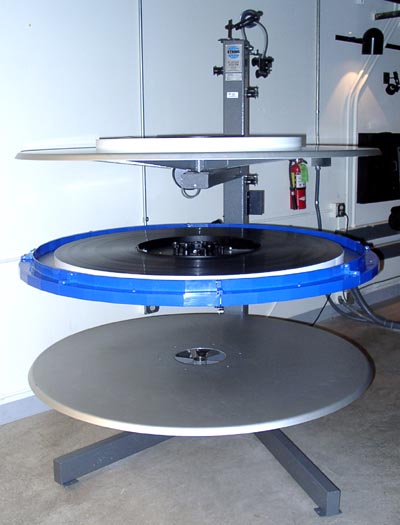 SAY GOODBYE TO THROWN PRINTS AND TAIL WRAPS...FOREVER!
Fits any platter with 52 inch diameter decks (such as Big Sky, Christie, Strong, etc.)
that does not use a rim drive design (aka: SPECO).
Film-Tech's platter safety rings are the best solution for many situations...
Unattended or isolated projection booths
Mission critical screenings
Extended length movies
Misbehaving platters
Puts an end to thrown prints
Puts an end to tail wraps
Lightweight and easy to mount / dismount
No drilling or modification of your platters is required
A must for rare prints and 70MM
Or just for general day to day peace of mind
And best of all, Film-Tech's platter safety rings PAY FOR THEMSELVES!

With the cost of only one auditorium's worth of "would have been" refunds due to just ONE film accident, the entire complex can be outfitted with safety rings, thereby putting an end to such unnecessary disasters that affect profits and patron satisfaction with your theater.

Contact your dealer today for pricing and quantity discounts.